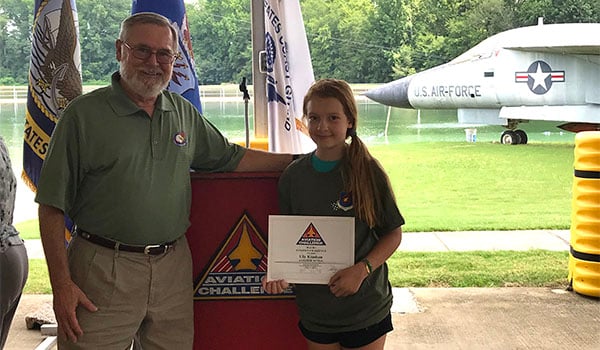 Family Forum / By COL Mike Cavalier, U.S. Army Retired: The Tennessee Valley Chapter proudly sponsors three attendees to the Aviation Challenge Space Camp, which is hosted by the U.S. Space and Rocket Center in Huntsville, Alabama every summer.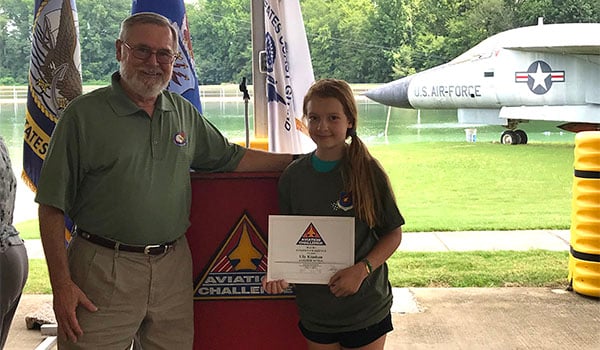 Lilly Knudson was the 2018 Tennessee Valley Chapter Aviation Challenge scholarship winner and graduated from the Mach I class at the Aviation Challenge Space Camp at the U.S. Space and Rocket Center in Huntsville, Alabama this past July. She is pictured with her grandfather, LTC (R) Steve Bolton. Lilly had a great time and said the experience increased her desire to pursue a career in the aviation field. / PERSONAL PHOTO BY MELISSA KNUDSON
Launched in 1982, Space Camp is the brainchild of rocket scientist, Dr. Wernher Von Braun, who led the development of the Apollo era rockets that took America to the moon, and Mr. Edward O. Buckbee, the first director of the Center. The Space Camp has inspired and motivated youth from around the country and later the world, with attendees from all 50 states and U.S. territories and more than 150 foreign countries.
The attendees from 4th grade through high school enjoy a multitude of activities during the weeklong event. And special programs are offered for blind or visually impaired trainees as well as those who are deaf or hard of hearing and those with other special needs. More info is available about the program and fees at http://www.spacecamp.com/aviation
Tom Huff, Vice President for the TVC Scholarships stated, "Our goal is to help educate our future community and prepare them as leaders in aviation."
Chip Carter and Tommy Atchley are the volunteer leaders for the Aviation Challenge scholarships. They, with the help of other members, oversee the selection process for TVC scholarship recipients. "We chose to provide these scholarships because it has a connection to Army Aviation and because it provides an opportunity for young leaders to participate in space and aviation educational activities."
The U.S. Space Camp Aviation Challenge is broken down into 3 groups. Mach I, Mach II, and Mach III programs are based on age and increase in the intensity of activities.
MACH I: Students, ages 9-11, learn basic principles of aviation and put their knowledge to the test in a variety of flight simulators. Taking the role of fighter pilots, students run control systems and scenario-based missions and learn basic water and land survival skills. They also learn about civilian and military careers in aviation.
MACH II: Trainees, ages 12-14, take part in hands-on-activities based on the design principles of modern air systems in flight simulators and go through air combat maneuvering training to prepare for mission scenarios. They also learn search and rescue skills to rescue a downed pilot.
MACH III: Mission challenge trainees, ages 15-18, with freedom of control, are required to think about maneuvers in all three rotational-axes of flight as they take on the most advanced flight simulations, engineering principles, and leadership responsibilities. Field training is focused on discipline and attention to detail in survival situations. A night Field Training Exercise (FTX) requires teams to work together to recover intelligence or rescue a downed pilot.
Communication is paramount as everything is taken to the next level basic principles of aviation and puts their knowledge to the test in a variety of flight simulators.
These opportunities allow TVC scholarship recipients to pursue Army Aviation, as well as provide an experience that has a lifelong effect on them, which encourages their interest in engineering, aerospace, and aviation science.
Applications will be due in March 2019 and applicants must be the child or grandchild of members of AAAA's Tennessee Valley Chapter, submit a 250-word essay on why they want to attend Aviation Challenge, and provide two letters of recommendations from teachers, religious leaders, or mentors. TVC is in the process of transferring their current web page to the National one so look for it in the near future.
Space Camp and the Aviation Challenge allows the Tennessee Valley Chapter to help their future leaders by leveraging the available and unique opportunities within the Huntsville community.
Come join the fun!
COL (Ret.) Mike Cavalier was the VP of Scholarships for TVC from Aug 2014-April 2017 and current TVC AAAA Board Member At-Large. He resides between Huntsville and Thibodaux and is CFO Victory Solutions, Inc.
Judy Konitzer is the family forum editor for ARMY AVIATION; questions and suggestions can be directed to her at This email address is being protected from spambots. You need JavaScript enabled to view it..">This email address is being protected from spambots. You need JavaScript enabled to view it..