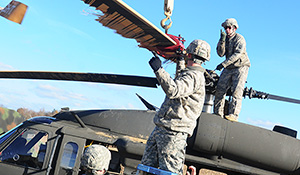 News Spotlight:
Soldiers from the South Carolina Army National Guard (SCARNG) work to prepare a UH-60 Black Hawk from Detachment 2, Company F, 1st Battalion (General Support Aviation), 171st Aviation Regiment SCARNG, for sling-load movement to McEntire Joint National Guard Base, Eastover, SC, Dec. 7, 2014. The Black Hawk made an emergency landing in an open cornfield Dec. 3, 2014, near Columbia, SC due to a main rotor blade malfunction.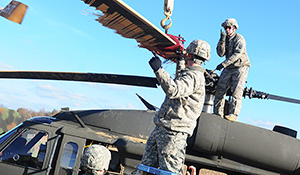 ARMY NATIONAL GUARD PHOTOS BY SGT BRIAN CALHOUNNo further damage or injuries resulted from the forced landing. The aircraft was released by the Accident Review Board for recovery and was being transported via sling-load under a SCARNG CH-47 Chinook helicopter from Detachment 1, Company B, 2nd Battalion (GSAB), 238th Aviation Regiment, SCARNG, Army Aviation Support Facility in Greenville, SC The cause of the main rotor malfunction remains under investigation.
SSG Erica Knight is assigned to the 108th Public Affairs Detachment, South Carolina Army National Guard.