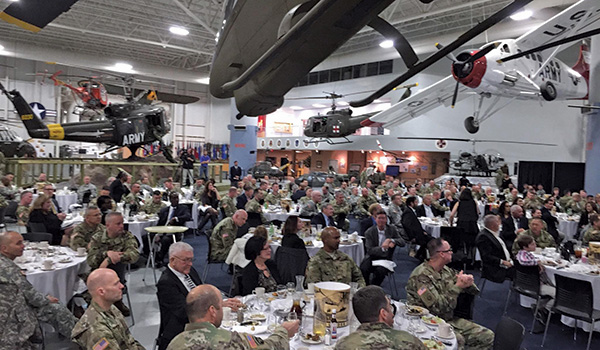 President's Cockpit / BG E.J. Sinclair, Ret.: We just finished the Aviation Senior Leader Forum at Fort Rucker, Alabama the first week of February. MG Lundy and his team did a fabulous job bringing together all the current aviation commanders, command chief warrant officers, and command sergeants major as well as current and retired general officers.
Attendees at the Aviation Senior Leader Dinner in the Army Aviation Museum at Fort Rucker, AL on Feb 3./AAPI PHOTO BY BILL HARRIS
They did a great job of laying out the path ahead for Army Aviation as well as the challenges being faced. We were also able to recognize several Soldiers in the Air Traffic Control and MEDEVAC areas with AAAA awards during the Aviation Senior Leader Dinner.
Also last week it was announced that BG Doug Gabram will replace MG Jim Richardson as the Aviation and Missile Command (AMCOM) commanding general. MG Richardson provided an operational focus for AMCOM resulting in great support to the field. There is no doubt with BG Gabram's background that he will continue with that same operational focus. Congratulations to Jim for a job well done and to Doug for his selection as the AMCOM CG!
Spring is only a month away and we are not only leaning hard into the AAAA Annual Missions Solution Summit coming up 28-30 April 2016 in Atlanta, but are working other areas as well. Membership, chapter support, and starting an outreach to Army Aviation veterans are all part of the picture.
First, AAAA can now count the Mohawk Chapter, Albany, NY as its 71st chapter! Congratulations to LTC Kevin J. Ferreira, President, and his team of officers, MAJ Paul Bailie, CW2 Tom Daniels, CW2 Matt Quackenbush, and SGT Jacob Weitzel, for efficient work in making this happen. The chapter gathered 27 members for a kick-off meeting offering discounted Lifetime Memberships at $250 at the Albany Pump Station, January 29. At the end of the meeting they had 49 members. No doubt AAAA's newest chapter will be growing fast with this kind of leadership!
Next, we are redoubling our effort to reach out to those Soldiers who received a FREE year of AAAA membership while deployed through the AAAA Deployed Soldier Program. That program allows any deployed Soldier to just let us know when they are deployed down range and we will extend their current membership for a year or give them a brand new membership in thanks for their service. If you know someone who deployed and benefited from this program but did not re-up with AAAA when they got back let them know they will be hearing from us soon with an offer they can't refuse!
I want to also mention a great program that you can implement on the local chapter level. Our VP Chapters, LTC Jan Drabczuk, and VP Membership, CW5 Dave Cooper, are working with former Army Aviator Guardsman and past Sikorsky executive Bill May to bring Bill's "House of Heroes" program to our local chapters. Check out www.HouseofHeroes.org to get a sense of this program. Dave is going to look at one of our chapters as a beta test to see how this one-day-long volunteer effort can make an impact for some of our veterans who may have been left behind. Bill has been successful in getting Home Depot and Stanley Tools on board as sponsors. We look forward to seeing if there is a good fit with our chapters.
Finally, you may have noticed the four-page flyer that accompanied this issue in the mail. Get on line and register now to avoid the event ticket price increases and avoid standing in lines! Hope to see you there at the largest and ONLY Army Aviation Community-wide event of the year. Soldiers, DACs, Industry, Retired, Training and Doctrine, Acquisition, Special Operations, Reserve Components, International Partners, NATO Helicopter Working Group, even a Vietnam era unit reunion will be happening at AAAA Atlanta. We are looking forward to a great event – See you in Atlanta!
BG E.J. Sinclair, Ret.
32nd President, AAAA
This email address is being protected from spambots. You need JavaScript enabled to view it.