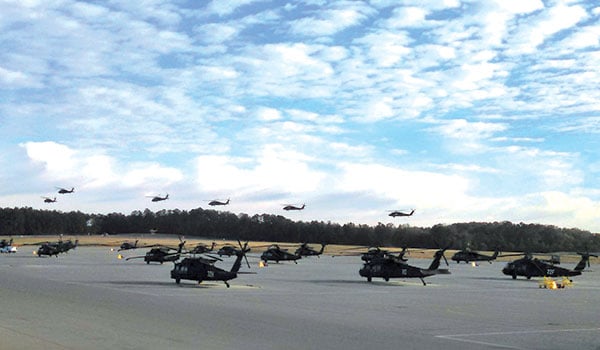 Branch Command Sergeant Major / By CSM Gregory M. Chambers: Service in today's Army should not be taken as a job but as a profession. As the Army changes its structure, fields new equipment and establishes new programs to develop leaders in order to meet a sustainable readiness posture, professional Soldiers are essential for the Army to win in the complex environments of the future.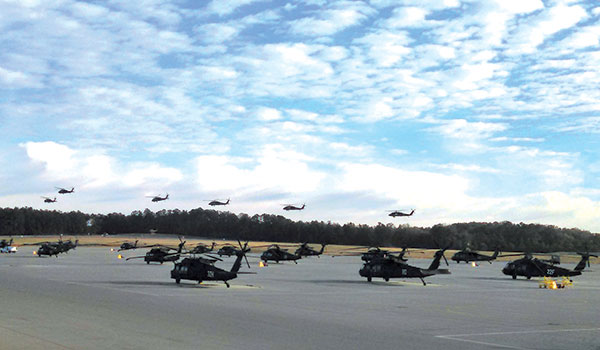 A flight of six Black Hawks departs Lowe Army Heliport, Fort Rucker, AL, Feb. 12, 2015 to support the Ranger School at Fort Benning, GA.
/ U.S. ARMY PHOTO BY CPT KEN DOUGHER, 1-212TH AVN.
It is a distinct honor and privilege to serve as your new Branch Command Sergeant Major and I am truly impressed on a daily basis what our great branch accomplishes each and every day as a truly asymmetric advantage for our Army.
All good organizations have published Priorities to meet commander's intent in order to accomplish their stated mission for their given unit. Additionally, these units have a Culture that understands working coherently, effectively and efficiently together will not only lead to success but will help other like units be successful as well.
Combat readiness, maintenance training, and leader development are my priorities and what I will focus on as your branch command sergeant major. There are hundreds of issues that impact those three priorities on a daily basis, but our Army is changing its readiness model to support sustainable readiness and if we want to be successful in our Aviation profession we have to focus on those three tasks. Our sergeants, staff sergeants and sergeants first class are absolutely key in the success of sustainable readiness. The demographic of these three NCOs is key simply because they are the NCOs who are responsible for growing a professional Aviation Soldier.
Leader Development
Leaders are not made overnight, they are not made just in our professional military training institutions and there is no miracle inoculation that we can give Soldiers to make them good leaders. Leading is an art and it takes time to create good leaders through experience, motivation and professional education. We often use the term "talent management" in the Army to describe how we manage leaders. Talent represents a unique intersection of skills, knowledge and attitude in every Soldier. Talent represents far more than the training, education and experience that is provided by the Army. So, when we look at our young Soldiers or our young NCOs, help them manage their skills, knowledge and experience in order to help you accomplish your mission. We owe our Soldiers one very important thing, good leadership.
Maintenance Training
Training, especially aviation maintenance training, is imperative in our branch. Good maintenance programs, maintenance SOPs, maintenance progression programs and institutional education produces combat ready aircraft and the Soldiers and leaders required to maintain them. We are responsible to provide our Ground Force commander and his or her team with lethal, precise and effective combat aviation power. We must never lose sight of what aviation is "For" as it relates to combined arms maneuver. We play a critical role in the accomplishment of every combat mission. We can't do that if we do not have the aircraft ready to perform the mission. We have the unique opportunity every day to train our Soldiers on our aircraft simply because we fly every day; never waste the opportunity to train your Soldiers on their aircraft.
Combat Readiness
There are many tasks that a unit and the individual Soldier have to complete to stay combat ready. The mind set of being ready today and tonight, 365 days a year, 24/7, has got to be an adaptable mind set in your unit. Army Aviation is highly engaged around the world with nearly every brigade scheduled to support a named operation, or on the line for a contingency operation or regionally aligned to support a theater commander. Sustainable readiness means you have to be ready all the time. Being ready doesn't mean all your Soldiers are just green on medical protection systems (MEDPROS), or just current and qualified on their weapon. Although those tasks are important parts of readiness, the most important thing is to ensure your Soldiers are skilled and fully proficient in their military occupational specialty (MOS). Soldiers who are skilled, not "trained" in their MOS, are what makes a unit very combat effective and this squarely falls on our NCOs.
Priorities are essential, I have stated mine as your branch command sergeant major. They don't have to be your priorities but your Soldiers deserve to know what the priorities of your unit are and how they contribute to the accomplishment of the unit's mission. No matter what unit you are in, the culture of the unit is absolutely key. I would ask that you all work on building cultures in your units that foster Collaboration, Cooperation and Innovation and that exude professional excellence and disciplined and responsible Soldiers. Units that have a strong culture can solve wicked complex problems and they foster the right kind of environment for Soldiers and leaders to learn and grow.
I am extremely honored to assume this awesome responsibility as your branch command sergeant major and look forward to serving alongside each of you and to helping you accomplish your mission. Above the Best!
CSM Greg Chambers
This email address is being protected from spambots. You need JavaScript enabled to view it.
CSM Gregory M. Chambers is the command sergeant major of the Aviation Branch and the U.S. Army Aviation Center of Excellence, Fort Rucker, AL.