From the Field / By LTC Wenceslao G. Angulo: About 100,000 Soldiers will transition out of the Army each year over the next several years. In 2014, 8,666 Active Duty, Reserve and National Guard Soldiers with an aviation military occupational specialty (MOS) retired or separated. To address this changing landscape of the American military, and to maintain trust among the Army Family during and after service, the U.S. Army established the Soldier for Life (SFL) program. This initiative is designed to enable Soldiers, Retired Soldiers, Veterans and Families to leave military service "career ready" and connected to an established network to find education, employment and health resources.
SFL highlights education, employment and health resources as integral for a Soldier to remain a Soldier for Life and successfully reintegrate back into society. Education can include traditional college or graduate school, as well as career skill training and credentialing. This is especially critical to enlisted Soldiers, 87 percent of which have less than two years of college education. Education, training and credentialing can make a difference for Soldiers and their Families in terms of finding meaningful civilian employment. To address this need, SFL helped outline different apprenticeship and credentialing opportunities. To date, 15 different apprenticeship opportunities are available with major companies like Microsoft, GM, to name a few. SFL understands the need for credentialing as a means to help Soldiers find employment and worked to expand 96 credentialing opportunities for 47 different MOSs.
Finding meaningful employment after transitioning out of the Army is integral to improved quality of life for service members once they return home or relocate to new neighborhoods. SFL encourages all Soldiers, veterans and their families, as well as companies looking to hire them, to use the Veterans Employment Center (VEC), the government solution to addressing veteran employment. SFL also works with the U.S. Chamber of Commerce's Hiring Our Heroes Foundation (HOH) to connect service members and their families directly to hiring fairs and potential employers.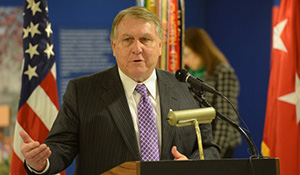 James P. Hoffa, President of the International Brotherhood of Teamsters, speaks at the Pentagon announcement of a new training program at Fort Sill, OK.
The impacts of a healthy force are apparent in and out of the military. SFL collaborates with Army programs like the Ready and Resilient Campaign, the Warrior Transition Command and others to ensure that the Army Family has access to vital health and wellness resources and opportunities, so that they can serve strong in and out of the military.
There is no undertaking quite like armed service to the nation. Everyone who serves honorably deserves to access the multiple opportunities that a grateful nation provides. In just over two years, SFL has impacted improvements in unemployment, the use of education benefits and the way the Army trains currently serving Soldiers and leaders to prepare for transition to civilian life.
Successful reintegration of our Soldiers and their families into the civilian world is vital to the nation. Acting as the connection arm between the Army and all the key players who want to support Soldiers, SFL is the best way for Soldiers, Veterans and their Families to embrace civilian status, and for those communities to accept service members as contributing members and leaders.
LTC Wenceslao G. Angulo is the strategic communications director for the U.S. Army Soldier for Life program.