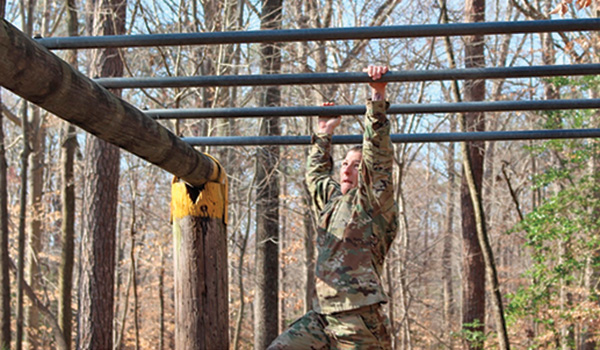 128th Aviation Brigade / By SFC Craig M. Sunstedt: On 9 March 2017, the winners of the 128th Aviation Brigade (AVN BDE) Fiscal Year 17 NCOY/PSOY competition were announced during a ceremony held on Joint Base Langley-Eustis, Virginia.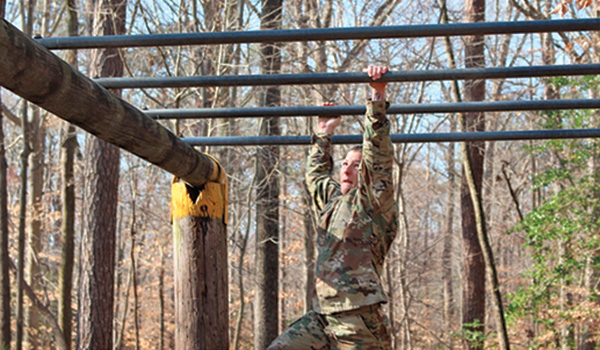 SSG Brittany Barfield negotiates the last of 15 obstacles during the first day of competition.
SSG Mathew Johnson from Charlie Company 2nd Battalion, 210th Aviation Regiment took the NCO of the Year honors and SSG Brittany Barfield from Delta Company 1st Bn., 222nd Avn. Regt. took the Platoon Sergeant of the Year honors. Of the 519 NCOs assigned to the 128th AVN BDE only eight, five NCOY and three PSOY competitors, successfully met the challenge of competing to represent the Brigade at the United States Army Aviation Center of Excellence (USAACE) NCOY/PSOY competition.
Unlike the competitions held in the past, this year's competition was designed to reflect what would be encountered at the next higher level and beyond. It would be a three day long challenge of both body and mind, pushing these NCOs to test their own limits and in some cases face personal fears. Countless hours of planning and preparation went into making this the best possible competition for these NCOs, but that paled in comparison to the dedication of these individuals who sacrificed their personal time in order to prepare themselves for this competition.
The Events
The events kicked-off with an Army Physical Fitness Test (APFT) in full uniform and running shoes, 20 foot rope climb, timed pull-up event, and an Obstacle Course consisting of 15 separate obstacles. This all took place before lunch on day one. After lunch the Land Navigation event began on a 4 square kilometer course containing eight individual points that had to be plotted and found in under 2 hours and 30 minutes. The NCOs finished the afternoon with a combatives competition culminating in a five minute bout against a fresh and rested opponent.
Day two started with the Army Physical Readiness Training (PRT) evaluation, where the competitors were graded on how accurate and concise they are when conducting a PRT session. Then came the formal board portion. While one set of competitors was conducting their board the other was either executing talk through method of instruction of drill modules or a training session on Warrior Tasks and Battle Drills (WTBD).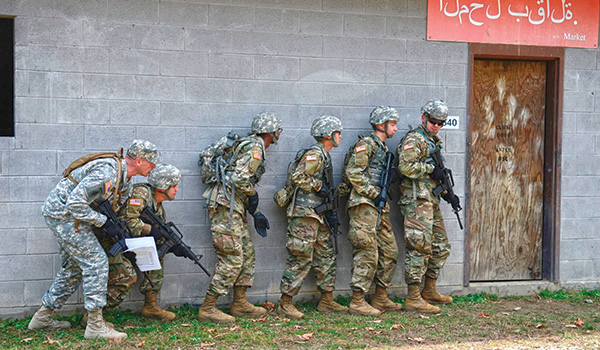 SSG Mathew Johnson leading his squad through the military operation in urban terrain (MOUT) site during the simulated combat situational event.
The third and final competition day began with a 12 mile ruck march with 50-60 pounds of equipment and a 3 hour time limit. The event finished in an empty field one quarter mile away from the Military Operations in Urban Terrain (MOUT) site. Here the competitors were met by a squad of AIT students. The objective set forth was to locate a wounded American Soldier located somewhere in the village. NCOs from within the 128th acted as local nationals with an unknown hostile, possible booby traps, and Improvised Explosive Devices. The competitors were required to lead their squad of AIT Soldiers through the village, secure the wounded Soldier, request Medical Evacuation (MEDEVAC), and transport the casualty to the evacuation site. Once enroute to the site it became compromised and they were required to react to contact and move to an alternate evacuation location.
The second to last event, planned by last year's NCOY winner SSG Ronald Hinman, was kept as a mystery to the competing NCOs. It would be a 25 meter underwater swim, treading water for five minutes, followed by a 75 meter swim using any stroke they chose while wearing the Army Combat Uniform. Upon exiting the pool competitors had to disassemble, reassemble, and perform a full functions check of an M-16A2 rifle while answering weapon related questions. After a quick change into a dry uniform the last event was to write an essay. The 128th Brigade Command Sergeant Major, CSM Stanton Brown, chose a topic and set the parameters for the paper.
After three days of competing, at 16:00 on March 9th 2017, almost a full 24 hours after the last event, the winners were announced. The other NCOY competitors were SFC Robert Ellis, SSG Randie Bobb, SSG Ramiro Pando, and SGT David Applegate, and the three PSOY competitors were SSG Roberto Flores, and SSG Brenden MacDonald. Best of luck to our two 128th AVN BDE NCOs at the USAACE competition.
"Above The Best!"
SFC Craig M. Sunstedt is a 15K40 senior training management NCO with headquarters, 128th Aviation Brigade at Joint Base Langley-Eustis, VA.