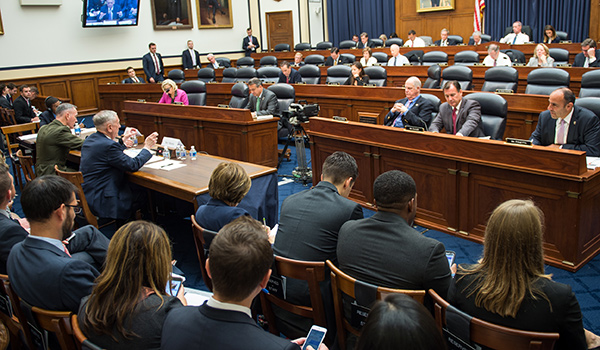 President's Cockpit / By BG Steve Mundt, Ret.: Wow, how time flies! I can't believe that the 2018 AAAA Annual Summit, in Nashville, TN is almost upon us. We are looking forward to seeing all of you there!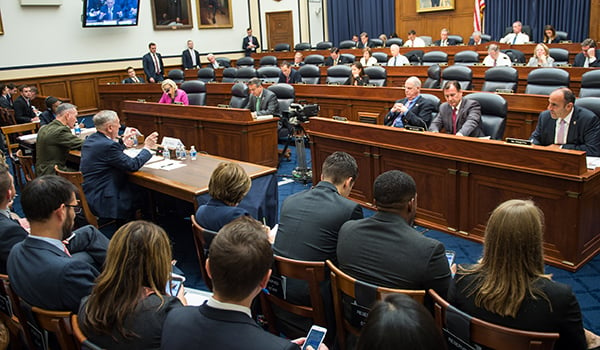 Secretary of Defense Jim Mattis testifies alongside U.S. Marine Corps Gen. Joseph F. Dunford Jr., chairman of the Joint Chiefs of Staff, during a House Armed Services Committee hearing on Capitol Hill, Oct. 13, 2017. / DOD PHOTO BY U.S. ARMY SGT JAMES K. MCCANN
April 25-27, 2018 are the official dates but we have all kinds of set up, board meetings, chapter workshops and even our local "Air Assault Chapter" sponsored golf tournament benefiting the Scholarship foundation prior to the Summit beginning.
We are about to break our all-time records in attendance, exhibit revenue and professional development as we approach the 2018 Summit. The Opryland Hotel is sold out and is placing folks at alternate Marriott properties in Nashville. The exhibit floor literally only has eight booths left.
Vice Chief of Staff, GEN Jim McConville, will be our keynote speaker, and LTG Ed Cardon, the director of the Chief of Staff of the Army study on modernization and the new Army Futures Command will brief during the professional session to set the Army's course ahead, and our Cross Functional Team (CFT) Lead to add clarity to where Army Aviation is headed. Of course the Army Aviation "Six Pack" headed by our Branch Chief, MG Bill Gayler will give us the details on how our Aviation Branch will achieve the Chief of Staff's imperative to maintain readiness to fight and win tonight and take care of Aviation Soldiers and families while modernizing to win on the multi-domain battlefield.
This is the holistic event that brings together the Army Aviation Family representing our Soldiers, civilians, members of industry, retirees, veterans, and Army leadership to discuss what makes us the best led, trained, and equipped force in the world.
I would be remiss if I did not mention the daunting challenges that are beyond our control in the Army Aviation community and the Army. We must join together and be one voice in fixing our broken national funding process. The Budget Control Act and the continuing resolutions (CRs) have to stop now. We need to let our representatives in Congress know the negative impact they are having on the Force and how it is literally killing our readiness by not returning to regular order and passing a real defense budget on time.
The lack of a budget prevents us from resourcing the training and equipment you need and deserve. This has to stop. Since 1977 Congress has only passed regular appropriation bills on time in four of those years. The last time was 1997. This is plainly ridiculous.
The Military Coalition (TMC) and our AAAA representative LTC (Ret.) Kevin Cochie are pushing hard to get the dollars needed to train and equip you to the level demanded by the world we live in – but we need your voice!
Our Army and our Branch leadership are doing everything humanly possible to do the best with what they are given but we need to give them the resources to make it possible for you to succeed. It is as simple as that.
As we gather in Nashville in a couple months let's all focus on how we can influence the national debate to get back to the regular order and real budgets for all services to get their missions accomplished. This is not a zero sum game. The top line needs to be increased as defense does not come cheap. We can no longer "do more with less," we need more, on time to do what is asked of our men and women in uniform to defend and protect this great country!
God Bless America! See you in Nashville.
Above the best!
BG Steve Mundt, Ret.
33rd President, AAAA
This email address is being protected from spambots. You need JavaScript enabled to view it.