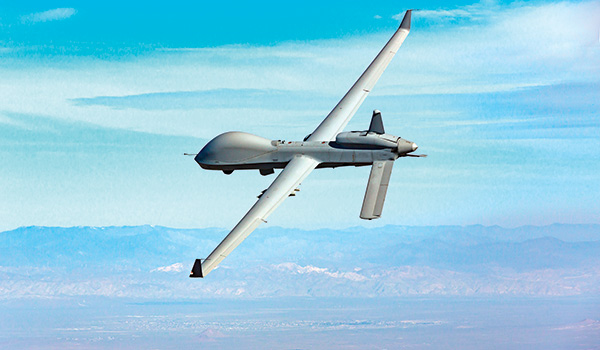 Unmanned Aircraft Systems / COL Courtney Cote: Commanders in the field today have an insatiable appetite for intelligence, surveillance, and reconnaissance (ISR), because it directly saves lives on the battlefield. The ability to see beyond what the human eye can see is invaluable, whether that be over the horizon, in an urban environment, marginal weather, inhospitable terrain, ship to shore, or in degraded visual environments. The team in the Unmanned Aircraft Systems Project Management Office (UAS PMO), with the support of our industry and military partners, continues to design, develop and deliver capabilities to the Soldier that provide critical advantages on the battlefield. Recognizing that future engagements can likely be with a peer, or near-peer adversary in an environment where we do not necessarily possess overmatch from the beginning, the portfolio is focusing on making technical advancements that enhance the tactical, operational and strategic survivability, reliability, and lethality of our platforms.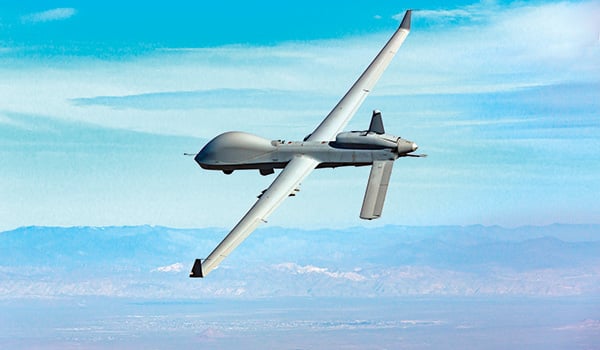 The Extended Range Gray Eagle will deliver a significantly increased endurance window and will be able to provide commanders up to 40 hours of continuous ISR coverage. / ARMY PHOTO BY UAS PMO
Across the UAS PMO portfolio, the team continues to make several product improvements to better enable the warfighter. Some of the major efforts to update the community on include our continued fielding of the Shadow v2, Gray Eagle, Ground Based Sense and Avoid (GBSAA), and One System Remote Video Terminals (OSRVT) to the force. In order to maintain capability with our manned aviation counterparts in the Manned Unmanned Teaming (MUM-T) construct, the product offices are posturing for the release of the Ku Directional On-the-Move (KuDA OTM) capability, as well as finalizing the RQ-7B Shadow Block III and MQ-1C Gray Eagle Extended Range (GE ER) block upgrades. Additionally, the portfolio continues to transition its forward-looking focus through the chartering of an integrated team that is beginning to shape Future Unmanned Aircraft Systems (FUAS).
Fielding the Force
The Tactical UAS (TUAS) portfolio continues to provide unequaled ISR capability at the Brigade level and below and, with its combined fleet of over 8,000 Air Vehicles (AV), is quickly approaching the two million flight hour mark. All active duty combat aviation brigades (CAB) will completely transition to the Shadow v2 system by March of 2018, with the remaining brigade combat teams scheduled to complete the v2 transition by July of 2019. To support the Division, the Medium Altitude Endurance (MAE) portfolio is fielding and conducting New Equipment Training (NET) for the twelfth of fifteen total Gray Eagle companies. Beginning in FY18, the Echelons Above Division (EAD) formations that reside in the Special Operations Command (SOCOM) and Intelligence and Security Command (INSCOM) formations will receive the GE ER.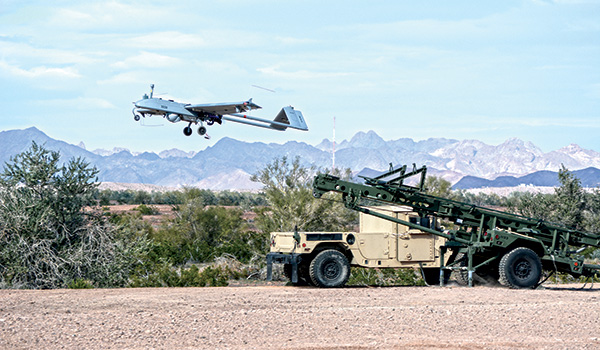 The RQ-7B Shadow v2 BLK III will provide a new water-cooled engine, increased computing and processing power, as well as a weatherized outer shell in order to allow it to better operate in environments that manned aviation platforms typically operate in today.
The Common Systems Integration (CSI) portfolio continues to deliver capabilities that support joint and multi-echelon service. GBSAA has now logged over 1250 incident-free hours across the Fort Hood, TX, Ft. Bragg, NC, Ft. Riley, KS, and Ft. Campbell, KY installations, with development of GBSAA Block II initiated that will allow for system display within the Universal Ground Control Station (UGCS). The OSRVT is now 76% fielded and has begun integrating the first KuDA OTM antenna kits. This capability, slated for fielding in May of 2018, will enable the ground Soldier to maintain reception of any Army airborne sensor feed while in moving vehicles, greatly increasing situational awareness across all operating domains.
A Better MUM-T Teammate
As the Army continues to integrate UAS systems within manned aviation formations, the PMO is focusing on delivering capabilities that leverage our platforms in order to produce synergies through MUM-T. Through the integration of a myriad of performance and capability improvements, the Shadow RQ-7Bv2 Block III and MQ-1C GE ER platforms will provide the greatest advancements in our ability to support MUM-T initiatives to date. The upgrades being developed on these platforms will ensure that the Shadow can be counted on as an all-weather partner to its manned counterparts, while increasing the operating window of the Gray Eagle to allow it to continue to be the most kinetic and lethal aviation platform on the battlefield today.
Projected to begin fielding in Fiscal Year 2019, the Shadow Block III will deliver several enhancements that increase our interoperability capability. The AV will be weatherized and capable of flying in up to two inches of rain per hour, will add a small mission computer that will increase the processing power of the system by 50%, and add a communications relay interface that will extend voice communications between the AV and ground control station well beyond existing capability. Additionally, the Shadow Block III will provide a new water-cooled engine that will deliver additional horsepower, increased reliability, and a decreased acoustic signature.
The MQ-1C Gray Eagle Extended Range aircraft will provide combatant commanders with an extended range, multi-purpose platform that is capable of executing reconnaissance, security, attack and intelligence collection missions across a range of military operations. Completing its initial endurance flight on August 6th, 2017 in California, the first GE ER exceeded its current average endurance time by 68%, achieving a flight that surpassed the 40 hour endurance requirement. Testing will continue through the spring of 2018, with limited fielding beginning soon after.
Eyes Toward the Future
The current UAS portfolio evolved and matured in Southwest Asia during Counterinsurgency Operations against a threat that offered little resistance to air operations; however, the emerging operational environment indicates future operations will be significantly different than those of the recent past. The TRADOC Capability Manager (TCM) for Recon/Attack developed and is in the final stages of receiving Army Requirements Oversight Council (AROC) approval for an Initial Capability Document for a family of Future Unmanned Aircraft Systems that will provide survivable, lethal, cross-domain capabilities at all echelons.
In parallel, the UAS PMO chartered an integrated team consisting of science and technology, as well as acquisition professionals with the first goal of obtaining a Materiel Development Decision (MDD). The Aviation and Missile Research, Development & Engineering Center (AMRDEC) is developing early models, performing concept development, and assessing technologies, while the FUAS team has initiated market and affordability analyses, as well as conducted pre-MDD studies. Throughout the process, focus will be placed on identifying smart ways to accelerate operationally useful increments.
Leading the list for acceleration is the Scalable Control Interface (SCI) that will support current and future platforms. SCI more than doubles the possible number of UAS that end users can control within a given sector, reduces UAS personnel requirements when supporting multiple missions, and increases aircraft utilization. It will provide significant programmatic advantages over current control software through the introduction of an open government architecture solution, allowing for the rapid integration of new capabilities with minimal testing, reducing the logistics footprint and sustainment costs, as well as increasing cyber readiness.
More efficient, lethal and autonomous unmanned aircraft and networks on the battlefield provide the Army decisive advantages over adversaries that will assuredly revolutionize the way warfare is conducted in future conflicts. The UAS PMO will continue to design, develop and deliver ever-advancing unmanned technology to the warfighter that nest with manned platform initiatives in this pursuit.
COL Courtney Cote is the project manager and MAJ Marshall Gray is the assistant project manager for Unmanned Aircraft Systems, Program Executive Office Aviation at Redstone Arsenal.