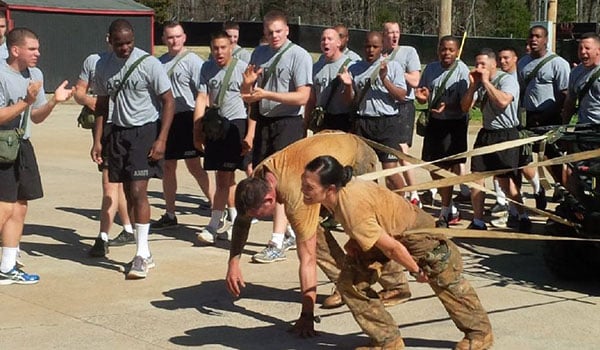 Enlisted Green Platoon Combat Skills / By CPT Lucas G. Harris: It is a Friday afternoon, and more than 60 students training to be members of the 160th Special Operations Aviation Regiment (Airborne) (SOAR(A)) are standing in formation in front of two bunkers that date back to the 1940s. On one bunker hangs four placards dedicated to each of the individuals on Aircraft #185, an MH-60L that crashed in Afghanistan in January 2003. Between the two bunkers stands the original Night Stalker Memorial, which was dedicated in January 1990 shortly after the unit returned from combat operations in Panama. It serves as a solemn reminder of the high cost our soldiers and families pay for performing the nation's most demanding missions. The memorial is inscribed with 94 names of Night Stalkers who have perished in combat or in training missions. Honoring those who, as Abraham Lincoln once said, have "borne the battle" is something all Night Stalkers are taught from day one.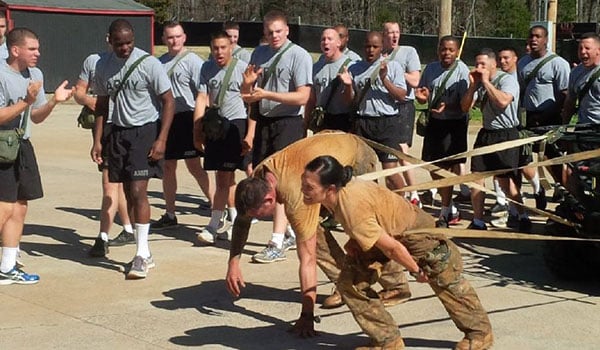 SSG Maritza Gonzalez, Co. A, Special Operations Aviation Training Battalion (SOATB) and SGT Jared Hunter of Co. F, 1st Battalion, 160th Special Operations Aviation Regiment (Airborne) (SOAR(A)), pull a heavily weighted Gator utility vehicle moments before being awarded the coveted "Black Shirt" and officially becoming instructors for the Combat Skills course. SSG Gonzalez, a 32-year old mother, has served 12 years in the U.S. Army, and is the first female to become a Combat Skills Instructor.
The students enthusiastically recite the Night Stalker Creed – as they do a multitude of times throughout the day. They stand firm in formation, knowing they're about to get a couple of days off to recuperate their weary bodies. Or are they? "Black Shirts" – experienced veteran Night Stalker instructors approach from all directions and begin challenging the new students with additional tasks, designed to build their confidence and foster teamwork. Some students appear disoriented, asking themselves if service in the 160th SOAR(A) is right for them. They are beginning "Black Day," a challenging team building event that every future enlisted Night Stalker experiences as part of their mission focused Green Platoon training. For the rest of the afternoon, and late into the evening, the students will complete a series of events that test their physical and mental limits. The new students are confronted with a simulated downed aircraft recovery mission, and a plethora of other combat oriented activities that sharpen decision making skills and promote teamwork.
The Program
"Black Day" is simply one event that encompasses the initial entry training program for the 160th SOAR(A) known as Enlisted Green Platoon Combat Skills. The course is run by Alpha Company, Special Operations Aviation Training Battalion (SOATB) and it is where all aspiring Night Stalkers begin their careers. It is six weeks of fast-paced, well-resourced training that will serve them well the rest of their Army service. The training takes place on a remote compound in the deep woods of Ft. Campbell's Old Clarksville Base (OCB), an area that was formerly used to house nuclear weapons from 1947-1965. It was the second nuclear weapons storage facility to begin active operations in the United States. While housing nuclear weapons, it was heavily guarded by U.S. Marines and earned the nickname, the "Birdcage," because of its triple rows of barbed wire fencing. It was only fitting that the 160th SOAR(A) located its original compound at that location.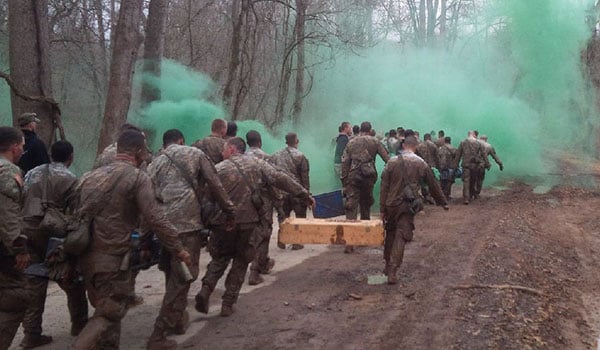 Students from Enlisted Green Platoon Combat Skills carry loads of equipment including ammo cans and crates, rocket pods, sandbags, and manikins during a simulated downed aircraft recovery mission as part of "Black Day." This grueling event is the ultimate test of physical and mental endurance for the students during the course and also serves as a great team building exercise that compels students to work together as a selfless and cohesive unit. By the event's completion students will have more knowledge of what it takes to become a "Night Stalker."
Shortly after the creation of the 160th in 1981, a series of accidents spurred the establishment of a dedicated training program for all of the unit's members. "Green Platoon" was born. Green Platoon has continuously evolved over time to become an effective SOF focused mission training program.
Combat Skills Training
Combat Skills consists of 30 training days that are typically 12-14 hours in duration. The training is an amalgamation of detailed specific academic training combined with application, as well as practical exercises. Even though each student must pass all of the events individually, the ability to perform as a team is stressed. The students rotate through four courses: medical first responder, land navigation, combatives, and weapons training. Aspiring Night Stalkers range in age from 18-45 and in rank from Private to Master Sergeant. Many arrive straight from their Advanced Individual Training (AIT), but some are seasoned veterans who come from legendary Army units like the 75th Ranger Regiment, the 101st Airborne Division (Air Assault) and 82nd Airborne Division.
The medical first responder training consists of medical training a level above the Army's Tactical Combat Casualty Care (the former Combat Life Saver) course. The medical first responder training consists of five concentrated days of training. The students receive academic instruction and demonstration, followed with hands-on training. The topics for the first responder training include: massive bleeding, Individual First Aid Kit (IFAK) packing, airways, tension pneumothorax, casualty evacuation, circulation and hypothermia. First responder training is perhaps the most vital in the course. The skillset the students obtain could directly result in saving lives on the battlefield.
The land navigation committee conducts a rigorous program of instruction that includes both academic and practical training. The students spend the first two days receiving classroom instruction on map reading, the compass, dead reckoning, plotting points, determining grid locations, terrain features, route planning, and Isolated Personnel Reports (ISOPREP). After academics, they take their skills to the woods and conduct terrain walks, dead reckoning, and group pin point training. The training culminates with the individual pin point, where each student must successfully locate four out of six points in five hours.
The third course is combatives. Each student is trained using the Modern Army Combatives Program (MACP) and earns a Level I certification. They also learn submissions, standup fighting and knee strikes, Pressure Point Control Tactics (PPCT), and participate in a standard combatives competition. The most challenging event in the combatives committee is the "Clinch Drill." To earn a Level I certification, each student must complete four successful clinches in accordance with the MACP.
The fourth, and last, course in Combat Skills is weapons training. For many of the students, it is the most enjoyable of the four committees. For six days, experienced instructors provide each student advanced weapons training on the M4 rifle and M9 pistol. Each new student will fire 1,500-2,000 rounds becoming highly proficient with their individual shooting skills. They shoot both paper and steel targets and engage in a series of advanced shooting drills that develop their speed and accuracy, confidence in transition from pistol to rifle (or vice versa) shooting on the move, and shooting under duress.
After the completion of all courses, the students spend several days cleaning equipment and gear and finishing a litany of administrative requirements to ensure they are ready to report to their respective 160th battalion. For those that have made it through, and are selected to graduate for service in a line battalion, the feeling is euphoric. Each of them has completed an arduous journey that has transformed them into a special operations warrior ready to serve the nation in a demanding and critical mission set.
On graduation day, the room is filled to maximum capacity as families come from all over the country and Night Stalkers from the line units come to welcome their newest teammates. Each student is called up individually and is handed his or her maroon beret. They have their picture taken by proud family members. The ceremony concludes in the same fashion that every previous training day began and finished – with the reciting of the Night Stalker Creed. In unison, the students snap to the position of attention and offer a thunderous delivery of those iconic words. They are now officially Night Stalkers. They persevered, they were challenged and most importantly, they did not quit; because "Night Stalkers Don't Quit!"
CPT Lucas G. Harris is the commander of Company A, Special Operations Aviation Training Battalion (SOATB) at Fort Campbell, KY.