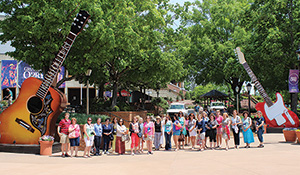 By Susan Yellen: Last year's Army Aviation Mission Solutions Summit was an overwhelming success and I am looking forward to see how AAAA can top it this year. Once again we're back in Nashville, TN at the Gaylord Opryland, one of my favorite places to stay. No matter whether you are on the exhibit floor, in the professional sessions, or just trying to navigate the meandering layout that is Opryland, you're bound to run into friends from the past; this is a great forum in which to Network.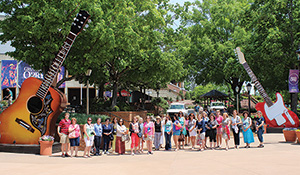 2014 Army Aviation Mission Solutions Summit spouses' tour around Nashville, TN.I would like to invite everyone to the Monday morning presentation of awards as it's a wonderful opportunity to provide national Recognition to very deserving Reserve, National Guard and Active component units and individuals. Looking at all the different opportunities to Network this year, this should be a wonderful platform for all to have a Voice in making Army Aviation the place to be.
Our spouse events last year were well attended and we've tried to make them even more interesting and enjoyable this year. On Monday we'll do the Nashville Photo Safari Tour; this excursion will take your group to visit many of Nashville's iconic landmarks for photographic opportunities and a great social time on a "Fun Bus," which is a converted school bus with social seating (facing one another). On Tuesday it's the Wineries of
Middle Tennessee tour, which takes you to an area about an hour south of Nashville to visit 4 to 5 wineries in beautiful rolling country and provides tastings of locally produced varietals at each stop. For those outside the Fort Campbell area, Opry Mills adjoins the hotel and is Tennessee's largest outlet, value retail, shopping, dining and entertainment destination; it's a short walk from Opryland Hotel and an exciting venue to stroll through.
I'm also delighted to see our Soldier Café back open and even better this year for our soldiers as a way of reducing out-of-pocket costs for food and beverage and ensuring continued Support to those in uniform. A big success in its inaugural year, in 2015 it will be open not just for lunch, but during extended hours so that soldiers desiring a place to sit back and relax will have such a place to go. A new addition this year will be coffee, water, muffins and fruit prior to lunch and coffee, water, soft drinks and cookies in the afternoon.
Last year's Hall of Fame (HOF) induction continues to draw rave reviews. This inspiring event is on Monday evening and has been transformed into the 'Oscar Night' for Army Aviation, a formal event in recognition of this prestigious honor and an opportunity to hear the inspirational stories and comments from the inductees. Tuesday evening will once again be an informal Soldier Appreciation dinner concert featuring Martina McBride. Last year over 1100 attended and I think we'll exceed that audience this year.
I am always exhausted at the end of these events – with two and a half days of so much to do and see; it will be just as hectic, exhilarating and tiring as in the past. But, I wouldn't want it any other way! We always have an enjoyable time and I know you will too.
Howard and I look forward to seeing all of you in the Music City.
Executive Director's Note: It has been a pleasure working with you, Howard. You have truly made a difference in this organization that will benefit our members for many years to come. On behalf of the whole AAAA National Office team…thank you!