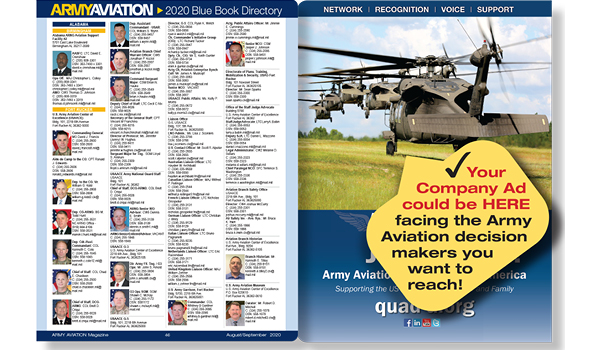 Reserve Your August-September Ad in ARMY AVIATION Magazine  Today!
August/September Blue Book Directory
Bonus Distribution at ASE 9/13-14 Kissimmee, FL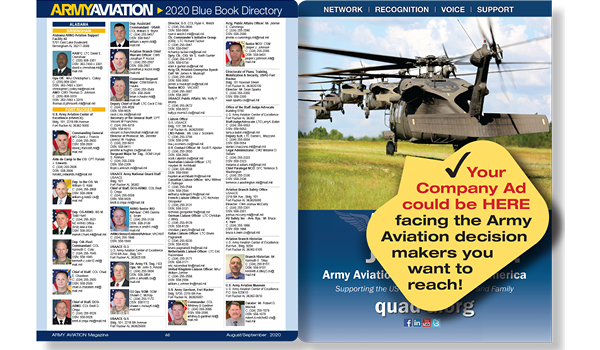 Your Company Ad could be HERE facing the Army Aviation decision makers you want to reach!
The Blue Book Directory Issue is Referenced All Year by Army and Industry!
Your Ad Reaches:
100% of the Aviation Branch Force Structure
More than 2,000 listings of organizations, commands, activities and individuals in the Army Aviation community
100% of all Army National Guard State Adjutant Generals and State Army Aviation Officers
Plus Bonus Distribution To:
ALL General Officers regardless of branch in the U.S. Army
100% of the Army Aviation Congressional Caucus, Senate Armed Services Committee, House Armed Services Committee and Defense Appropriations
"Today's Blue Book provides the perfect backdrop to reflect on what must continue to be our central focus…"
– Former Branch Chief
"This edition is all about our leadership – the faces and contact information for people and positions you may not have even known existed."
– Former Branch CSM
Exhibitors who have print advertising in place will receive preferential placement over non-advertisers at all AAAA Events.
Insertion Order and Materials Deadline – August 16, 2021

Advertising Sales Team:
AAAA Main Number – 203-268-2450
Bob Lachowski – Ext. 131
Erika Burgess – Ext. 125
This email address is being protected from spambots. You need JavaScript enabled to view it.