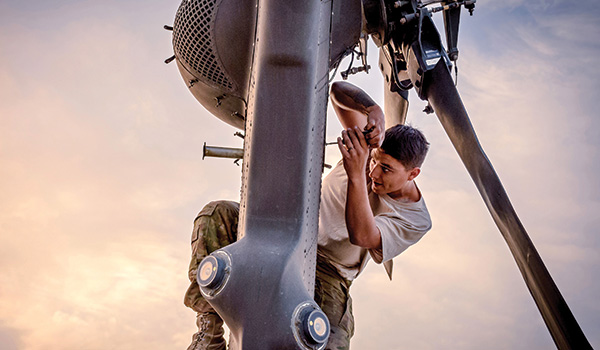 ARMY AVIATION Magazine is proud to present the winners of our annual photography contest. 48 qualified AAAA members, submitting 76 Army Aviation related photographs taken during CY 2016, competed for the top 12 places. We congratulate the winners and thank all of the contestants for their efforts and service. We invite all AAAA members to participate in our 2017 contest. Visit the AAAA website, quad-a.org for details and submission requirements. Bill Harris, Publisher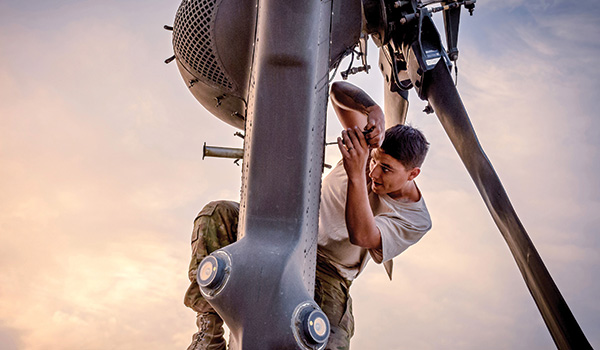 First Place – "Battling Zeus" by Chief Warrant Officer Three Jeffrey A. Kennedy
Headquarters and Headquarters Company, 2nd Battalion, 1st Aviation Regiment, Task Force Fighting Eagles, Wamego, Kansas October 25, 2016; Bagram, Afghanistan- A UH-60 maintainer works on post flight after a mission in Bagram, Afghanistan.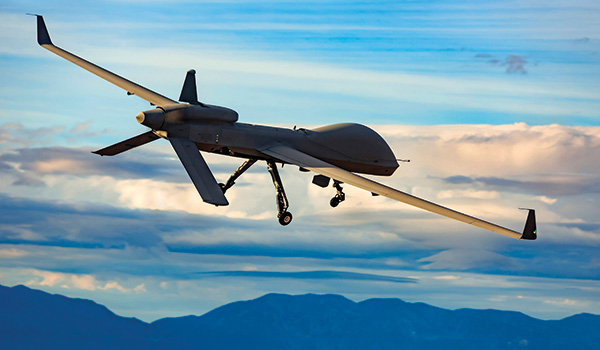 Second Place – "Gray Eagle Over the Mojave" by Christopher Luke General Atomics Aeronautical Systems, Inc., Poway, California December 7, 2016; Adelanto, California- The first production representative Gray Eagle Extended Range Unmanned Aircraft System (UAS) takes flight.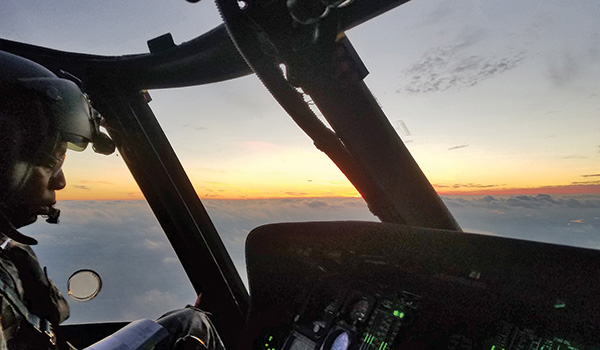 Third Place – "New Jersey Aviation Sunset" by Chief Warrant Officer Three Kristina S. Sofchak 1st Battalion, 150th Aviation Regiment, Jackson, New Jersey December 8, 2016; 8 nautical miles northeast of Lakehurst Maxfield Field Airport, New Jersey – CPT Stevenson flying a UH-60L Black Hawk on an instrument flight rules (IFR) flight; just breaking out of instrument meteorological conditions (IMC), visual flight rules (VFR) on top.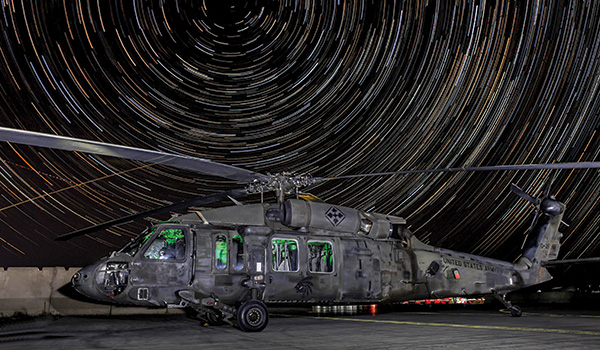 Fourth Place – "Black Hawk Starry Night" by Major Bradley C. Gates 4th Battalion, 4th Aviation Regiment, Colorado Springs, Colorado June 6, 2016; Jalalabad, Afghanistan – A UH-60 Black Hawk from Task Force Gambler Guns sits parked under a clear summer night's sky. Camp Buehring, Kuwait.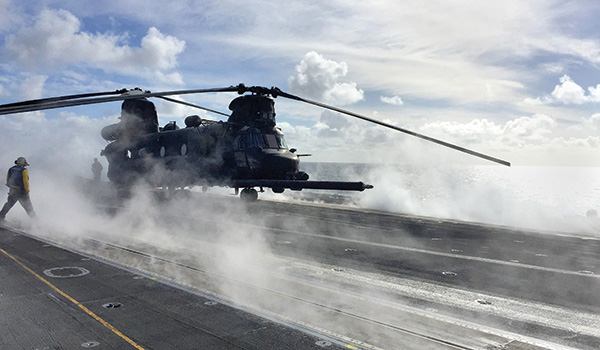 Honorable Mention – "Within the Mist" by SFC James J. Tombrello Company D, 4th Battalion, 160th Special Operations Aviation Regiment (Airborne), Joint Base Lewis-McChord, Washington October 31, 2016; Off the California Coast – An MH-47G prepares for training aboard the USS Nimitz.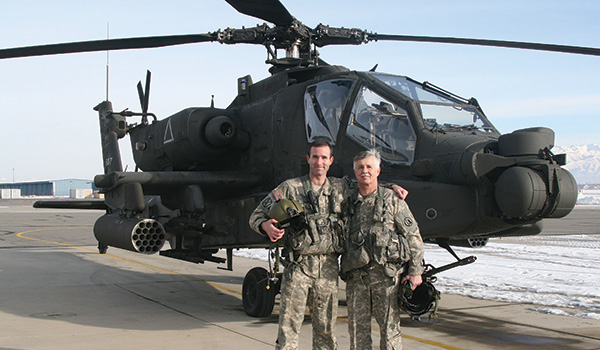 Honorable Mention – "Jedi's Final Flight" by Chief Warrant Officer Four Jared S. Jones 1st Battalion, 211th Aviation Regiment, West Jordan, Utah January 29, 2016; South Valley Regional Airport, Utah – Father and son prepare to go on CW5 Kenneth Jones' final flight; he has over 10,000 hours in the Apache and currently has the most flight time in the airframe in the world.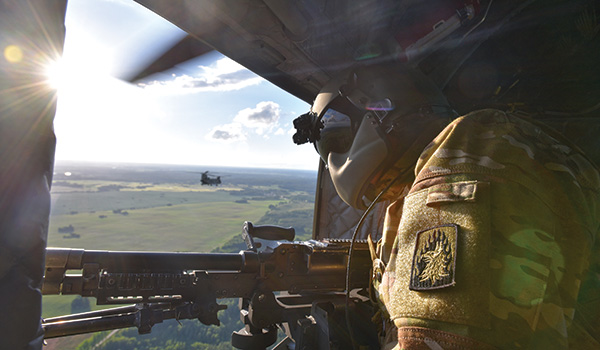 Honorable Mention – "Polish Horizon" by Captain Jaymon A. Bell 12th Combat Aviation Brigade, Wiesbaden, Germany June 10, 2016; Wedrzyn, Poland – Over 33 NATO helicopters from the Polish 1st Army Aviation Brigade, 25th Air Cavalry Brigade, and the U.S. 12th Combat Aviation Brigade "Task Force Griffin," fly in formation during a battalion size air assault of over 400 Sky Soldiers from 1st Battalion, 503rd Infantry Regiment, 173rd Airborne Brigade during Exercise Anakonda 16.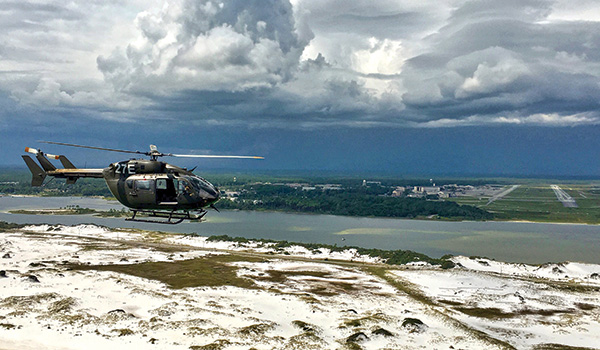 Honorable Mention – "Storm of Change on the Horizon" by Sergeant First Class Santiago E. Ramirez Company A, 1st Battalion, 212th Aviation Regiment, Fort Rucker, Alabama September 12, 2016; In the vicinity of Hurlburt Field, Florida A Lakota on a cross-country training flight approaching the runway centerline at Hurlburt Field.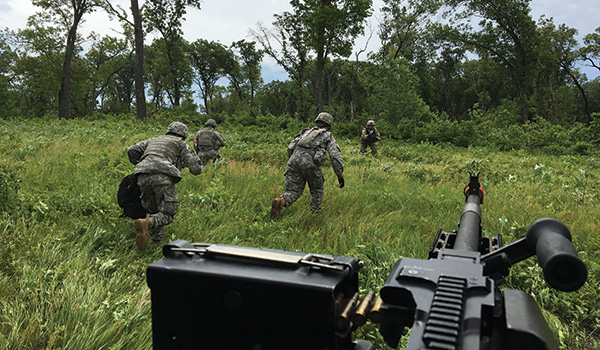 Honorable Mention – "Crew Dog on the 240!" by Sergeant Kendall J. Hudson Company B, 1st Battalion, 106th Aviation Regiment, Skokie, IL June 12, 2016; Fort McCoy, Wisconsin Gunner's view of a mortar team exiting a UH-60 Black Hawk.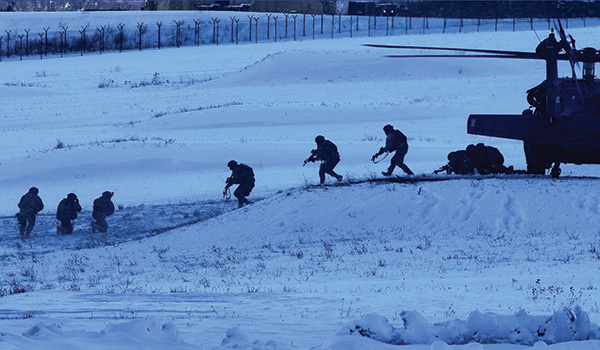 Honorable Mention – "Training Into the Night" by Major Kyra J. Willyerd Command and General Staff College, Lansing, Kansas January 21, 2016; Joint Multi-national Readiness Center, Hohenfels, Germany – Task Force Spearhead conducts cold load training at the Joint Multinational Training Center (JMRC).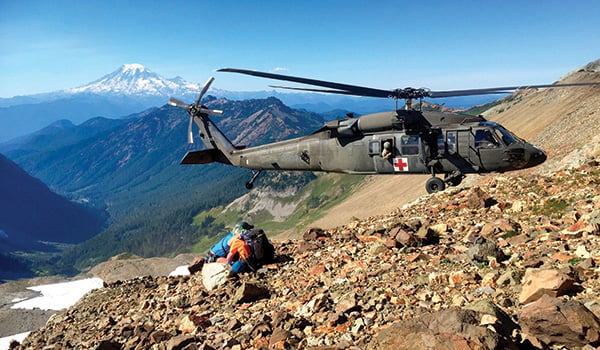 Honorable Mention – "Goat Rock Mountain Rescue" by Sergeant First Class Alexis Marulanda United States Army Air Ambulance Detachment, Yakima, Washington August 18, 2016; Goat Rock Wilderness Area, Washington – DUSTOFF performing one-wheel landing to extract injured hiker off mountainside with assistance from Yakima County Search and Rescue Team.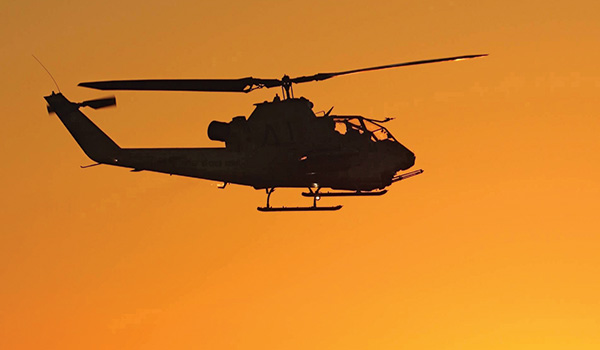 Honorable Mention – "Cobra Sunset" by Kristal Whitley Monroe, Georgia October 31; Witham Field Airport, Stuart, Florida – An Army Aviation Heritage Foundation AH-1 Cobra during an evening airshow performance in Stuart, Florida.