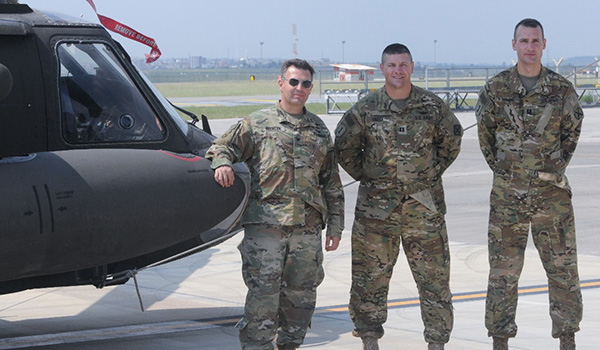 By CPT Stephen James: The 29th Combat Aviation Brigade is preparing to send a detachment of UH-60M helicopters, air crews and related support to Incirlik Air Base, Turkey. The unit is a mobilized National Guard brigade currently providing forward-deployed Army aviation forces to U.S. Army Central (ARCENT) in Kuwait. In addition to supporting Operation Spartan Shield (OSS) in Kuwait, the 29th CAB also supports Operation Inherent Resolve (OIR) across Iraq and its neighboring countries.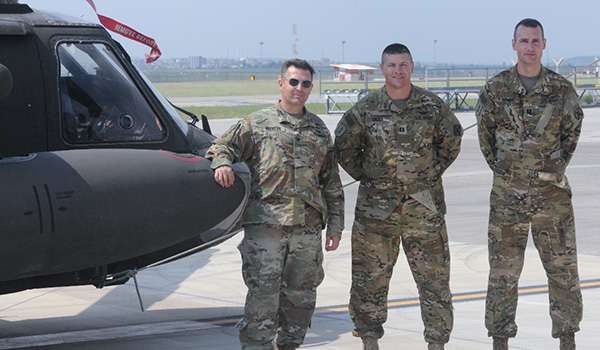 COL Mark Beckler (left), 29th CAB Commander, stands with CPT Brian Snook and CPT Jonathan Lunde in front of a UH-60M Black Hawk helicopter at Incirlik Air Base, Turkey during the 29th CAB's site visit on June 18. / U.S. ARMY PHOTOS BY CPT STEPHEN JAMES
In February 2017, the 10th CAB from Fort Drum, New York deployed with approximately 50 helicopters for a nine-month rotation in Europe to support of Operation Atlantic Resolve. During previous rotations, visiting Army aviation units from U.S. installations were attached to the 12th CAB for command and control. The 10th CAB, by contrast, has been responsible for mission command for their own subordinate units across Europe, including a small UH-60 flight detachment in Incirlik.
"This is a unique mission that is in support of U.S. European Command (EUCOM) and U.S. Central Command (CENTCOM), so you get the challenges and opportunities of each mission," said CPT Jonathan Lunde, the 10th CAB flight detachment officer in charge (OIC) at Incirlik.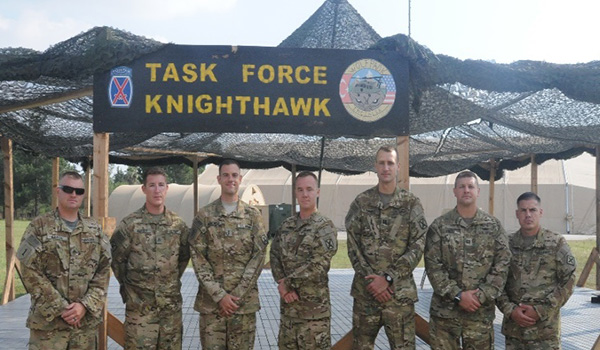 Leadership from 10th CAB's TF Knighthawk and the incoming 29th CAB detachment pose for a picture at Incirlik Air Base, Turkey during the 29th CAB's site visit on June 18.
The mission in Incirlik is again in transition as the 29th CAB prepares to send aviators and helicopters from Company B, 1st Battalion, 147th Aviation Regiment to conduct a relief in place with their 10th CAB counterparts. In Kuwait, selected personnel from the 1-147th Assault Helicopter Battalion (AHB) prepare for their upcoming deployment to Incirlik Air Base while the rest of the battalion focuses on providing support to OIR and OSS at other locations. The 29th CAB leadership and staff must coordinate with U.S. Army Europe (USAREUR) and United States Air Force Europe (USAFE) for various aspects of mission command and sustainment of their aircraft and air crews in Turkey.
"It is not common for ARCENT aviation forces to assume a mission in USAREUR's area of responsibility," said the 29th CAB Commander, COL Mark Beckler. "We have some issues to work through."
Future Army aviation rotations to Incirlik may come from ARCENT, USAREUR or elsewhere. But for now, the air assault pilots and crewmembers from B/1-147th will fly missions in Turkey as their predecessors from Task Force Knighthawk have done for the past several months.
As TF Knighthawk departs Incirlik to rejoin 10th CAB forces elsewhere in Europe, the incoming B/1-147th Commander, CPT Brian Snook, embraces his new mission. "We are excited to take on a new challenge and continue to support the CAB across the area of operations in all aspects of aviation support," said Snook.
CPT Stephen James is the public affairs officer for the 29th Combat Aviation Brigade, Maryland Army National Guard.