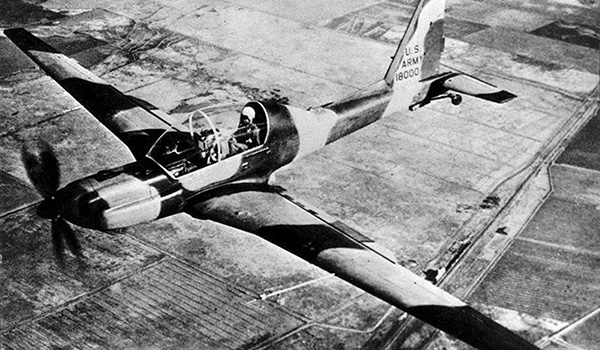 Historical Perspective / By Mr. Mark Albertson: Editor's Note: This article is a follow-on to "Flying on the QT" by Mark Albertson in the July 31, 2015 issue of ARMYAVIATION.
PUBLIC DOMAIN PHOTO
When the sun goes down, the insurgents come out. Yet aircraft styled upon acoustic-based stealth technology proved successful in stealing the night away from Charlie. One of these was the QT-2PC which, after nine months in theater, was withdrawn to be replaced later by the YO-3A. However the next step in the development chain was the Q-Star, a possibility Lockheed was developing on its own dime.
Q-Star was a platform for continued research on the Quiet Plane concept. This version boasted a tail-dragger, three-point landing gear and offered more fuel in the wings. The original power plant was an O-200 Continental rated at 100 hp; replaced by a 165 hp Curtiss-Wright RC2-60 "Wankel" engine. However, Lockheed Program Manager F. David Schnebly and Chief Engineer Dr. Sherman M. Seltzer proposed an alternative design; the QT3, which the Department of Defense would eventually accept, and, became known as the YO-3A. Funds were appropriated and work commenced.
The Aircraft
The YO-3A was powered by a single Continental IO-360D 6-cylinder rated at 210 hp. Top speed, 138 mph; cruise, 110 mph; with 70 mph for optimum noise reduction. A six-bladed, fixed-pitch prop was driven by a V-Belt system consistent with the earlier QT-2PC for noise suppression. The YO-3A sat atop a retractable landing gear and housed a crew of two, with the technical observer forward of the pilot. The canopy was a key major design; an oversized glass blister which enclosed the cockpit.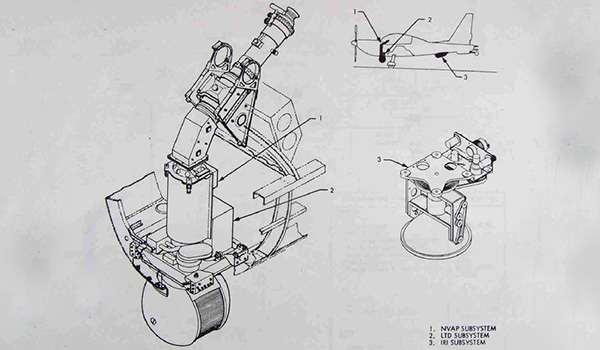 Diagram of the Night Vision Aerial Periscope with attendant Infrared Illuminator and Laser Target Designator / Diagram of the Night Vision Aerial Periscope with attendant Infrared Illuminator and Laser Target Designator
The nocturnal vision package aboard the YO-3A included "an articulated and stabilized Night Vision Aerial Periscope (NVAP) and Infrared Illuminator (IRI) able to sweep 360 degrees in horizontal from nadir to +15 degrees in vertical from the airframe." The NVAP image intensifier provided the contrast necessary to locate and identify targets using star and moon light; and, worked well against highly discernible surfaces (e.g. waterways, beaches, open/broken terrain); with the IRI enhancing the contrast for target location. Also, included was a Laser Target Designator (LTD).
Production centered at such Lockheed facilities in California as Menlo Park and Ontario. Assembly and test flights were conducted at the Naval Air Station, Moffett Field; the Naval Auxiliary Landing Field Crows Landing; Hunter Liggett Military Reservation; Naval Weapons Test Center China Lake; Hughes Tool (all California); Churchill Flats, Nevada and, Fort Belvoir and Quantico, both in Virginia.
Vietnam Service
Eleven YO-3As were built; nine of which were sent to Vietnam, arriving May-June 1970. With the occasional staging out of large peripheral fields (e.g. Binh Thuy), the operating bases were Phu Bai in the north and Long Thanh in the south. Aircraft from the former serviced I Corps and northern II Corps, with rare incursions into Laos and North Vietnam (DMZ, Tri-Border area). Aircraft from the latter base served III and IV Corps, with occasional forays into Cambodia.
The aircraft could overheat approximately five minutes after the power plant had been started if the aircraft remained in a stationary position. Takeoff patterns coordinated with the control towers ensured YO-3As taxied directly onto the runway and took off without coming to a halt.
The YO-3A generally operated from runways some 5,000 feet in length. The average takeoff measured 3,000 to 3,500 feet. This offered the pilot an abort cushion of some 1,500 feet; for as Colonel Robert Cox observed, "…available engine power was not a YO-3A strong suit. Underpowered for sure!"
Initially the YO-3As were equipped with six-bladed, wooden, ground-adjustable (fixed-pitch) propellers designed to optimize low engine noise. Aircraft deployed to Vietnam were eventually refashioned with three-bladed, constant-speed (variable-pitch) propellers which improved takeoff performance.
Usual mission altitude for the YO-3A was 1,000 to 1,200 feet. This provided the best field of view for the technical observers looking through their NVAPs. Usual, though, does not mean standard; as missions were flown at altitudes lower and higher than offered above. Missions, according to Frank Gitter, a technical observer assigned to fly YO-3A missions, were of the nocturnal type, overflying roads, rivers and jungle areas frequented or controlled by the Viet Cong. Once targets were pinpointed, artillery, helicopter gunships or strike groups like the Navy's "Black Ponies" were vectored in.
Not a single YO-3A was lost to enemy action in Vietnam. Yet such a sterling record performed by gallant technicians and crews could not overcome the political realities inherent to the Vietnam War. And on August 13, 1971, planes and crews were deactivated. However, the YO-3A would see additional service stateside with the Louisiana Department of Wildlife and Fisheries, the FBI and NASA.
Where Are They Now
The eleven YO-3As and the present status of each are:
69-18000: First production aircraft; remained stateside for testing purposes; presently on display at the U.S. Army Aviation Museum, Ft. Rucker, Alabama.
Each of the following were operational in Vietnam:
69-18001: Retained as a spare by the FBI; purchased by Mr. Bruce Elliot, La Conner, WA; on loan to the Hiller Museum, San Carlos, CA;
69-18002: Crashed, mechanical reasons, Long Thanh, North Vietnam.
69-18003: Sold to an aviation school, registered as N52695 in 1973; purchased by Mr. Richard Osborne, registered as N123LT, Feb. 14, 1977; slated for restoration.
69-18004: Crashed near Bien Hoa, Vietnam, June 6, 1971, killing CW2 M. Loving and CW2 C. Borchers.
69-18005: Sold to an aviation school, registered as N62295/N64495 to Mr. Richard Osborne, 1973; fuselage acquired by brothers Vic and Harold Hansen of Seattle, WA; currently owned by Mr. Bruce Eliot, La Conner, WA and on exhibit at the Seattle Museum of Flight.
69-18006: Duty with the Louisiana Department of Wildlife and Fisheries; after which the FBI; on exhibit at the Pima Air & Space Museum, AZ.
69-18007: Duty with the Louisiana Department of Wildlife and Fisheries; after which, the FBI; in storage at the Western Museum of Flight, CA.
69-18008: Crashed in South Vietnam. Pilot and observer survived.
69-18010: Duty with NASA; later posted to Edwards AFB for noise measurement testing. Now owned by the Vietnam Helicopters Museum, CA.
69-18009: Crashed in the United States prior to being sent to Vietnam, near Hunter Liggett AAF, Ft. Ord, CA, 1970; two USAF crewmen, one injured.
Author's Note: Special thanks to Brigadier General George S. Walker (Ret.), Mr. Dale Ross Stith, Lockheed, (Ret.), Colonel Robert Cox (Ret.), Mr. Frank Gitter, Mr. Bruce Eliot and CWO Ed Davis. Without their patient assistance this effort would not have been possible.
Mark Albertson is an award winning historian and contributing editor to ARMYAVIATION magazine.