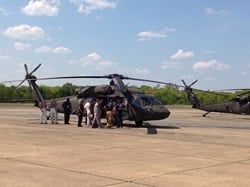 Soldiers stationed at the Alabama National Guard's Army Aviation Support Facility #1 held a rehearsal of their aircraft pre-accident plan at the facility in Hope Hull, Alabama, on September 9, 2016. The rehearsal also included personnel from the Alabama Air National Guard's 187th Fighter Wing's Fire and Rescue team, and the Montgomery Airport Police. 
Holding these rehearsals allows aviation facility Soldiers, airport officials, and fire and rescue personnel to become familiar with each other, discuss safety procedures, and go over standard tactics and life-saving procedures.
These photos were originally found here.