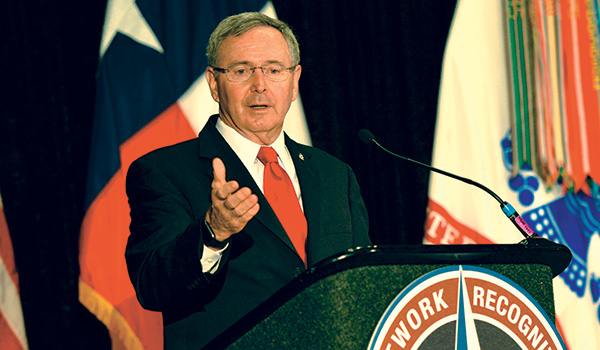 It is hard to believe how fast 2017 is flying by! It seems like we just left the Army Aviation Mission Solutions Summit and now we are in the midst of celebrating Thanksgiving with the New Years and religious holidays just ahead.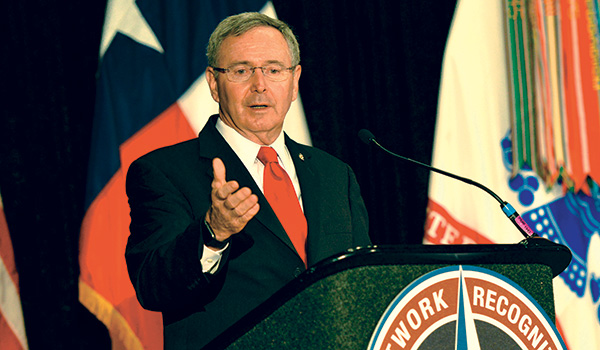 AAAA National President BG (Ret.) Steve Mundt opens the 13th Luther G. Jones Aviation Depot Forum Oct. 4, 2017 at the American Bank Center in Corpus Christi, Texas.
We have just finished our series of Fall symposia to include the Luther Jones Depot Forum at Corpus Christi, TX and the Aircraft Survivability Equipment and Joseph P. Cribbins Product Sustainment Symposia in Huntsville, AL with very strong turnout and tremendous professional dialogue and networking by all. One of the highlights of these events is always the presentation of the AAAA awards to some great Soldiers, civilians and units. Meeting their families and hearing their acceptance remarks always brings home what AAAA is really all about. I have to say though that beyond those experiences this year it was very emotional meeting some of the folks that benefited from your Association's donations to those CCAD artisans and their families who lost homes in the hurricanes in Texas. It was truly humbling to have helped to relieve some of the suffering of AAAA members and non-members alike, and experience their gratitude for AAAA supporting them when they needed it most. We are currently working ways to help our Aviation Brethren and families in Puerto Rico who were devastated as well by Hurricane Maria. It is all about supporting Aviation Soldiers and families in need.
All of these events also demonstrate to me how AAAA reaches the practical level of networking for solutions across disciplines from maintainers and scientists to acquisition folks and operational personnel. It is especially gratifying to see groups of Soldiers and Department of the Army civilians and industry engaged in animated discussions during the breaks in the professional programs. This is where real progress is made and AAAA is proud to provide the platforms for these discussions from which real-world solutions have emerged.
We have also just held another Senior Executive Associates meeting lead by GEN Scott Wallace in D.C. It was our largest gathering ever with 12 retired non-aviation four and three stars in attendance. The "Six Pack" was well represented with our Branch Chief, AMCOM commander, PEO Aviation, and Director of Aviation who were there to get the Associates up to speed on the issues most critical to you and to be sure your voice is heard through their advocacy.
What does all this mean? It means we do not take your loyalty and support for granted and that we are working extremely hard each and every day to justify our value to you and your families. You make a difference through your membership in the AAAA. You make an impact on the Branch, the Army Aviation Community, and the Army. We are about people. We are about you. We are about the U.S. Army Aviation Soldier and Family. Together we make a difference!
Be safe this Thanksgiving and throughout the coming holidays. Keep in mind all our friends deployed around the world to keep the rest of us safe. We give thanks to them, you and your families for what you do every day. I wish you a very joyful Holiday Season and on behalf of me and my family a very Merry Christmas and a Happy New Year.
Above the Best!
BG Steve Mundt, Ret.
33rd President, AAAA
This email address is being protected from spambots. You need JavaScript enabled to view it.