Looking Back / Army Aviation, January 2023; By Mark Albertson
Branch Update, By Major General Ronald E. Adams
Women in Aviation: Celebrating the Past, Building the Future
The U.S. Army Aviation Warfighting Center hosted a Women in Army Aviation Symposium in Late February. Over 90 aviation soldiers of both genders and all ranks traveled to the conference representing DOD-wide backgrounds and experiences. The goal of our symposium was twofold: First, to recognize and celebrate women's 21 years of service within Army Aviation and second, to identify and discuss current "gender issues" within the branch.
There are differing, sometimes contentious, opinions as to the value of highlighting one gender within a two-gender military. But at the same time, it is almost universally admitted that there are fundamental differences between the genders that may affect the way we do business. In that light, the symposium's intent was to encourage open, fair discussion of how the branch as a whole can best address these challenges.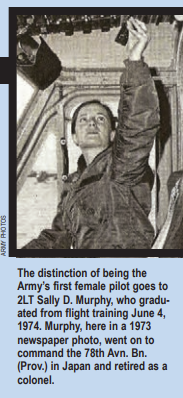 Women have now served in Army Aviation for more than 21 years. The first female pilot, 2LT Sally D. Woolfolk (now Colonel Sally Murphy) graduated from the rotary wing aviator course in June 1974. Females were serving as enlisted maintainers with the graduation of Private Linda Plock in February 1974 and were integrated into the Aviation warrant officer corps in June 1975 with the graduation of WO1 Jennie Vallance, Jr. As women began to attend and graduate from these aviation schools, they began serving in all capacities within the branch, except for attack, cavalry and special operations.
Almost 20 years later, in 1993, congressional legislation opened the door for women to fly attack aircraft and serve in those units as both pilots and maintainers. Further legislation in 1994 allowed women to serve in air cavalry line troops. A steady number of women have since graduated from the AH-64, OH-58D and AH-1 courses at Fort Rucker, constantly adding to the number of women in the attack/cav arena. Women have served in and have commanded both attack and cavalry units; they have flown in combat. They have been recognized as superb commanders and NCOs, award-winning aviators, and outstanding officers and soldiers.
While celebration was the initial order of business, the symposium also offered a rare opportunity for several generations of female soldiers and officers to discuss the challenges of a career in Army Aviation, and initiate mentoring-type discussions.
USAAVNC took this opportunity to stimulate discussion and to disseminate information. I opened the agenda with a branch overview and discussion of where women are serving within the branch today, and was followed by many superb speakers, to include BG Patricia Hickerson who chaired a dynamic, multi-media presentation of various recruiting efforts of yesterday and today.
Lieutenant Colonels Joe and Maureen Lebouef from the United States Military Academy presented a fast-paced, interactive discussion of gender differences, both behavioral and physical. They demonstrated some fundamental differences between men and women and the resulting cultural effects. Men and women often see the same situation differently. This is not necessarily a bad thing, but often challenging to acknowledge and appreciate.
The symposium audience was also brought up to date on the "Washington Perspective" by LTC Karen McManus. As the Pentagon's Woman in the Army Representative (as well as an aviator), she provided an update of trends that are affecting women in today's military.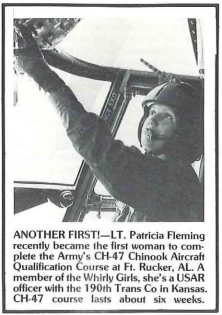 Presentations by the Aviation Research Laboratory (USAARL) provided a much anticipated forum for discussion of anthropometry (body measurements) and how this affects cockpit coordination, skills and safety. Ongoing studies are validating these standards, and may result in changes. The Aeromedical Center and USAARL participants also addressed the current pregnancy policy and research demonstrating the effects of the aviation environment on the developing embryo. They also examined the relatively new issue of the "aging" female aviator; how are health and flight skills affected versus the traditional male standard?
One of the main objectives of the symposium was accomplished by establishing work groups to discuss gender issues as they affect the entire branch, not just the female soldiers. The work groups were chaired by professional military facilitators and subject matter experts. These "group leaders" ensured that group discussion was oriented toward illuminating appropriate branch-wide issues, rather than recounting purely personal experiences.
Within this framework, the work groups identified issues which the Aviation Center Team is already working—issues briefed at our NCO symposium at our Brigade Commander VTC update.
The work group out-briefs provided impressive snapshots of the intended symposium goals: professional women sincerely presenting their best effort at making Aviation a stronger, more cohesive branch.
The representatives at the conference collectively represented a strong, dynamic female population that takes their role as part of the Aviation warfighting team very seriously. They are out front, and are willing to help lead us to a better future. We can all be tremendously proud of their contributions to our nation, our Army and to Army Aviation.
*****
MG Adams is the Aviation Branch Chief and Commanding General, USAAVNC and Ft. Rucker, AL., and Commandant, U.S. Army Aviation Logistics School, Ft. Eustis, VA.
*****
Source:  Pages 9 and 10, "Women in Aviation:  Celebrating the Past, Building the Future," by Major General Ronald E. Adams, Army Aviation, Vol. 45, No. 6, Army Aviation Publications, Inc., Westport, Ct., June 30, 1996.