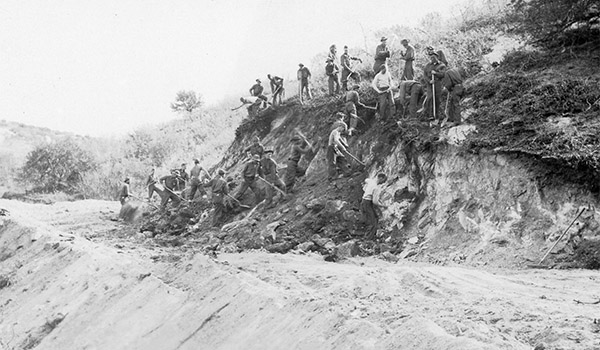 At the outset of the Franklin D. Roosevelt presidency, the CCC or Civilian Conservation Corps was established, March 31, 1933. CCC was one of those alphabet-soup of government programs promulgated to get the nation out of the Great Depression that had been ravaging the global economy.
CCC was to put men back to work, in an economy with a 25% unemployment rate. And for the next nine years, 1933 to 1942, some 3,000,000 men would take part in this highly successful and highly popular program.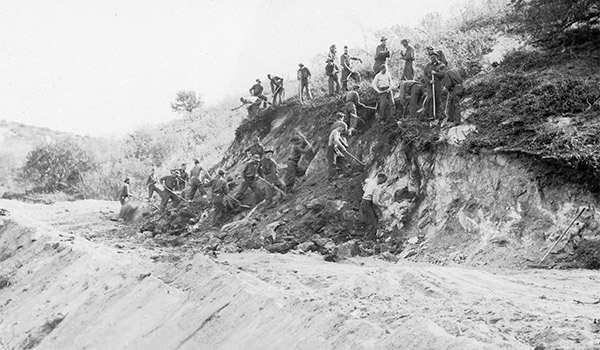 CCC workers constructing a road in Utah, November 1936 / Photo taken by a CCC worker
Men aged 18-25 were included, later broadened to admit those 17-28. They were provided with food, clothing, shelter and $30 per month ($25 had to be sent home). These men went to work as manual laborers, much of it in rural settings on federal, state and local lands. They "fought forest fires and reseeded grazing lands; they constructed roads, bridges, water-storage basins, and camping facilities; they built wild life refuges, fish-rearing ponds and animal shelters."[1] And, established "over 17,000,000 acres of new forest land . . . and 6,000,000 check dams."[2] In addition to state and national parks which have proved beneficial to the Nation.
The men were divided into companies of approximately 200 hands. Many of these companies were commanded by Army reserve officers. In command of one of the CCC camps was Captain William Wallace Ford, later the first Director of Air Training and a leading organizer and proponent of the Air Observation Post concept for the United States Army Field Artillery; the embryo of Army Aviation.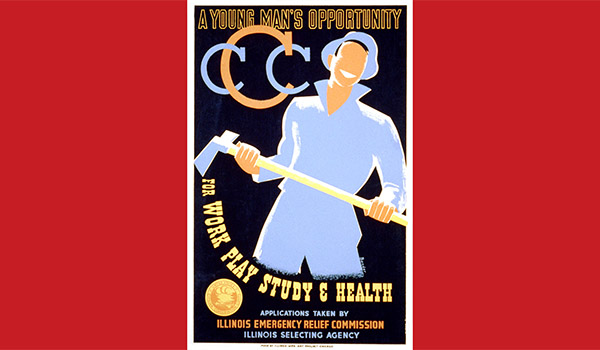 Recruiting poster for the Civilian Conservation Corps during the Great Depression.
The camp was near High Rolls, New Mexico. Ford had an Army lieutenant, his second in command, a mess sergeant and supply sergeant. Forestry Department officials assisted in running and organizing the camp and work activities. Ford explained that the work involved "the building of roads and bridges, clearing firebreaks and erosion control. As the enrollees became more skilled with axe and saw they built several log houses to improve the quality of the camp (since everyone was living in tents at the outset), a camp mess hall and kitchen, recreation building. . ."[3]
CCC helped to create that cohesion or unification necessary to galvanize the American public in a national effort to salvage the Nation as it stood on the precipice of an economic and political abyss. In addition, CCC helped to lay that groundwork of a national community scene that would be a war-winner, from December 7, 1941 to September 2, 1945, and which has been missing ever since. For as Ford observed:
"Of all the government operations I have seen, the CCC was one of the very best. Here were, in my company, some two hundred young men (mostly of Mexican descent, but nevertheless a fair cross-section of communities from which they came), who were taken off the street, given healthy outdoor work along with ample recreation and leave time, and afforded the priceless opportunity of working together in common purpose. It was a character-building and unifying operation of the highest order, and the benefit to the nation, which constantly tends to splinterize itself, was incalculable. I hope something like it may be revived, as part of a broad national service."[4]
Addendum: Some of the "graduates" of CCC included actors Robert Mitchum, Walter Matthau and Raymond Burr; Hall-of-Fame baseball player, Stan Musial; noted pilot, Chuck Yeager; one of the greatest of professional boxers, Archie Moore. One of the superintendents of CCC, Medal-of-Honor recipient, Alvin C. York or Sergeant York of World War I fame.
Endnotes
See page 13, Part One: "Introduction: Franklin D. Roosevelt and American Liberalism," The Era of Franklin D. Roosevelt, 1933-1945, by Richard Polenberg.
See page 603, Chapter XXIV, "The New Deal," The Growth of the American Republic, Vol. 2, by Samuel Eliot Morison and Henry Steele Commager.
See page 99, Chapter VI, "More Piping Times," Wagon Soldier, by William Wallace Ford.
See page 100, Ford.
Bibliography
Andrews, Wayne, Editor, Concise Dictionary of American History, Charles Scribner's Sons, New York, 1962. Originally published, 1940.
Ford, William Wallace, Wagon Soldier, Excelsior Printing Company, North Adams, Mass., 1980.
Morison, Samuel Eliot and Commager, Henry Steele, Vol. 2, The Growth of the American Republic, 1865-1950, Oxford University Press, Inc., New York, 1960. Originally published, 1930.
Polenberg, Richard, The Era of Franklin D. Roosevelt, 1933-1945, The Bedford Series in History and Culture, Bedford/St. Martin's, Boston, Mass., 2000.
Tugwell, Rexford G., Roosevelt's Revolution: The First Year, A Personal Perspective, Macmillan Publishing Company, Inc., New York, NY., 1977.