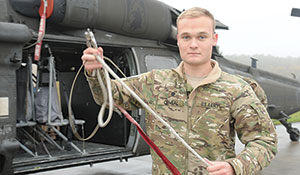 By CSM Eric C. Thom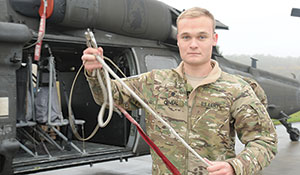 I have been looking forward to this edition of AAAA magazine for a while. It is filled with the latest ideas in science and technology (S&T) and research and development (R&D). Some of these concepts or systems will come to fruition and make it through the acquisition process, while others potentially will lose relevancy or merge with other concepts along the way.
Today, I want to start off with some proposed systems, philosophies, training and credentialing efforts that affect the enlisted Aviation Soldiers.
Systems
When it comes to systems, I want to focus on the common Aviation systems that are not specific to a particular platform. These systems fall under the purview of the U.S. Army Aviation Center of Excellence (USAACE) Concepts and Requirements Directorate (CRD). I chose CRD for two reasons.
First, CRD is responsible for non-platform-specific systems (so I'm not focusing here on one platform and not another). Secondly, like the systems under their purview, CRD is brand new and many of you may not have heard of them. CRD was created in March of 2014 by combining the TRADOC Program Office-Aviation Brigade and the Concepts, Experiments, and Analysis Directorate. CRD is our representative for the overall development of requirements and guides our future capability solu-tions for these systems.
One example of a non-platform-specific system is the Self Propelled Crane Aircraft Maintenance and Positioning Increment II (SCAMP Inc II). This proposal will replace the legacy SCAMP and Lorain cranes within aviation formations with two systems – a new flight line crane, and an expeditionary crane that will have a multi-modal (sea, rail, land and CH-47 internal/external) transport capability to support maintenance in austere locations and Downed Aircraft Recovery (DART).
Another example of a non-platform-specific system is the Aviation Light Utility Mobile Maintenance Cart (ALUMMC). Currently there is no standard for maintenance carts within aviation units, leaving gaps in mobility, sustainment and safety. Units procure and sustain non-standard carts that have no logistical support package, or they use high mobility multi-purpose wheeled vehicles (HMMWVs) or light medium tactical vehicles (LMTVs). The ALUMMC will improve the supportability of Army aircraft on the flight line and supplement the transport of Aviation personnel, tools, test equipment, components and supplies.
Maintenance Philosophy
There is much more going on in the Aviation enterprise than research and development of new systems alone. We are also looking at the way we conduct maintenance. Condition Based Maintenance + (CBM+) is a shift from the "old school," time/interval based maintenance philosophy and towards a philosophy of "data-driven fleet management." Right now, for example, we replace "part X" at 100 hours regardless of its condition.
We do this because part X has a life expectancy or time between overhaul (TBO) of 100 hours, so that is the metric we use to determine replacement. CBM+ analyzes the data captured from the components and can allow TBO times to be extended. If at 100 hours the part is still operating within parameters, its use can be extended and the supply demand goes down. With CBM+ we want to get to the point where we replace the part when its condition dictates, not just on a time schedule.
Training
This year we are executing a pilot program with our avionics, armament and electrical advanced individual training (AIT) students to take them from task based training to skills based training. The intent is to focus on mastery of Apprentice level skills and knowledge within groups of common military occupational specialties, providing the units with aviation Soldiers with a broader in-depth base knowledge. Should this prove successful then mechanical MOSs will follow starting in FY16.
Credentialing
We are working on the Digital Job Book, in an attempt to better track an individual's level of training and experience. The branch is currently working with the Army Career Tracker (ACT) and Combined Arms Center-Training (CAC-T) as well as the Institute for Noncommissioned Officer Professional Development (INCOPD) in this venture to not only better track the training and experience of our Soldiers and NCOs, but also provide them opportunities to successfully acquire civilian professional certificates and licenses.
A Final Note
Throughout history we have strived to create better systems to execute our missions. Some were better than others, but they all have one thing in common-they are tools, extensions of the war fighter. Regardless how powerful they are, they are only as good as the Soldier operating them. No matter how advanced the system, its capabilities never exceed the Soldiers' capabilities to utilize it. It is important to be ever vigilant in seeking new capabilities for our Soldiers. It is even more important to retain highly trained professional Soldiers to utilize them.
As always, it is my honor to serve as your Branch CSM.
Above the Best!
CSM Thom
This email address is being protected from spambots. You need JavaScript enabled to view it.
CSM Eric C. Thom is the command sergeant major of the Aviation Branch and the U.S. Army Aviation Center of Excellence, Fort Rucker, AL.
Caption: SPC Conner O'Neal, a Black Hawk mechanic with Co. C, 3rd. Bn. 158 Aviation Regiment, 12th Combat Aviation Brigade stationed in Illesheim, Germany, conducts a maintenance check prior to flight on Nov. 7, 2014. O'Neal, along with other Soldiers from his Brigade, are deployed to Miroslawic Air Base, Poland in support of Operation Atlantic Resolve. / U.S. ARMY PHOTO BY SPC AUDREY ANN HAYES