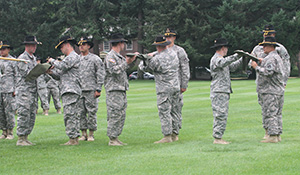 Branch Command Sergeant Major / CSM Eric C. Thom: "The willingness with which our young people are likely to serve in any war, no matter how justified, shall be directly proportional to how they perceive the Veterans of earlier wars were treated and appreciated by their nation." – General George Washington, November 10th, 1781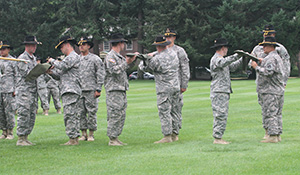 Soldiers case the unit colors for the 4th Attack Reconnaissance Squadron, 6th Cavalry Regiment during a formation gathered at Watkins Field on Joint Base Lewis-McChord. The 4-6 ARS inactivated the Kiowa squadron, Aug. 14, 2014 .U.S. ARMY PHOTO BY SSG MARK MIRANDADid you know that just one-half of 1 percent of Americans served in uniform at any given time during the past decade and a half? Add to that, the Budget Control Act, Sequestration (and for us the Aviation Restructuring Initiative) the Army's size will decrease even further. No wonder there is a growing disconnect between mainstream America and the Army. So what happens to the Soldiers we ask to leave, not because they did something wrong or didn't meet a standard, but just because we no longer have a position available for them?
After all, these are America's finest; all of them either joining or reenlisting to serve our country during a time of war when they knew they could be placed in harm's way. Did all of them face life or death situations? No, but they all stood up and volunteered to do just that. Isn't that the type of person you would want working for you? The DOD and the VA are working with Congress, industry and many others to reduce this disconnect when it comes to transitioning Soldiers to the civilian work force, but we need to do our part as well.
What USAACE is Doing
First I would like to talk about what we are doing with civilian credentialing. It is a primary focus for Army Aviation right now. Investments in our Soldiers provide units with enhanced mission capability by recognizing and refining their military specific training and experience. This program links and establishes direct correlations of military skills to civilian sector equivalents by demonstrating that training and skills acquired in the military are on par with those gained through traditional civilian pathways. Our goal is to provide potential employers of aviation Soldiers with an applicant who possesses civilian industry standard credentials. The way ahead is through the Army Credentialing Opportunities On-Line (COOL) website. https://www.cool.army.mil. We are in the process of increasing and updating current credentialing opportunities. The Army COOL option is available to Soldiers but requires leadership emphasis and support along with the individual's commitment to self-development.
Our Branch has been extremely proactive in identifying the relationship between professional military education and postsecondary education. Created in 1942 to recognize the educational value of military training and experience, The American Council of Education (ACE) has continuously evaluated military occupations (experiential knowledge), schools and correspondence courses to determine the amount of academic credit each should be awarded. Our NCO Academies recently went through an accreditation process with ACE. As a stakeholder in academia, USAACE works diligently with ACE team members in enhancing and refining our professional military education courses to maximize the potential outcome for our Soldiers, the result is that in our most recent evaluation, we experienced an increased number of upper division baccalaureate degree semester hours for all of our courses. New courses and occupations are continually being evaluated by ACE, and will be added as they achieve recognition. Soldiers can go to the ATRRS system to find out how many credits ACE will offer them. (Officers must use DD form 295) The educational institution will make the final decision on what they accept.
Pioneering efforts to recognize and document our Soldier's unique capabilities, USAACE has volunteered CMF 15 (Aviation) to be the first career management field to be incorporated into the digital job book of the Digital Training Management System (DTMS). Recently we have revived the job book in a digital format, and released it as part of DTMS version 7. With this release, we ask that you understand that as a 1st generation prototype, it will require adjustments to make it ours. With your assistance and commitment, we will continue to refine this product to make it what the Army and its leaders need. When it is all said and done, in addition to the many benefits for the unit, the digital job book will document a Soldier's individual capability, along with identifying what their next milestones are in the certification process.
Unit Level Responsibilities
To start with first line leaders should ensure all Soldiers, not just those preparing for transition are aware of and familiar with the Soldier for Life Program http://soldierforlife.army.mil/ and the Army Career Tracker https://actnow.army.mil/. There is more information on these two sites than I could mention in ten articles. Just as important is to remember that these Soldiers have already made a commitment and held up their end. Treat these Patriots with the dignity and respect they have earned as part of our team by helping them throughout the transition process. Look them in the eye and thank them for their commitment and service.
Soldiers Responsibilities
The reduction in troop strength and force structure in every military service after more than a decade of war isn't your fault, but if you are one of the Soldiers that has been identified through difficult decisions that will affect our Branch for years to come, you have a responsibility to prepare yourself. The country selected our civilian leadership and that leadership has made decisions that they believe are in our country's best interest. You need to be proactive and review the sites I have listed in the article. These are not your only sources of assistance but they will do for a start. Remember what it took to get to where you are at. Most people will never know or appreciate what you have accomplished just to get here. Keep your head high and walk with pride, because you are a Soldier and Once a Soldier, Always a Soldier… A Soldier for life!
Partners in Industry
As potential future employers of these highly skilled Soldiers, I ask you to look into your organizations and see if there is potential in exploiting their talents by recognizing what credentials you may be seeking. In addition, do you have an established on-the-job-training (OJT) program or apprenticeship program that this proven talent pool can utilize as they make their transition? These are trying times for all of us, I understand that and they are far from over, but never underestimate what a highly motivated Soldier can bring to your organization. The benefits could be vast for you and the applicant.
As always, it is an honor to serve as your Command Sergeant Major!
Above the Best!
CSM Thom
This email address is being protected from spambots. You need JavaScript enabled to view it.
CSM Eric C. Thom is the command sergeant major of the Aviation Branch and the U.S. Army Aviation Center of Excellence, Fort Rucker, AL.