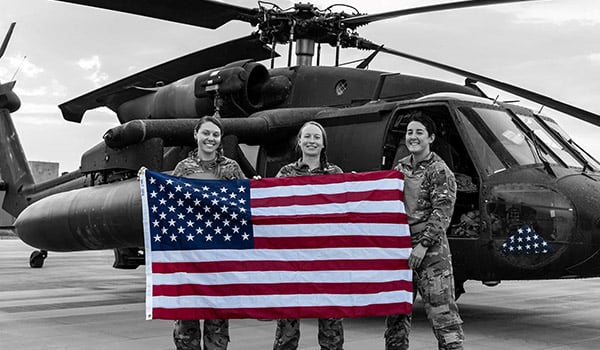 By CW4 Becki Chambers: This reason is what motivated CW2 Elizabeth Kruchek to join. Elizabeth grew up in Laingsburg, MI, a small town just northwest of Lansing. During her sophomore year of high school, Elizabeth had the opportunity to participate in a German exchange program. She says the experience changed her life and opened her eyes to the world that existed outside of her tiny hometown. She became hooked on travel, and has since lived in many states, and not all because of the Army.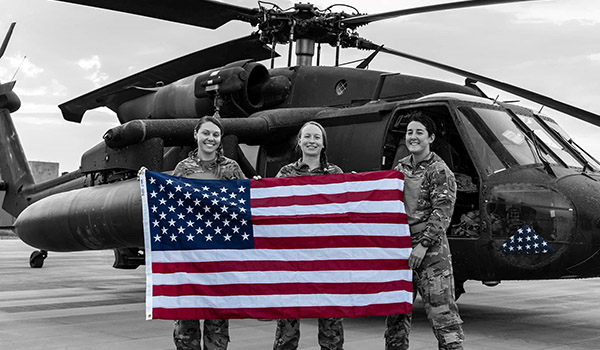 Left to right: Madeline Heath, Elizabeth Kruchek, Tarrissa Vincent
When Elizabeth was a teenager, her mother started skydiving as a hobby. Her mother soon met Joni Dimond, a Certified Flight Instructor, who took her up for a flight. Elizabeth's mother knew right away Elizabeth would love flying, so she bought her an introductory flight as a gift upon graduation from college. Elizabeth was immediately hooked! She spent the next year waitressing and using all her spare cash on flying lessons. Because she only paid with cash, it took her a year to complete her private pilot's license.
Other than Joni, Elizabeth had never known anyone that flew for a living. Joni has a daughter in the Navy, and she suggested to Elizabeth that she look into it. One day, Elizabeth finally went to talk to a Navy recruiter who had her fill out a questionnaire. Upon a quick review, he told her she was "too short to be a pilot" and said he was not going to submit her application. Elizabeth was appalled because #1, she was already a pilot, and #2, she had never been told she was too short to do anything!
About a year after that happened, a friend called her from Fort Rucker who was in flight school and shared how much she loved it. Elizabeth replied that she couldn't afford to learn how to fly a helicopter and that she had barely scraped by paying for her fixed wing license. Her friend laughed and told her that the Army will teach her and pay her at the same time. Elizabeth was so impressed she basically signed up within the next month. As is too often the case, her recruiter refused to do the "high school to flight school" packet so she spent 2 years enlisted as a 68W. Elizabeth is currently in the Reserves as an H60M MEDEVAC pilot deployed to Iraq.
After completing military flight school, Elizabeth spent a summer working her way through the rest of her civilian flight ratings. She applied for and flew Lear 35s for an Air Ambulance company. Elizabeth had the opportunity to fly internationally as well as across oceanic territory (with horrible radios!) The Lear 35 was prone to maintenance problems, so she learned quickly to react calmly and analyze malfunctions. After the air ambulance job, she decided to give the airlines a try. She was hired on with PSA and has been flying the CRJ 200/700/900 throughout the eastern U.S. It has been a dream come true for her inner travel addict!
Elizabeth would like to give a special shout out to her husband Shaun. She says he has shown her that through her work ethic, paired with unwavering love and support, she really can have it all – an Army Aviation career, a civilian aviation career, and an amazing partner and family. He even supports her wild travel ideas!
When asked why she believes it's important to join a professional organization, Elizabeth replied: "In our many realms of life, it's hard to find those that understand our struggles and setbacks. Organizations like AAAA bring together people of similar interests to provide guidance, support, and even new opportunities we may not have known existed."
CW4 Becki Chambers is AAAA Vice President for Membership