The Vietnam Helicopter Pilot and Crewmember Monument Dedication Ceremony is scheduled for 4:00 PM, April 18, 2018 at the Arlington National Cemetery Memorial Amphitheater (located directly behind the Tomb of The Unknown Soldier). No tickets are required, and there are no fees. All are warmly invited to attend.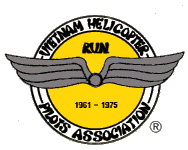 At 4:50 PM following the retiring of the colors, a wreath-laying ceremony will commence with flowers carried from the amphitheater to the nearby monument located on Memorial Drive in Section 35, a short 75-yard walk. Those wishing to honor their lost loved one or military unit with flowers are welcome to join the procession with their wreath or bouquet.
Following the dedication ceremony, a reception will be held at 5:30 to 7:00 PM at The Women In Military Service For America Memorial (WMSAM) located near the cemetery Welcome Center at the west end of Memorial Avenue. All Vietnam Veterans, Gold Star Families, dedication ceremony attendees and distinguished visitors are invited to attend the post-dedication event.
The VHPA North Carolina Chapter will provide a combat UH-1 for display in front of the WMSAM for the April 18th ceremonies. The helicopter is the perfect symbol to complement the event and will remind all visiting ANC of the courage and sacrifice of those who operated rotary-wing aircraft in the Vietnam War. Our thanks in advance to the North Carolina Chapter for this worthy contribution.
Funding for the April 18th activities must be paid for with private donations and contributions. Although the VHPA has paid for the construction and installation of the monument, the day's events still need funding. We ask for your financial support. Please consider donating to cover the expenses of complementary souvenir programs, transportation, and reception expenses. All donations are tax-deductible, and any funds remaining after expenses are met will go to the VHPA scholarship fund. Checks can be made out to:
VHPA Monument Fund. Please mail your donation to:
VHPA HQ
2100 N HWY 360, Suite 907
Grand Prairie, TX 75050-1030