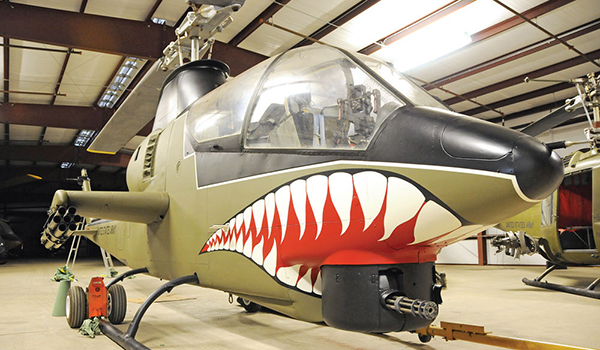 By Nathan Pfau, Army Flier Staff Writer: Before the AH-64 Apache became the might of the skies for Army Aviation, another aircraft was paving the way for the Army's modern attack helicopter fleet.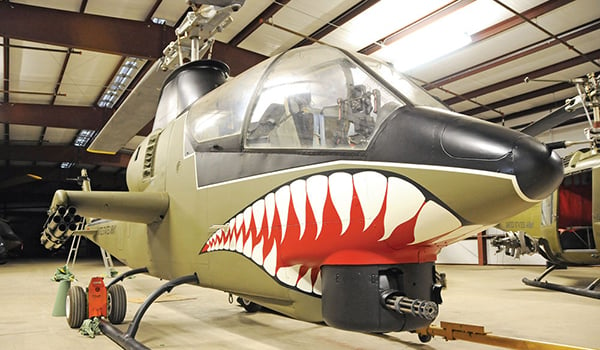 This AH-1 G-model Cobra sits in storage at the U.S. Army Aviation Museum and sports a unique paint job, featuring a shark's mouth, which many consider synonymous with the Cobra look. Photo by Nathan Pfau
The Bell AH-1 Cobra, three of which sit in the U.S. Army Aviation Museum's inventory, became the world's first attack helicopter and was born out the need for a faster, more aggressive gunship during the Vietnam War, and when the Cobra was delivered in 1967, that's just what they got, said Bob Mitchell, U.S. Army Aviation Museum curator.
During the Vietnam War, the UH-1 Huey was the star of the show, acting as a troop transport, MedEvac helicopter and gunship. Although the Huey made for a decent gunship, it was too wide and too slow when it came to attack capabilities, said Mitchell.
"The Huey was not fast enough as a gun ship," said the curator. "They were just getting shot out of the sky left and right, so they had to do something, and they finally came up with the Cobra."
The Cobra was built using many components of the already existing Huey helicopter, including the engine, transmission and rotor system, said Mitchell.