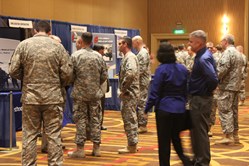 The USC Center for Innovation and Research on Veterans and Military Families recently conducted a qualitative study of Volunteers of America's programs which exist to help veterans find and keep jobs. The report is based on a review of literature on the subject, along with interviewswith VOA service providers and veteran clients. 
One employment challenge that was discovered is the lack of perparation veterans acquired in regards to the transition process. Many veterans had unrealistic expectations about the jobs that they were qualified for, the level at which they entered the civilian workforce, how easily they would find a job, or how much they should be paid.
Another challege that presented itself was the fact that veterans suffered from unaddressed mental health issues, including post-traumatic stress disorder and depression. Both issues were identified as risk factors for unemployment among veterans. Substance abuse is also an issue for many veterans who are self-medicating to treat the above mental health issues.
Recommendations to remedy the challenges include the need for a "civilian basic training" to help veterans transition to post-military life and workplaces. The report also recommended creating programs to specifically target harder-to-place populations, such as older veterans, less-than-honorable discharges, and veterans with criminal backgrounds.
This report was originally written by Claudia Bustamante. The full report can be found here.