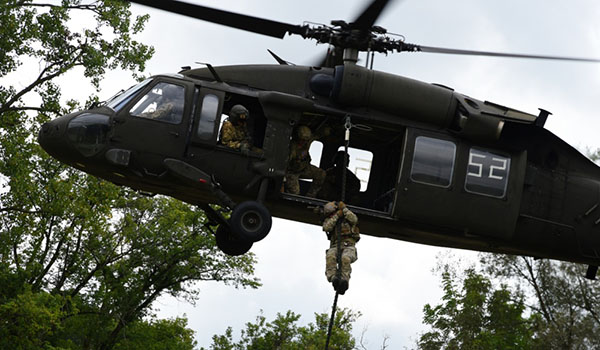 By Sgt. 1st Class Terra Gatti, VA Nat. Guard: As the helicopter shut down and the blades stopped spinning, 1st Sgt. Kevin Vineyard, assigned to the Virginia National Guard's 2nd Battalion, 224th Aviation Regiment, 29th Infantry Division, greeted Chief Warrant Officer 2 Mike, assigned to the 19th SFG. This wasn't their first time working together. Over the last half decade, the two have worked to develop training that meets the pre-deployment needs of the operators while also increasing proficiency for Vineyard's flight crews.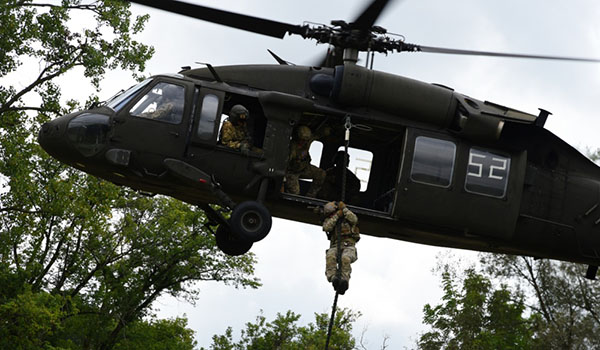 Virginia National Guard flight crews help prepare special operators assigned to the West Virginia National Guard's 19th Special Forces Group for deployment with fast rope training Sept. 6, 2018, near Buffalo, New York. The flight crews, assigned to the Sandston-based 2nd Battalion, 224th Aviation Regiment, 29th Infantry Division, flew two UH-60 Black Hawk helicopters to New York to assist the 19th SFG Soldiers with a multi-day training event. U.S. National Guard photo by Sgt. 1st Class Terra C. Gatti) 
"It's almost like working with your doppelgänger," Vineyard said of Chief Mike. "It's so neat to find someone who thinks on the same level."
Both Vineyard and Chief Mike are driven by a similar desire to provide realistic, effective and relevant training to their Soldiers. Repeatedly working together over multiple years is part of what helps them reach that goal.
"The relationship with the Virginia National Guard has been unbelievable," Chief Mike said. "It's pretty much the same pilots and the same crew chiefs and it's been working like that for five years, which means we're always in synch with each other."
This year's training, like in years past, made use of standing relationships with local, state and federal law enforcement agencies in and around Buffalo, New York. Those relationships, according to Chief Mike, were a big part of the reason he decided to hold the training in that area and the training included support from the Town of Hamburg Police, Hamburg Water Rescue, the U.S. Coast Guard and the Department of Homeland Security.
"This is our third Buffalo evaluation and train-up for deployments," Chief Mike said. "We're pretty connected here."
The first few days of training were task-driven. The operators have a list of required skills they must certify on before they deploy and the Virginia flight crews, along with their helicopters, provided some of the necessary support to accomplish that certification.
On their first full training day, over Lake Erie, the focus was first on paradrops, which required the Special Forces Soldiers to jump from the helicopters and parachute into Lake Erie where they were then collected and brought to shore by local and federal partner agencies. After that, the training focus shifted to helocasting, an airborne insertion technique where a rotary-wing aircraft flies just above the water's surface at a low airspeed as the special operations forces jump into the water.
While training like this certifies the operators on their special skills, it also helps the flight crews improve their readiness levels.