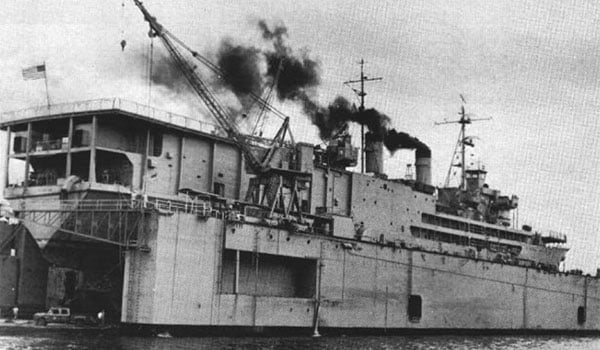 The USNS Corpus Christi Bay, the Army's only Floating Aircraft Maintenance Facility (FAMF) and home of the First Transportation Corps Battalion (Aircraft Maintenance Depot) (Seaborne), arrived at the Port of Corpus Christi December 19 after spending more than six years in waters off the Republic of Vietnam.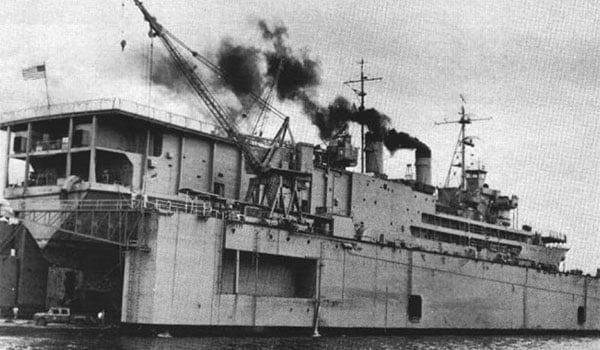 USNS Corpus Christi Bay (T-ARVH-1) in floating drydock
The ship and the officers and men of the First Transportation Corps Battalion were honored in "Welcome home!" ceremonies where Army, Navy and local dignitaries were on hand to greet the Vietnam returnees.
Appropriate ceremonies
Attending and speaking at the ceremonies were U.S. Representative John Young of the U.S. Army Materiel Command of which the ship is an element; and Rear Admiral William S. Guest, Commander of the Military Sealift Command, Pacific, which operates the Corpus Christi Bay.
Also attending the ceremonies were Major General Frank A. Hinrichs, Commander of the U.S. Army Aviation Systems Command, St. Louis, Missouri, and the Sergeant Major of the Army Silas L. Copeland. General Miley was the key speaker.
The First Transportation Corps Battalion on board the USNS Corpus Christi Bay has earned four Meritorious Unit Commendations. The battalion was responsible for repair and overhaul of a variety of aircraft components and, during its six years in Vietnamese waters, overhauled or repaired approximately 300,000 aviation components having an acquisition value in excess of $22,000,000.