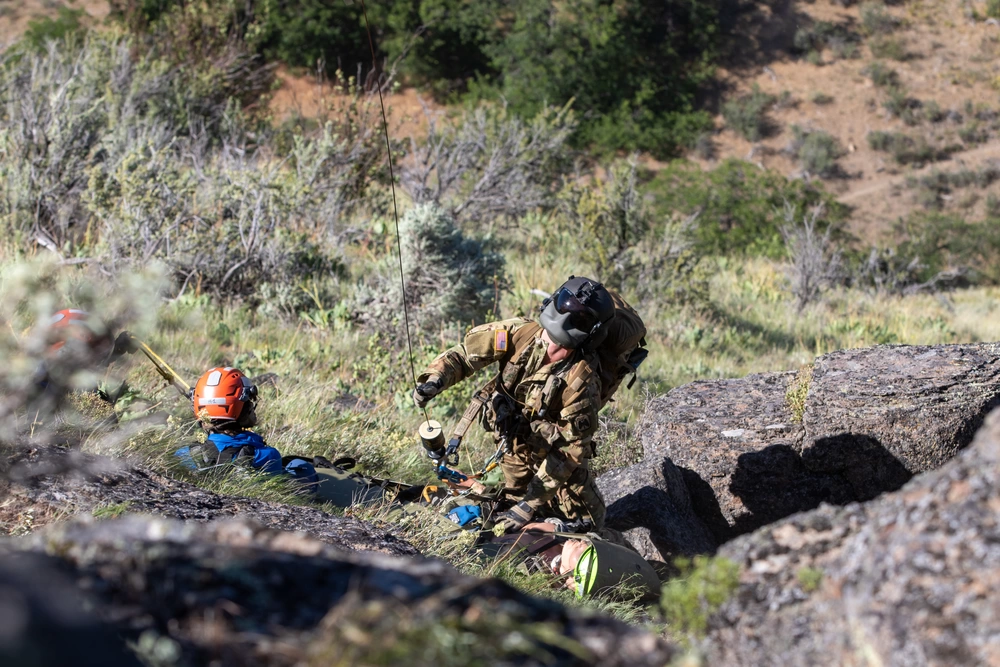 A flight medic assigned to U.S. Army Air Ambulance Detachment-Yakima, 16th Combat Aviation Brigade, holds a hoist line on Jun. 5, 2023 near Oak Creek Wildlife Area, Wash. The unit was training with local search and rescue volunteers in preparation for the summer rescue season. (U.S. Army photo by Capt. Kyle Abraham, 16th Combat Aviation Brigade)
Soldiers assigned to the United States Army Air Ambulance Detachment- Yakima (USAAAD), 2-158th Assault Helicopter Battalion, 16th Combat Aviation Brigade performed an aeromedical evacuation of a civilian near Aasgard Pass, Wash. on Jun 8, 2023.
The mission started when a hiker fell 150 feet and sent a distress message to the Chelan County Sheriff's Office. After determining that ground rescue would take over four hours and may not be possible over the terrain the patient was located at, federal support was requested through the Washington State Emergency Operations Center for a high-powered helicopter with hoist capability to recover the stranded civilian.
At 11:25 p.m. on Jun. 7, a USAAAD UH-60L Black Hawk helicopter departed Yakima Training Center for the Leavenworth Fish Hatchery where they picked up two Chelan County Mountain Rescue volunteers. The aircrew and volunteers then departed for Aasgard Pass, arriving at 12:15 a.m.
"We had excellent visibility and virtually no wind," said Maj. Alec DeGroat, the USAAAD commander and pilot in command of the mission. "When we arrived at the patient's reported location, we could not find a suitable place to land the aircraft, so we deployed our volunteers and flight medic by hoisting them approximately 50 feet down from the hovering helicopter."
The aircrew remained in the air above the Wenatchee National Forest while the flight medic on the ground assessed the patient and prepared her for transport.
"The patient was displaying the symptoms of a traumatic brain injury," Staff Sgt. Ben Byrd, the critical care flight paramedic on the mission, said. "In the terrain we found her in, in her condition, it's very unlikely that she was going to be able to get herself out or be carried out on foot."
After the patient, volunteers, and medic were extracted via hoist, the aircraft returned to Yakima Training Center where a civilian ground ambulance was waiting to transport the patient to MultiCare Memorial Hospital in Yakima.
"Successful missions like this are a tribute to our relationships with the local civil authorities, and to our air ambulance crews that regularly train to maintain the necessary flight and medical skills for these kinds of operations," DeGroat said.
The unit is based out of Yakima Training Center in central Washington. USAAAD operates 24 hours a day, seven days a week, to provide aeromedical evacuation support for thousands of service members training at Yakima Training Center each year.
Additionally, the detachment works with the Washington State Emergency Operations Center, local sheriff departments, and civilian volunteers to provide rescue coverage in central Washington's remote wilderness areas.
The life-saving aeromedical evacuation is a collaborative effort. As a detachment with 33 personnel and four UH-60L Black Hawk helicopters, every member of the team is vital to USAAAD.
The 16th Combat Aviation Brigade operates two aeromedical evacuation units that provide defense support to civil authorities: Yakima Dustoff in central Washington and Arctic Dustoff in central Alaska.