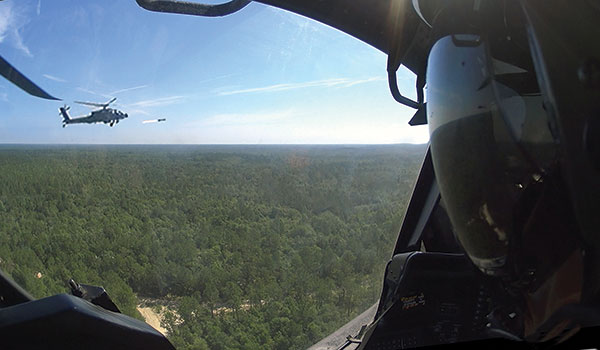 Aviation Branch Chief / By MG Michael D. Lundy: The integration of unmanned aircraft systems (UAS) into combat aviation brigades (CAB) is fully underway as we continue to implement the Aviation Restructure Initiative.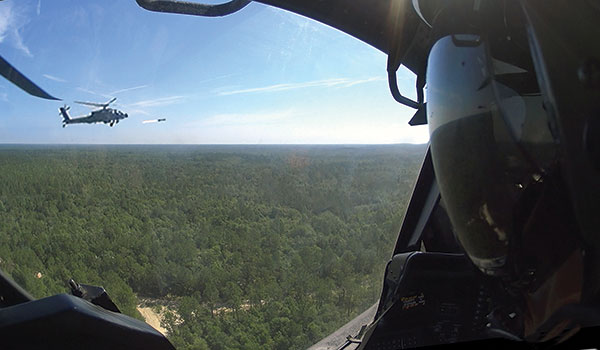 CW3 Adam Kozel, Company A, 1st Battalion, 3rd Aviation Regiment, 3rd Combat Aviation Brigade, watches from the cockpit of his aircraft as an AH-64 Apache attack helicopter fires a Hellfire missile at a target that was laser designated by an MQ-1C Gray Eagle unmanned aircraft system at the Multi-Purpose Range Complex on Fort Stewart, GA June 20, 2015. / U.S. ARMY PHOTO BY CW3 ADAM KOZEL, 3RD CAB)
This is not simply a task organization change; it is a fundamental shift in how we employ UAS. The traditional role of intelligence, surveillance and reconnaissance (ISR) remains a foundational mission for much of the UAS force in our brigade combat teams (BCTs) and at Echelons Above Brigade, but we must shift our thinking on the roles and missions of the unmanned systems now organic to the CABs.
Organic CAB UAS operating with manned aircraft in a manned unmanned teaming (MUM-T) role are maneuver assets. In the maneuver role, UAS must be fully integrated throughout the operations process into the aviation scheme of maneuver. This integration enables the aerial maneuver force of the combined arms team to gain contact with the enemy first, present the enemy with multiple dilemmas, dictate the tempo of operations over extended distances and wide areas, and enable the commander to attack at the time and place of choice.
Our capstone doctrine, FM 3-04, Aviation Operations, clearly articulates this shift.
Manned-unmanned teaming (MUM-T) is the integrated maneuver of Army Aviation rotary wing and UAS to conduct movement to contact, attack, reconnaissance, and security tasks. MUM-T enables increased depth and breadth of Aviation reconnaissance and maneuver, longer persistence over the reconnaissance objective, increased ability to gain and maintain enemy contact, greater survivability and more options to develop the situation with enhanced maneuver, fires and mission command.
Realizing UAS Potential
To realize the full potential of UAS in the maneuver role requires a broad approach across the institutional and operational force. Leaders at all levels must drive the desired outcome.
In the institution, we are placing increased emphasis on the roles and missions of our organic UAS by fully integrating our new doctrine into professional military education, specifically in the Captain's Career Course and the Warrant Officer Advanced Course. We have also fully implemented the Air Cavalry Leader's Course which provides two weeks of intensive mission planning and virtual execution of reconnaissance and security operations with our AH-64 Troop, UAS Platoon and Gray Eagle Company key leaders. At Fort Huachuca, Arizona where we conduct initial UAS qualification, we are shifting the focus from just training UAS operators to fully developing unmanned aeroscouts. Each of these initiatives is supported by ongoing efforts by our Training and Doctrine Command Capability Managers (TCMs) and Directorate of Simulations to fully integrate MUM-T into the Longbow Crew Trainer, Universal Mission System, Aviation Combined Arms Tactical Trainer (AVCATT), WARSIM and VBS3 to enable greater fidelity for home station and institutional training.
Building Proficiency
However, the work being done in the institution means little without the follow-on tough and realistic home station training necessary to build proficiency. Proficiency comes from repetition under increasingly more demanding and realistic conditions. Simply launching and recovering unmanned systems or training UAS independently without manned systems will not build mastery in combined arms maneuver. Our UAS leaders and unmanned aeroscouts must be fully integrated in the operations process – plan, prepare, execute and assess – to ensure shared understanding and enable us to build highly effective teams capable of maneuvering as the aerial maneuver force of the combined arms team. This is leader business and leaders at all levels, from platoon to division/installation, must be involved to work through the complex challenges of training MUM-T at home station.
As we continue to explore the bounds of unmanned systems in the maneuver role, we will continue refining our doctrine, institutional training, employment tactics, techniques, and procedures (TTPs), future materiel requirements and how we train at home station and the combat training centers (CTCs). The potential is clear – just as clear as the potential of the helicopter was in Vietnam.
Above the Best!
MG Michael D. Lundy is the Army Aviation branch chief and commander of the U.S. Army Aviation Center of Excellence and Fort Rucker, AL.