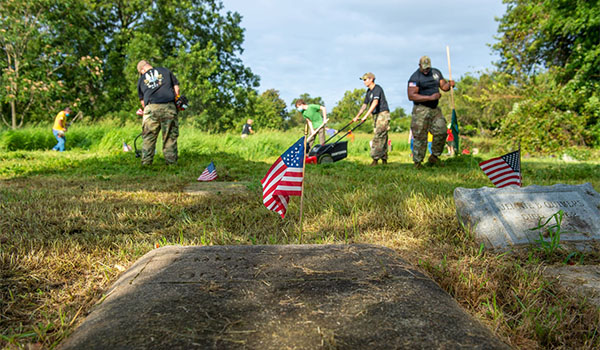 By SSG Israel D. Lopez: This summer, as protests erupted across the nation, marches, stand-ins, and riots all began to coincide. America seemed to be at a reckoning, a moment where racial atrocities would no longer be acceptable, but the turmoil would be far-reaching.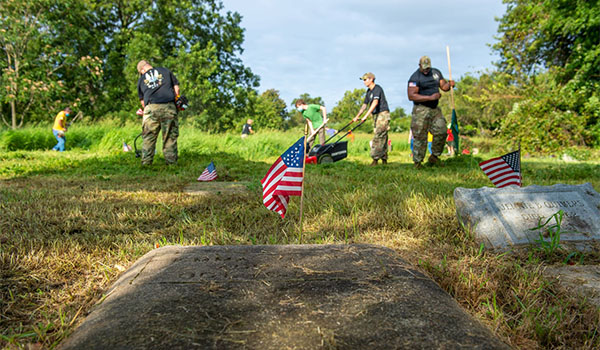 Members of the 128th Avn. Bde. help clean up the Elmerton and Bassette Cemeteries in Hampton, VA./ U.S. ARMY 128TH AVN BDE PHOTO
The 128th Brigade, like every unit in the Army, could not escape this reality, as the towns surrounding Fort Eustis, Virginia, saw civil unrest become the norm. Many sat and wondered what could be done to heal this division. This brigade, however, prides itself in developing leaders not just in Aviation, or in the Army, but in the broader community. Great leaders are the agents of change the 128th seeks to lead through demonstrated, decisive action. It was with this in mind that our team decided our decisive action for change in the community would be helping to restore an overgrown African American Cemetery in Virginia, in an event we called Unity Through Community.
These gravesites, where the heroes of generations past were buried, had been lost to time. Unsung heroes like Mrs. Mary Peake, a free black woman who taught slaves to read and write under the Emancipation Oak in Hampton, Virginia, laid to rest in the very community many members of the 128th Brigade call home every day. Another was Mrs. Janie Barrett, who established the first settlement home for black people of the time, and who would petition the court system to turn over abandoned black girls into her custody as she helped to create the Virginia State Federation of Colored Women's Club. These heroes laid at rest in these places were once prominent, and some even affluent, members of the community and they now needed our help to restore their final resting places.
They and many others lay in fields overgrown and their tombstones were being swallowed by the forest. Their stories lost to time, with no one left to tell them. And so, on a cloudy Saturday morning in September, volunteers of all creeds, colors, religions, and national origin joined together with members of the 128th Brigade leading the way. Soldiers, with local support from teams like the Do-Gooders of Hampton Roads, the Barrett-Peake Heritage Foundation, and the Boy Scouts brought mowers, rakes, and all sorts of yard equipment to tackle the overgrowth. By the early afternoon, countless graves, once completely hidden in the brush, were visible again. American flags which had previously been invisible beneath the grass, now populated much of the cemetery in a poignant reminder that those buried, along with those present, all shared in the richness of America's history.
That physical progress at the cemetery was a testament showing that with hard work and determination we can overcome this moment in history to write a better chapter for the generations to come. Martin Luther King Jr. once said that change is not inevitable, but that it comes through continuous struggle. His words have never been more exact. It is our influence on the micro-level that affects the world at the macro-level. That is what Unity Through Community ultimately is: a promotion of inclusion and tolerance that along the way unites people with a common goal by realizing that we are more significant than our differences. Not merely a project but a concept; a challenge even. We in the 128th Brigade are finding a way to accept that our differences are not divisive. They are what bond us as Americans and if we can acknowledge our differences and accept each other for them, together we can accomplish things we would not have imagined possible.
"Born Under Fire!"
SSG Israel D. Lopez is the battalion Equal Opportunity Leader for 1st Battalion, 210th Aviation Regiment, 128th Aviation Brigade at Joint Base Langley-Eustis, VA.