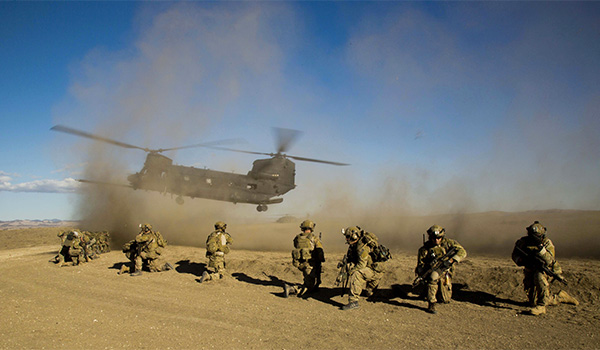 This Is Your Army! / By LTG Fran Beaudette and CSM Marc Eckard: In a year marked by uncertainty and adversity, Army Special Operations Forces (ARSOF) adapted and persevered in unprecedented ways to fulfill our unwavering obligation to defend the Nation.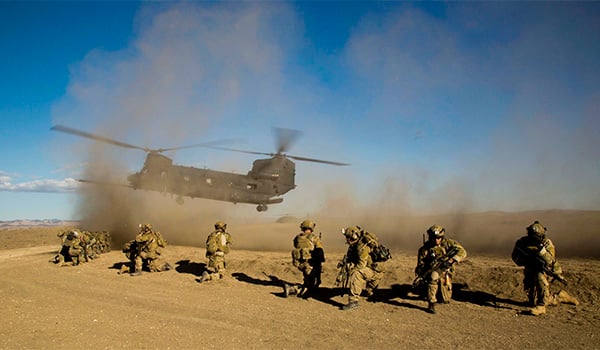 Army Special Operations Aviation meets the needs of the operator on the ground. / ALL PHOTOS COURTESY OF USASOAC PUBLIC AFFAIRS OFFICE
Army Special Operations Forces provide more than 53 percent of the Nation's Special Operations Forces and consistently fill over 64 percent of all United States SOF deployments worldwide. We deploy for purpose to strengthen partners and allies, enable host nation security, and solidify the U.S. as the partner of choice. Our global presence consistently positions us in over 70 countries, conducting over 200 missions, often in locations where violent extremists and great power competitors operate to undermine our national interests and those of our allies and partners.
Both at home and abroad, we are consolidating gains and making tremendous strides in creatively applying our unique capabilities to compete in a contested global environment. Future conflict between near-peer adversaries will undoubtedly occur across multiple domains simultaneously. Great powers are increasingly weaponizing information, sowing seeds of doubt and division, and opening new fronts in the struggle for global primacy. Army Special Operations Forces are adapting to meet the Nation's needs in competition while also staying tight with the Army and the joint force to envision the future fight.
Skillsets Through A Different Lens
Last fall, Army Futures Command released Pamphlet 71-20-4, Army Futures Command Concept for Special Operations 2028. This document outlines how ARSOF will integrate into the Army's Multi-Domain Operations (MDO) concept to build fluency across the joint force and continue driving innovation and evolution at echelon. In team rooms, ready rooms, and maintenance bays across the force, our men and women are learning, thinking, and talking about competition, conflict, near-peer adversaries, and National Defense Strategy (NDS) priorities. We are looking at our skillsets through a different lens while we train to hone our craft. Special Operations capabilities will enable the joint force to gain information superiority, decision dominance, and an irreversible overmatch.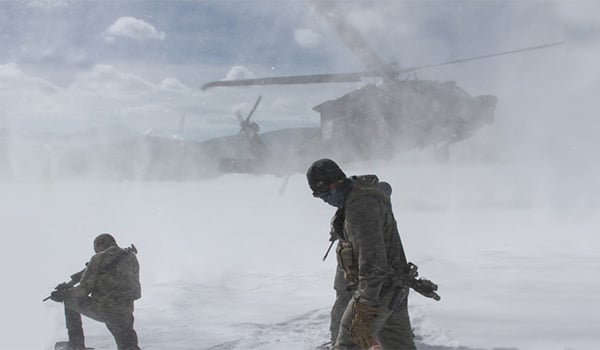 Army Special Operations prepare for any operational environment.
In a future conflict marked by ambiguity, complexity, and multi-domain challenges, ARSOF is uniquely postured to converge effects in the enemy's rear areas to generate freedom of maneuver for the joint force. Preparing to operate in these deep areas will challenge 20 years' worth of assumptions on how we infiltrate, sustain, and mission command our forces. These challenges are not unique to ARSOF; we will undoubtedly work through these challenges together with our partners in the Army Aviation community and the joint force.
The world is changing and we in Army Special Operations are changing with it to ensure we stay ready, resilient, and relevant in support of the Nation. U.S. Army Special Operations Aviation Command (USASOAC) and the 160th Special Operations Aviation Regiment (SOAR) continue to innovate for our unique special operations missions while staying nested with the Army Aviation community. Together, Army Aviation and USASOAC are actively collaborating on Future Vertical Lift, unmanned aircraft, and assault lift. While these platforms will evolve and change, USASOAC's leaders, units and crews will remain steadfastly committed to the ground forces they support while executing no-fail missions in the most complex environments.
The Competitive Advantage
As we continue to modernize and look to the future, we will never lose sight of what gives Army Special Operations its competitive advantage: our world-class men and women. They are Soldiers, Civilians, and Contractors with the vision, determination, and audacity to challenge the status quo, innovate from the bottom up, and envision a "better way." We will always endeavor to equip our Warriors with cutting edge technology and capacities to amplify their effects; we refrain from asking our Warriors to simply operate equipment. We are laser focused on the fundamentals of our profession and building cohesive teams that are disciplined, physically fit, highly trained, and able to fight and win our Nation's battles.
The last year has also reinforced what we already inherently knew: the incredible power and strength of diverse and inclusive teams. Diversity of ideas, backgrounds, experiences, and outlooks increases our ability to creatively approach complex problems. We redoubled our commitment to making Army Special Operations a place where all of America's Daughters and Sons can compete for the opportunity to serve, succeed, and be part of something greater than themselves.
There has never been a better time to be in our Army and in Army Special Operations. We are incredibly thankful for the support of organizations like the Army Aviation Association of America, partnered with great teammates at Army Futures Command and Training and Doctrine Command, and exceptionally well-led at U.S. Special Operations Command and Army Headquarters. The challenges facing us are daunting, but they are not insurmountable. They will require transformative change and bold action, both things to which Army Special Operations is no stranger. No matter the challenge, U.S. Army Special Operations Command will continue to protect the Nation Without Fear, Without Fail, and Without Equal.
Sine Pari!
LTG Fran Beaudette is the commanding general and CSM Marc Eckard the command sergeant major of the United States Army Special Operations Command headquartered at Ft. Bragg, NC.
Army Special Operations Aviation meets the needs of the operator on the ground. / ALL PHOTOS COURTESY OF USASOAC PUBLIC AFFAIRS OFFICE
Army Special Operations prepare for any operational environment. / ALL PHOTOS COURTESY OF USASOAC PUBLIC AFFAIRS OFFICE