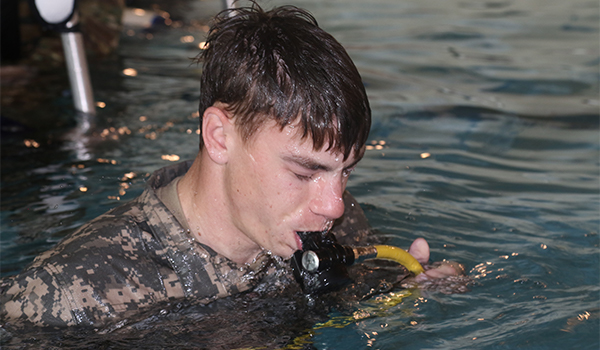 4th Combat Aviation Brigade, 4th Infantry Division Public Affairs / By Sgt. Daphney Black, 04.29.2018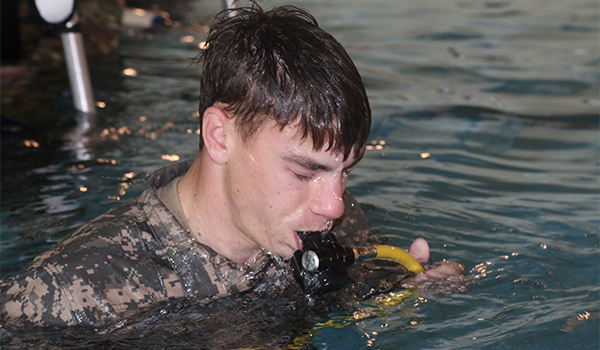 Soldiers with the 4th Combat Aviation Brigade recently took the mystery out of how to escape from a submerged helicopter.
From April 23- 27, pilots and air crews assigned to 4th CAB, 4th Infantry Division, enhanced water survival skills during a Helicopter Underwater Egress Training event.
The multi-day event was conducted at the Iron Horse Sports and Fitness Center's indoor pool, which taught pilots, aircrews and medics how to react during a water landing.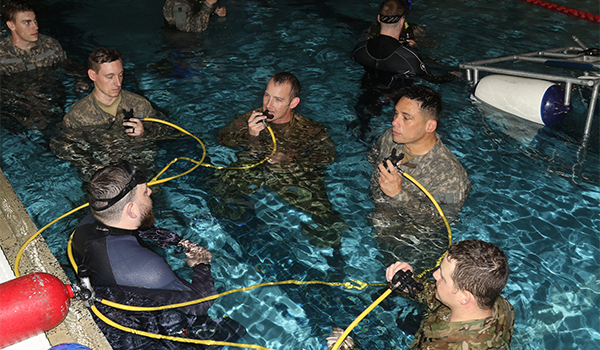 The training is about emergency and survival," said Chief Warrant Officer 5 Douglas Sanders, standardization instructor pilot, Headquarters and Headquarters Company, 4th CAB. "If something goes wrong it's pretty unlikely that the crew
members are going to do something they have never done before."
In a simulated setting, the Soldiers learn to take the correct actions to survive should they ever have to make a water landing. Strapped into a Shallow Water Egress Trainer (SWET) chair, a device that looks like a chair surrounded by a roll
cage, the Soldiers are pushed into the pool and must escape.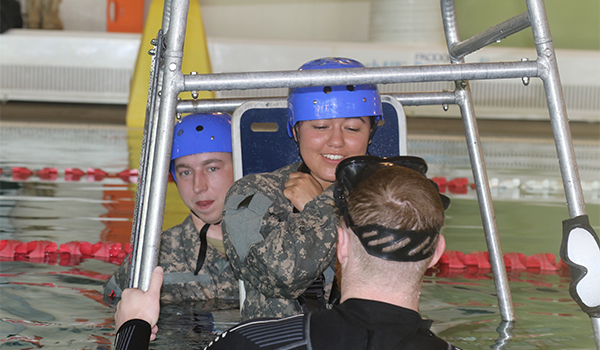 The chair simulates a crew member strapped into their seats on an aircraft, and he must push himself out through an emergency exit.
Safety is paramount, and it is important for aircrews to be ready for anything said W. Scott Gallaway, commander, 4th Combat Aviation Brigade.
"We are deploying to Europe and some of our mission sets requires us to operate over water," Gallaway said. "The Helicopter Underwater Egress Training is a foundation for our aircrews because many have never received this training." The training provided the needed confidence and skills to safely escape from a submerged helicopter, said one Soldier who completed the training.
"I am not a really good swimmer, so the idea of being flipped upside down in the water made me nervous," said Pfc. Thomas Knight Hunter, UH-60 Black Hawk crew chief, Company C, 2nd General Support Aviation Battalion, 4th Aviation
Regiment, 4th CAB. "I was nervous about not being able to breathe or find an escape."
Knight Hunter said he feels confident and ready should he ever need to use his new set of skills. While the training exposed most participants to water survival skills for the first time, it provided a refresher for others.
The Soldiers also learned the basic principles and techniques for breathing compressed air underwater, as well as practicing
bracing positions while submerged in the SWET chair.