USASOAC Commander / By BG Allan M. Pepin: A year ago, nobody predicted the COVID-19 pandemic of 2020. It reinforces the reality we will not know with certainty all the conditions impacting our future missions.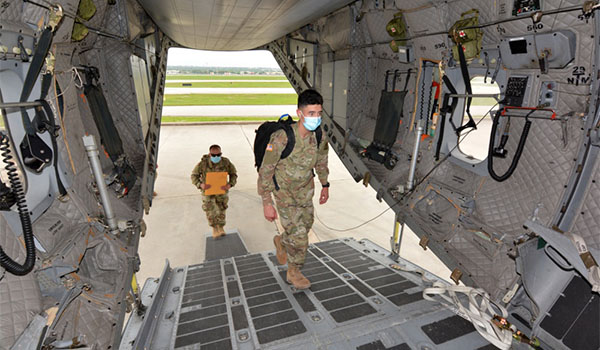 Soldiers board a C-27J aircraft from the USASOC Flight Company, U.S. Army Special Operations Aviation Command (Airborne), at Fort Sam Houston, Texas in April 2020. The UFC used its unique C-27J capability to transport Soldiers from the Medical Center of Excellence to their next duty assignment. Flight crews from the UFC have conducted numerous controlled air movements to maintain readiness and reduce the potential spread of COVID-19./ U.S. ARMY PHOTO BY JOSE RODRIGUEZ, U.S. ARMY MEDICAL CENTER OF EXCELLENCE
Unforeseen global events and new threats will continue to emerge with varying warning, requiring leaders to re-evaluate their approach to mitigate risks. Creative solutions, combined with highly trained units led by leaders that are comfortable in decentralized operations, will enable units to overcome many of the unforeseen challenges. Mission accomplishment is connected to the U.S. Army Special Operation Aviation Command's (USASOAC) culture of ethical actions and remaining an agile, adaptable, flexible and learning organization. This is critical to being a winning team. Army Special Operations Aviation's (ARSOA) adaptation to changing conditions, resource constraints and higher priorities will continue to set conditions for future mission success. In the process, we will remain committed to the health and welfare of our Soldiers, Department of the Army Civilians, and Families.
We remain committed to the successful manning, training, equipping, and sustainment responsibilities to ensure the readiness of our special operations aviation units. These great units continue to provide reliable aviation support to the Joint Force and give back to the Army Aviation enterprise. Our tactical units remain ready to rapidly deploy forces to provide combat power to counter violent extremist organizations. We are also preparing to support large scale combat operations and leverage enhanced capabilities to compete with near-peer adversaries. Our efforts are synchronized with Army Special Operations Forces (ARSOF), U.S. Special Operations Command, and Army strategies, which prioritizes people, readiness and modernization. Our approach remains linked to the five Special Operations Forces (SOF) Truths.
Recruiting and Retaining
Our ability to sustain readiness is directly linked with our dedication to recruiting and retaining the right people. We recruit, train, and retain motivated women and men who demonstrate professional ethics, exceptional character, high competence, discipline, and live the Army Values. The ARSOA Soldier possesses the ability to learn to excel in all operational environments, and many will reinvest their experience back into the Army Aviation enterprise. Prioritizing people reinforces three of the SOF Truths: humans are more important than hardware; quality is better than quantity; and competent SOF cannot be mass produced.
Tough realistic training ensures ARSOA units are prepared for no-notice operations. We will continue to increase capability and proficiency in all physical environments, degraded visual conditions, and in the virtual environment. Our strategy in support of readiness, lethality, and survivability ensures we are ready to defeat threat capabilities while preparing for the future fight. Tough realistic training, in conjunction with honest AARs, is essential to compete, fight, and win against near-peer adversaries. The lessons learned along with innovation will drive our modernization and training focus. Utilizing the right balance of technology and training methodology will provide the experience necessary to excel in an increasingly more contested environment. Our commitment to the preparation of our force supports a fourth SOF Truth: competent SOF cannot be created after emergencies occur.
Progressive Readiness Model
The use of our progressive readiness model (PRM) allows us to manage time and resources dispersed among operational support, force generation and sustained maintenance. Routine participation in unit training, Joint training exercises and combat training center rotations provides our leaders the opportunity to certify and validate their Soldiers. This ensures crews, staffs and leaders are qualified to execute their mission. Through innovative training approaches and the incorporation of new technologies, we will enhance the options available to accomplish future complex missions. A critical aspect of our ongoing modernization efforts is the development of Joint Force compatible communications, precision navigation, survivability systems, and weapons, munitions and targeting systems. Through collaboration with Army aviation stakeholders, Joint Forces, and industry partners, we will continue to validate and test emerging technologies that will lay the foundation for our future aviation fleet. This effort reinforces the fifth SOF Truth: most special operations require non-SOF assistance.
Synchronizing Efforts
Synchronizing efforts across the "Aviation 6-Pack" provides opportunities to enhance the enterprise support to the Army. An example is the ongoing efforts with Future Vertical Lift – Cross Functional Team (FVL-CFT) programs to integrate SOF-unique capabilities into Army common capabilities, as appropriate, to adapt to emerging technologies. We will continue to invest in conventional force and SOF-unique capabilities, and adapt to emerging technologies that counter peer and near-peer efforts in contested environments. Advancements within the Modular Open Systems Architecture will reduce the need for hardware add-ons and save both time and money to keep systems upgraded and relevant to new threat systems. The right approach will allow the force to maximize resources, reform initiatives, and increase our return on investment. While the future of ARSOA and Army Aviation remains promising, it will require predictable RDT&E, Procurement and OEM budgets. Our focus will always remain on enhancing our support to the SOF Ground Forces.
The USASOAC team is proud to serve with, for, and alongside such an incredible group of professional women and men dedicated to the defense of our nation, with an unbroken bond to the SOF Ground Forces we support.
Volare Optimos! To fly the best!
At the time of this writing, BG Allan M. Pepin was the commander of U.S. Army Special Operations Aviation Command located at Fort Bragg, NC. We at ARMY AVIATION thank him for his support and wish him great success in his new assignment as the deputy commanding general of the U.S. Army Special Operations Command, also at Ft. Bragg.