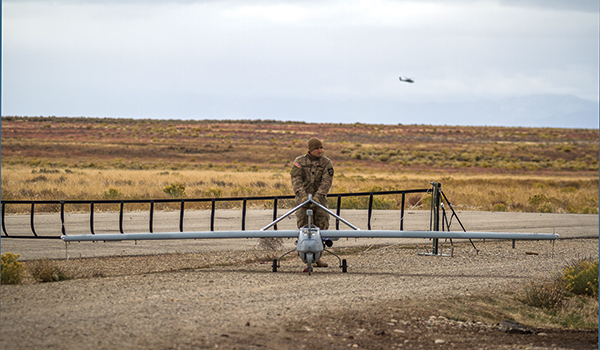 Aviation Branch Chief / By MG William K. Gayler: During the past fifteen years of counterinsurgency (COIN)-centric combat where Army Aviation was a fundamental element of our Joint force overmatch, our enemies and adversaries took note and invested in their own capabilities to counter our advantages in continuous mission command and fully integrated combined arms maneuver.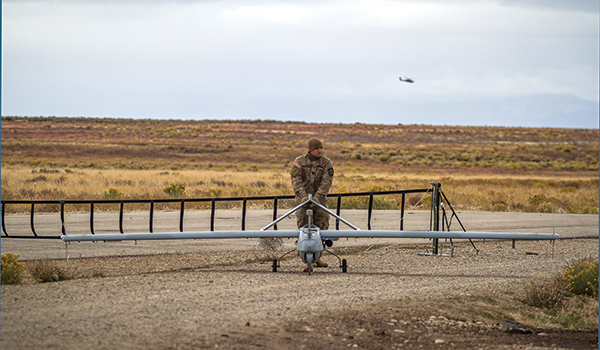 A U.S. Army Soldier assigned to 16th Combat Aviation Brigade pushes a Shadow Unmanned Aircraft System back to a maintenance hangar following a successful training flight at Orchard Combat Training Center, Idaho, Oct. 4, 2016. Over 1,000 soldiers from 7th Infantry Division participated in Raptor Fury, an exercise to validate 16th CAB's mission readiness. / U.S. ARMY PHOTO BY CPT BRIAN HARRIS, 16TH CAB
As we look to the future of armed conflict we must continue to develop and integrate new capabilities to defeat threats, enemies, and adversaries who are becoming increasingly capable and elusive employing traditional, unconventional, and hybrid strategies.
More Complex
In the 1980s AirLand Battle served as the conceptual framework that informed Army doctrine to fight the Soviet threat and enable U.S. forces to "fight outnumbered and win" by employing close coordination between land and air forces. Although AirLand Battle enabled American military superiority for decades, it now falls short of addressing today's complex and contested operating environment. To fight and win in the future, the Joint force must move beyond the two-domain Air-Land Battle and Air-Sea Battle operating concepts into a more complex Multi-Domain Battle to be successful. This Multi-Domain Battle (MDB) calls for Army formations to use cross-domain fires, combined arms maneuver, and information warfare to open successive or simultaneous windows in depth to achieve success.
As with AirLand Battle, Army Aviation serves a critical role in MDB by developing and sustaining situational understanding, quickly maneuvering to positions of advantage, creating multiple dilemmas, and consolidating gains across multiple domains. MDB will require an optimal mix of manned and unmanned platforms that provide increased multi-domain reach, protection, and lethality.
The Role of UAS
This month's issue focuses on Unmanned Aircraft Systems (UAS). The United States Army Aviation Center of Excellence (USAACE) continues to lead the world in the development, integration, training, and employment of unmanned systems. However, we must not rest on our laurels; we must continue to improve. Recent observations, insights, and lessons learned have driven changes to organizational design to better enable command and improved training and integration of UAS formations in combined arms maneuver. Additionally, our UAS formations continue to improve training readiness through increased aviation oversight and integration at home station ranges and facilities.
As we refine UAS integration techniques to meet the needs of commanders in the field today, we must also look to the future and prepare for tomorrow's challenging multi-domain operating environments by exploring new concepts and organizational constructs that employ manned and unmanned systems across new domains. As we continue to become more technologically advanced and harness new innovations to seize the advantage, we must recognize that war will remain a fundamentally human endeavor, and ensure that technology serves – not as a substitute for the vital human-in-the-loop, but as an enhancement to the most capable information processor and decision-making tool in our arsenal: the human brain. In this month's edition, our TRADOC Capability Manager for UAS provides an overview of the Army's Future UAS vision. Future UAS will operate as an integral member of the combined arms team, with universal control interfaces that enable payload and aircraft control by Army UAS operators located in CONUS, from deployed light tactical vehicles, the cockpits of Army Aviation aircraft, or by a Soldier using his end user device.
Army Aviation is "all in" on UAS. By the end of FY18, we will field Shadow Platoons in all our active component combat aviation brigades (CABs), and all 15 Gray Eagle companies will be fielded or in the process of fielding reaching a steady state UAS capability for the first time. However, there is still much to do and much to improve. We must continue to execute tough and realistic combined arms flight training to build collective readiness, and better prepare our front-line UAS leaders on the systems they lead and fight. The situational understanding that UAS provide the Army's leaders and Soldiers results in a tremendous advantage in the combined arms fight – and we will continue to press that advantage to the fullest.
Above the Best!
MG William K. Gayler is the Army Aviation branch chief and commander of the U.S. Army Aviation Center of Excellence and Fort Rucker, AL.