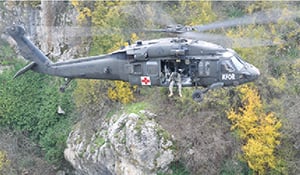 Reserve Component Aviation Update: Today, the United States Army Reserve (USAR) Aviation's focus is in complete alignment with the Army Reserve mission of providing 'trained, equipped and ready Soldiers, leaders and units to meet America's requirements at home and abroad.' As basic as this statement seems, its execution will lead to the transformation of USAR Aviation.
This transformation, accomplished through current restructuring initiatives, provides USAR aviation a pathway to change that includes a unified operational and functional command, a force structure capable of meeting both operational and strategic priorities, and mission capabilities focused on serving our country in times of war and peace.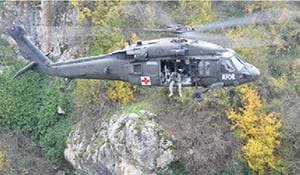 Soldiers from Fox Company (Air Ambulance) 5th Battalion, 159th Aviation Regiment (USAR) from Clearwater, FL conduct hoist training with German mountaineers in support of Operation Joint Guardian in Kosovo.
U.S. ARMY RESERVE PHOTO BY 11TH TAC PAO Realignment
Prior to 1995, Army Reserve aviation lacked a unifying command. Aviation units were scattered throughout the country, lacking a common vision, voice or command structure. Following years of constrained resources, senior leaders of the Active Army, the Army National Guard (ARNG) and the Army Reserve completed an Army Off-Site Agreement with the objective of realigning both ARNG aviation and Army Reserve aviation into doctrinally sound forces able to meet future war fighting requirements. One of the most significant outcomes of the agreement was a drastic reduction of USAR aviation structure.
Once the Off-Site Agreement commenced, USAR aviation found itself in a state of instability, quickly consolidating assets as they became available. The overarching strategy at the time was to develop the unit 'building blocks' (i.e. the companies, detachments and equipment) that would form the basis for a future structure. In 1995, all USAR aviation assets were consolidated under the 244th Aviation Brigade; which for the first time provided USAR aviation a unified command. From 1995 until 2007, the 244th Avn. Bde.'s efforts continued to develop and grow the structure into a relevant operational force.
USAR Aviation has participated as a key contributor to Overseas Contingency Operations over the past 13 years of persistent conflict. With a few exceptions, USAR units did not primarily deploy on a doctrinal basis. Most requirements for USAR aviation forces came in the form of company, detachment or individual augmentation to Active Component and Army National Guard commands. These independent units performed superbly and provided the critical war fighting skills needed to ensure mission accomplishment on numerous battlefields. USAR aviation benefitted because its soldiers acquired vast amounts of experience and knowledge that can only be learned in a combat environment.
Birth of a New Focus
The activation of the 11th Theater Aviation Command (TAC) in 2007 provided USAR aviation general officer led operational and functional command with a stronger unified voice and strategic vision for the future. A new focus was born; support for the country both at home and abroad. The TAC adopted a flexible strategy consisting of life sustaining and life-saving capabilities and began shaping the force to meet an expanded spectrum of missions. This shaping effort included the ongoing conversion of two battalions from AH-64 attack reconnaissance battalions (ARB) into UH-60 equipped assault helicopter battalions (AHB) and divestment of intelligence, surveillance, reconnaissance (ISR) assets that are not aligned with the new focus. Additionally, reducing multi-component structure and consolidating dispersed units is ongoing in order to gain efficiencies. The TAC also expanded its operational capability to better support this new mission focus. Accepting new missions such as the Defense CBRN Reaction Force (DCRF) and the Command and Control of Contingency Response Element Aviation (C2CREA), the 11th TAC effectively balanced traditional wartime missions with homeland response and security. USAR aviation is now able to work with U.S. Northern Command and interagency partners to support the homeland while simultaneously preparing for national threats.
Looking Forward
As USAR aviation looks forward to planned force structure changes, its general support aviation battalions will match Active Component GSAB structure but also have an additional MEDEVAC Company. A second aviation brigade is expected to be activated as well. When all restructure changes are completed, the 11th TAC will have two deployable expeditionary combat aviation brigades under a unified one-star operational and functional command. These brigades will be geographically aligned into east and west commands that span the United States. Primary maintenance support for these units is provided by the co-located USAR aviation support facilities (ASF) managed under the Aviation Program Manager (APM) at Fort Knox, KY. This has afforded an unparalleled standardization of aviation related activities across all of USAR Aviation. This ASF support is vital to the USAR aviation maintenance Operational Readiness (OR) rates being at all-time highs, consistently exceeding Department of the Army readiness rate standards.
As USAR aviation continues down its new strategic path, the anticipated changes will bring a unified one star command, a more efficient force structure for both operational and strategic missions and a sharper mission focus flexible enough to serve our country at home and abroad. The U.S. Army Reserve is poised and ready to support aviation restructure initiatives in order to expand its overall capabilities. USAR aviation stands ready to execute this effort and ensure the vision of the 11th TAC defines its success today, through 2025 and beyond.
BG Troy D. Kok is the commanding general of the 11th Theater Aviation Command located at Fort Knox, KY.