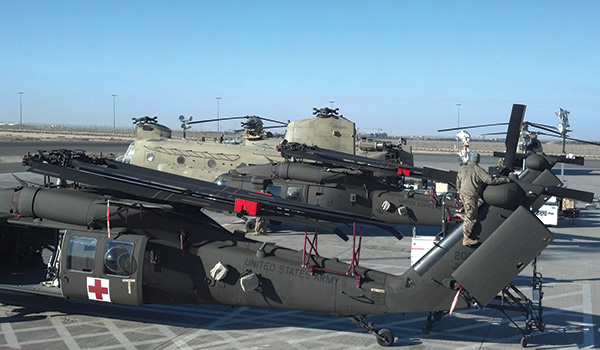 Reserve Components / By BG Scott R. Morcomb: The year 2015 has provided many outstanding moments to be proud of within U.S. Army Reserve Aviation. These moments and all of our success is the direct result of our Soldiers, civilians and contractors who labor each day to ensure our units are trained and mission ready.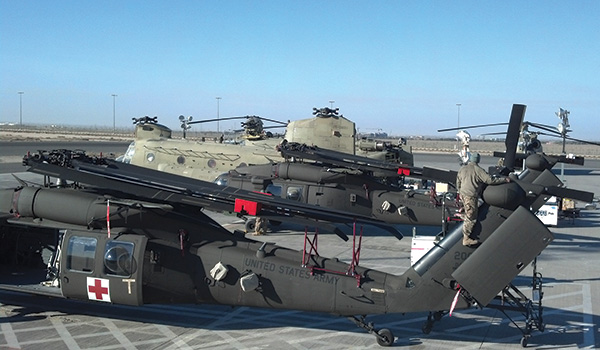 90th Aviation Support Battalion personnel prepare aircraft for military air (MILAIR) redeployment operations in Kuwait. / U.S. ARMY RESERVE PHOTO BY 11TH TAC PAO
Collectively they form the heart and soul of our force. It is through their unparalleled commitment to excellence that U.S. Army Reserve Aviation continues to experience unprecedented success at both home and abroad. Reserve Aviation maintenance is a key component of our success and continues to be one of the greatest strengths of the Reserve Enterprise by providing support and sustainment capabilities for our Aviation Operations. Simply put, maintenance is the foundation to Enabling the Force.
Last June the 90th Aviation Support Battalion (ASB) returned more than 300 Soldiers from deployment to Kuwait providing aviation maintenance support to the 34th Combat Aviation Brigade (CAB) of the Minnesota Army National Guard (MNARNG). Over their nine month rotation the unit amassed and completed an incredible workload as a key team member of Task Force Red Bull. Their outstanding efforts ensured success throughout the region supporting aviation operations in Kuwait, Iraq, Jordan and Qatar resulted in being selected as the 2015 AAAA Army Reserve Aviation Unit of the Year.
The success of the 90th ASB is not a one-time experience for Reserve Aviation. It is a direct result of the commitment of the Army Reserve Aviation Support Facilities (ASF) which provides world class aviation maintenance and training support to all Army Reserve Aviation units. Primary day to day maintenance is performed at each ASF by military technicians (MILTECH) who serve in a Department of the Army Civilian status but must also be an active member of the U.S. Army Reserve. These dual status maintainers form the core maintenance capability within our formations.
Accordingly ASF MILTECHs possess the greatest knowledge and experience and have a responsibility to pass that on to their regular Army Reserve Soldier counterparts. This relationship is one of the most impactful elements of Reserve Aviation Maintenance and a testament to the dedication and professionalism of our Citizen-Soldiers.
The result of this commitment to providing world class maintenance has opened some unique opportunities for Army Reserve maintainers. In November the 90th ASB was able to send a few technical inspectors (TI), alongside 101st CAB TIs, to Sierra Army Depot in support of an AMCOM effort to conduct Class IX(A) component inspection, classification, and packaging. The result of this effort has helped recover $19.7 million dollars of serviceable or repairable aviation parts back into the Army Class IX(A) inventory.
Another opportunity arose this past year during post-mobilization training for Reserve Aviation units at Fort Hood, Texas. ASF personnel augmented aviation maintenance operations which has led to the successful mobilization and deployment of both UH-60 and CH-47 aircraft to Kosovo and Afghanistan. The ability to quickly respond and support in this manner has built a strong reputation and established reciprocal relationships with numerous organizations across the Army Aviation Enterprise.
This New Year is sure to provide a multitude of opportunities as Reserve Aviation executes the Aviation Restructuring Initiative (ARI). Reserve Aviation Maintenance will be at the forefront in this transformation. Lessons learned and best practices from the attack reconnaissance battalion (ARB) to assault helicopter battalion (AHB) conversion of 8-229th Aviation Regiment will be the foundational guide for the 1-158th Aviation Regiment conversion. These lessons will provide a roadmap for other conversions such as command aviation company (CAC) to MEDEVAC Company. Also, CH-47F New Equipment Training and HH-60M fielding type programs have enhanced the maintenance posture of our units and ASFs even further throughout the year.
As we begin this New Year we must embrace change. Through change Reserve Aviation will grow and strengthen. Reserve Aviation Maintenance will continue to be the foundation of this strength. This Best in Class Aviation Maintenance will continue to "Enable the Force" today and well into the future.
Strike Deep!
BG Scott R. Morcomb is the commanding general of the 11th Theater Aviation Command headquartered at Fort Knox, KY.