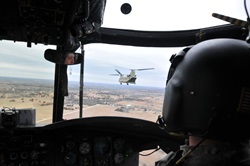 Olathe, KS
Story by Capt. Matthew Roman
Under the operational guidelines outlined in the Immediate Response Authority, DoD Directive 3025.18, elements of the Army Reserve Aviation Command (ARAC) met the call to man, equip and execute their first ever air mission within 30 hours of alert. Immediate Response Authority authorizes local Army Reserve commanders at the request of a local civil authority to take action to save lives, prevent human suffering or mitigate great property damage in a situation of urgency for up to 72-hours when there is insufficient time to gain approval from higher headquarters.
ARAC soldiers from the 11th Expeditionary Combat Aviation Brigade (ECAB), assisted in the emergency operations in the Kansas area to support federal, state and local authorities combating wildfires that impacted more than 15 counties in Kansas from March 8-10, 2017.
Three CH-47 Chinook Helicopters with crews and support personnel comprised of over 23 Soldiers, Military Technicians (MILTECH) and Department of the Army Civilians (DAC) from Bravo Company 7th Battalion, 1-158th Aviation Regiment based at the New Century Air Center in Olathe, Kan., provided immediate assistance to the affected area and citizens in need.
"Without the willingness and expertise of our Soldiers and Aviation Support Facility personnel to drop everything that they were doing and immediately fly to help out their neighbors in the affected areas, I believe our mission would not have been a success", added Col. Jerome Clarke, Commander of the 11th ECAB.
Adding to the challenges of an immediate response, Bravo Company currently has about two thirds of its unit and aircraft deployed overseas. In order to meet this specific requirement, the ARAC's executed its own total force approach, bringing Soldiers and MILTECHs from our unit at Joint Base Lewis-McChord, Wash., to Kansas to meet the mission's manning requirement.
In keeping with the guidance of the Army Reserve's leadership, the ARAC embodies the ability to provide the most capable, combat-ready, and lethal federal reserve aviation force in the history of our nation. While this remains our core mission, a mission of this magnitude would not have been possible if the ARAC had not utilized their Defense Support of Civil Authorities (DSCA) expertise into its reoccurring training models.
The ARAC consists of 10 Commands, 4,000+ military, 600+ civilian, resides in 12 States and 14 Aviation Support Facilities across the nation providing a vital capability for immediate response during local emergencies.