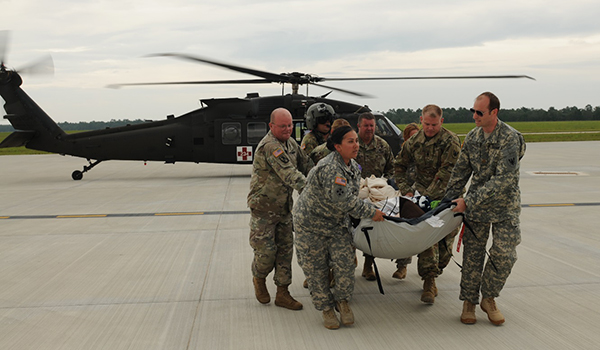 By BG Scott R. Morcomb: On August 26, just days before Harvey was scheduled to make landfall in the Houston, Texas area, elements of the Army Reserve Aviation Command (ARAC) readied themselves to respond to the needs of our nation's citizens in Conroe, Texas.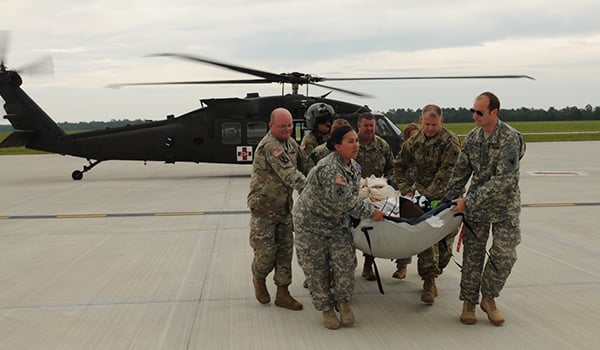 L to R: U.S. Army Reserve Soldiers from the Army Reserve Aviation Command, transport senior citizens off of an HH-60 MEDEVAC helicopter, to first responders in Conroe, Texas, Aug. 30.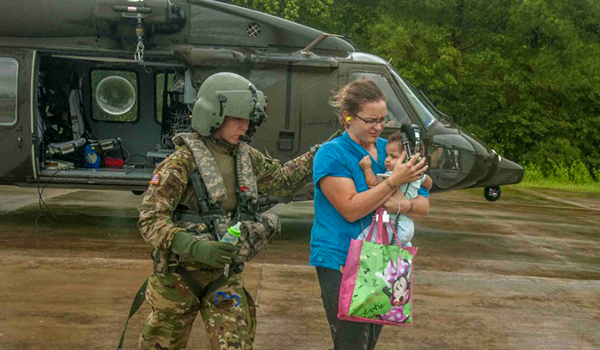 SGT Sara Cashdollar, a U.S. Army Reserve Flight Paramedic from Charlie Company, 7th Battalion (General Support Aviation) 158th Aviation Regiment, escorts a mother and her child off of a U.S. Army Reserve MEDEVAC Helicopter in Conroe, Texas, August 29.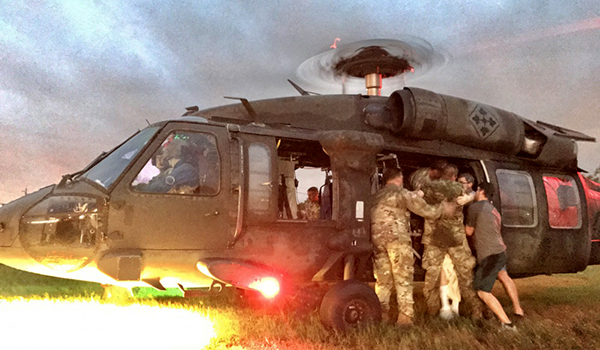 Army Reserve aviators with Charlie Company, 1st Battalion (Assault Helicopter), 158th Aviation Regiment, work with civilian volunteers to load elderly survivors from Hurricane Harvey who were airlifted to safety after being trapped by flooding in Port Arthur, Texas, August 30, 2017.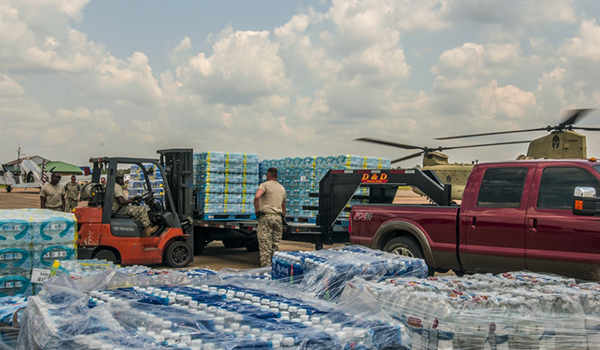 Army Reserve Aviators from the 7th Battalion (General Support Aviation), 158th Aviation Regiment, stationed in Conroe, TX and currently assigned to Task Force Iron Eagle, conduct water re-supply missions to Beaumont, TX after an anonymous billionaire donated three semi-trailers full of bottled water to relieve water shortages caused by Hurricane Harvey.
Under the governing policy of DoD Directive 3025.18, the command utilized our aircraft and personnel within a reasonable commuting distance to help the citizens that were affected by Hurricane Harvey. Per the 2012 National Defense Authorization Act, Immediate Response Authority (IRA) allowed for our local commanders to take immediate action to reduce human suffering and great loss of property.
Under the calming and decisive leadership of COL Jerome T. Clarke, the commander of the 11th Expeditionary Combat Aviation Brigade (ECAB), our response element was prepared to fly missions in support of the local law enforcement as soon as the weather cleared for aviation operations.
The ARAC's Aviation Task Force set-up shop in the headquarters of one of our down-trace units, 1-158th Assault Helicopter Battalion (AHB) more affectionately known as the "Ghostriders." Clarke's capabilities included a fleet of 5 HH-60 MEDEVAC helicopters, 4 CH-47 Chinook Helicopters and 3 UH-60 Blackhawk Helicopters. Keeping these aircraft in the sky required the professionalism and dedication of over 130 Soldiers, military technicians (MILTECH), and Department of the Army Civilians (DAC), all of which worked countless hours to ease the suffering of the citizens they call neighbors. By the end of the ARAC's involvement in the Hurricane Harvey relief efforts, we conducted over 19 lifts and rescued over 230 citizens from the impending danger of flood waters.
Hats off to our Citizen Soldiers for providing unfailing support to their neighbors in need.
BG Scott R. Morcomb is the commanding general of the U.S. Army Reserve Aviation Command located at Fort Knox, KY.