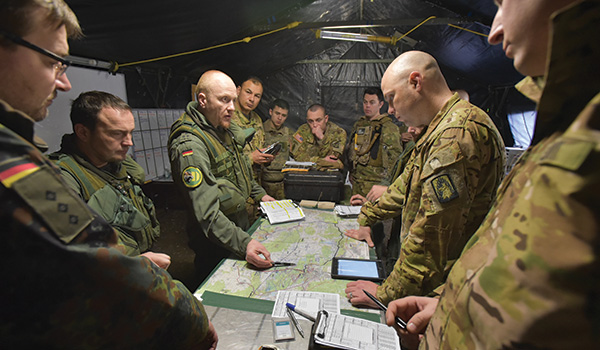 By COL Christopher Waters, COL Clair Gill, and LTC(P) Bassey Bassey: Tank and motorized rifle divisions massed along the border. Terrorist attacks against Americans and their kasernes. U.S. Army units training alongside their NATO counterparts in deterrence. Welcome to West Germany, 1982. Welcome to Germany, 2017.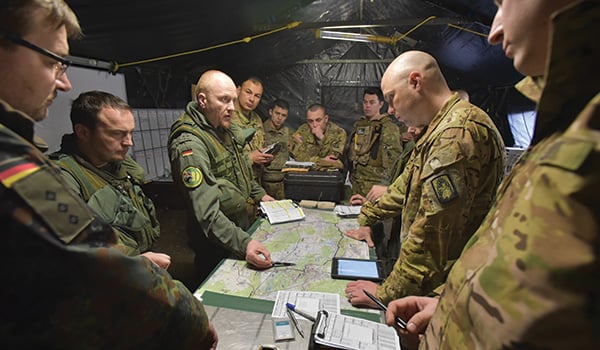 Aviators from Bravo Company, 1st Bn., 3rd Avn. Regt., 12th CAB, "Warlords," execute deliberate planning alongside the German Tiger helicopter pilots. The 1-3rd ARB, recently completed their combined combat aerial gunnery from March 16-April 5, at the Grafenwöhr Training Area, Germany. / U.S. ARMY PHOTO BY CPT JAYMON BELL, 12TH CAB
While the global conditions may be different, the local conditions have become eerily similar, except in scale. There may only be 30,000 American Soldiers in Europe today, but they are preparing for armed conflict just as hard as the Soldiers of 35 years ago. Grafenwöhr and Hohenfels are saturated with training units. Forward-positioned equipment sets are fully stocked. And Army Aviation is front and center, providing the U.S. Army Europe (USAREUR) and European Command (EUCOM) commanders with significant capability toward Allied assurance and Russian deterrence.
The combination of a rotational combat aviation brigade (CAB) – the 10th CAB from Fort Drum, New York – and a permanently-stationed aviation brigade – the 12th CAB in Ansbach, Germany – is a unique, lethal, and perhaps optimal mix. While the 10th CAB brings the (almost) full weight of a CAB to the fight for a 9-month stint, the 12th CAB sets the theater for optimal integration and continuity.
Fly to Glory
The 10th CAB is currently headquartered at Illesheim Airfield, just north of Ansbach. Also stationed there are 1-501st Attack Reconnaissance Battalion (ARB)(attached AH-64 unit), 2-10th Assault Helicopter Bn. (AHB), and 277th Aviation Support Bn. (ASB). Stationed at Katterbach Airfield, just east of Ansbach, is 3-10th General Support Avn. Bn. (GSAB). Notably absent from the Falcon Brigade is its Heavy Attack Reconnaissance Squadron (H-ARS)(still undergoing ARI transformation) and its Gray Eagle Company (deployed in CENTCOM), meaning that an Aviation-UAS capability is still absent from the European theater.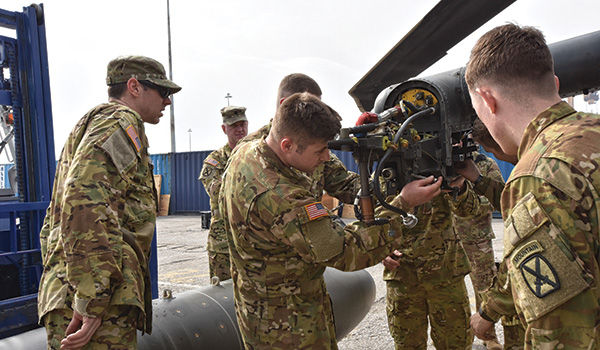 Several UH-60 Black Hawk helicopter crew chiefs from the 10th CAB, based at Ft. Drum, NY, install external storage support systems. The 10th CAB equipment and Soldiers arrived at the Port of Thessaloniki, Greece Feb. 25, 2017. This is the first full aviation regionally allocated force to support Operation Atlantic Resolve and U.S. Army Europe. / U.S. ARMY PHOTO BY MSG CRISTA MARY MACK, U.S. ARMY EUROPE
The 10th CAB is now the primary aviation asset dedicated to Operation Atlantic Resolve, the umbrella mission to train with NATO allies, boost their capability, and assure NATO allies that the U.S. stands ready to support NATO's Article 5 (an attack on one nation is an attack on all). Arriving at near-peak training proficiency, the 10th will sustain its combat readiness through a robust schedule of independent and coalition exercises along the eastern edge of the alliance, ranging from the Baltics to the Black Sea. Having arrived in theater in February and consolidated in Ansbach shortly thereafter, the 10th CAB is now pushing its capability eastward, reducing potential response time and developing partner-nation relationships.
Griffins
The 12th CAB – the oldest still-serving aviation brigade in the Army – is headquartered at Katterbach. Its theater-unique GSAB, 1-214th Avn., is headquartered in Wiesbaden, but has its cargo company at Katterbach and its MEDEVAC company at Grafenwöhr. 1-3rd ARB is likewise at Katterbach. The 12th CAB provides reinforcing general support to Atlantic Resolve, but focuses its efforts in Western Europe geographically, and toward its directed mission-essential tasks operationally. And here's where the benefits of a permanently forward-deployed aviation unit become most apparent.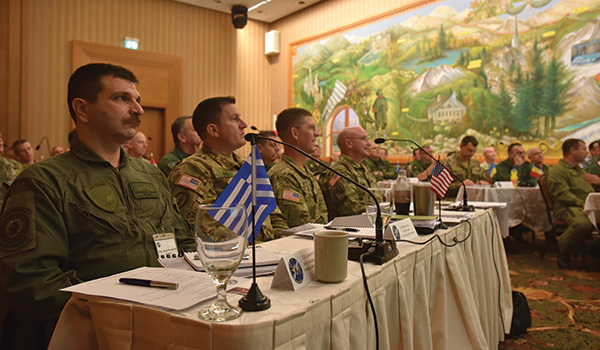 Pictured left to right: Col. Ioannis Koukoulis, Hellenic Army Aviation Directorate, CW4 Mike Boley, 12th CAB Chief Warrant Officer of the Brigade, COL Christopher Waters, 12th CAB Commander, and BG Frank W. Tate, Deputy Chief of Staff Operations, Multinational Corps Northeast, North Atlantic Treaty Organization, listen to a capabilities brief during the second annual Strong Europe Aviation Rotary Wing Summit at the Edelweiss Lodge and Resort conference center, Garmisch-Partenkirchen, Germany, Nov. 1, 2016. / U.S. ARMY PHOTO BY CPT JAYMON BELL, 12TH CAB
The Good Guys
There are A LOT of them here in Europe (28 NATO Allies), and figuring out how they operate, what's necessary to operate alongside them, exploiting their strengths, and mitigating their weaknesses is no small chore. The 12th CAB has been doing this for several years, and passes lessons learned and tactics, techniques, and procedures (TTPs) to the Rotational Force, all while serving as the thread of continuity over the long haul. A key tool to accomplish this is the annual Rotary Wing Summit, held each fall in Garmisch, Germany. All partner nations are invited to participate, most do, and break-out sessions serve to reduce interoperability friction and advance niche capabilities.
The Bad Guys
There's currently only one bad guy in Europe, and the Army Chief of Staff (CSA) has clearly identified him – Russia. In the event of armed conflict, Russia will present the most lethal helicopter-flying environment ever – EVER. Its dense distribution of small arms, shoulder-fired infrared (IR)-seeking rockets, and mounted radar-guided missiles is impressive and of great concern. NATO forces are challenged to replicate this threat in training, but do so through exercises in Hohenfels, the Polygone Electronic Warfare Tactics Range (located on the border between Germany and France), and in partner nations. Developing this training capability into an integrated and mobile anti-access area denial (A2AD) training enabler is a key task for the Griffins and USAREUR G3-Aviation.
The Theater
Unfortunately, most of Europe's Cold War infrastructure is now closed, as almost all American kasernes have been returned to German sovereignty. Reversing base closure initiatives is problematic and expensive. Additionally, assurance means placing NATO forces semi-permanently in the east – in Poland, the Baltics, and the Balkans – and these forces need infrastructure ("expeditionary plus Wi-Fi"). So competition for Installation Management Command (IMCOM) funding is fierce. As the primary (and arguably sole) remaining rotary-wing airhead in Germany, Ansbach needs significant maintenance, repair, sustainment, and construction work. U.S. Army Garrison–Ansbach leads this charge, but relies heavily on the 12th CAB for aviation expertise.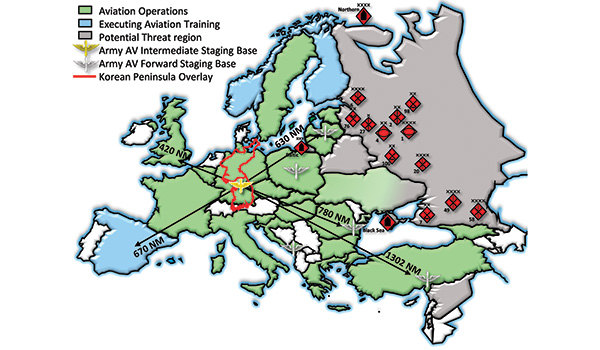 Geography of the European Theater / USAREUR GRAPHIC
Yet another challenge is geography. The scale of operations in Europe can only be appreciated by comparison (in this case, to Korea; see map). Getting people, aircraft, equipment, repair parts, ammunition, and all the other classes of supply to our forward operating bases in the east is an immense challenge, only accomplished through close coordination with the 21st Sustainment Command and organic, but non-MTOE, transportation assets.
Training
All that said, there's no less emphasis on the CSA's #1 priority of READINESS. All aviation units are striving to meet T-1 readiness as defined by Objective-T standards, and commanders are finding imaginative ways to incorporate collective training requirements into NATO-sponsored exercises. The distributed nature of these exercises provides ample opportunities for "power-down" leader development, and training in a coalition environment helps develop creative thinking and an agile mind. And, as in the past, Grafenwöhr and Hohenfels provide premier opportunities for "challenged" live-fire and maneuver.
Conclusion
The blending of permanently-assigned and rotational brigades ultimately provides a well-balanced psychology to service in Europe. The expeditionary mind-set of the rotational force reinforces the "Fight Tonight" attitude required by the USAREUR Commanding General. But the stability and continuity of the permanently-assigned force provides comfort and confidence to our partner-nations. So whether it's for nine months or three years, individual service in Europe is key to maintaining peace in what has historically been a warring theater.
COL Christopher Waters commands the 12th Combat Aviation Brigade (CAB); COL Clair Gill commands the 10th CAB; and LTC(P) Bassey Bassey is the USAREUR G-3 Aviation Officer all based in Germany.
Aviators from Bravo Company, 1st Bn., 3rd Avn. Regt., 12th CAB, "Warlords," execute deliberate planning alongside the German Tiger helicopter pilots. The 1-3rd ARB, recently completed their combined combat aerial gunnery from March 16-April 5, at the Grafenwöhr Training Area, Germany. / U.S. ARMY PHOTO BY CPT JAYMON BELL, 12TH CAB
Several UH-60 Black Hawk helicopter crew chiefs from the 10th CAB, based at Ft. Drum, NY, install external storage support systems. The 10th CAB equipment and Soldiers arrived at the Port of Thessaloniki, Greece Feb. 25, 2017. This is the first full aviation regionally allocated force to support Operation Atlantic Resolve and U.S. Army Europe. / U.S. ARMY PHOTO BY MSG CRISTA MARY MACK, U.S. ARMY EUROPE
Pictured left to right: Col. Ioannis Koukoulis, Hellenic Army Aviation Directorate, CW4 Mike Boley, 12th CAB Chief Warrant Officer of the Brigade, COL Christopher Waters, 12th CAB Commander, and BG Frank W. Tate, Deputy Chief of Staff Operations, Multinational Corps Northeast, North Atlantic Treaty Organization, listen to a capabilities brief during the second annual Strong Europe Aviation Rotary Wing Summit at the Edelweiss Lodge and Resort conference center, Garmisch-Partenkirchen, Germany, Nov. 1, 2016. / U.S. ARMY PHOTO BY CPT JAYMON BELL, 12TH CAB
Geography of the European Theater / USAREUR GRAPHIC