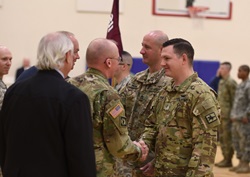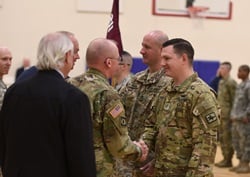 May 5, 2017
Photo by Sgt. 1st Class James McGuire
Wyoming Army National Guard soldiers Staff Sgt. Derrick Perkins, a medic, and Chief Warrant Officer 2 Bryan Herget, a UH-60 Black Hawk pilot, both assigned to G Company, 2-211th Aviation Regiment (formerly C Company, "Charlie Med" 5-159th) receive the DUSTOFF Association's Rescue of the Year award for their heroic effort that saved the lives of five critically wounded soldiers during a MEDEVAC mission in Afghanistan in 2015. Gov. Matt Mead and Maj. Gen. Luke Reiner, Wyoming adjutant general and DUSTOFF board member Col. (ret.) Henry "Hank" Tuell, one of the Medical Service Corps' most highly decorated aviators, presented the award at a May 5 ceremony at the Army Aviation Support Facility in Cheyenne. The DUSTOFF Association is a nonprofit incorporated veterans' organization for Army Medical Department enlisted and officer personnel, aviation crewmembers, and others who are (or ever were) engaged in (or actively supported in any capacity) Army aeromedical evacuation programs in war or peace.
These photos were originally found here.