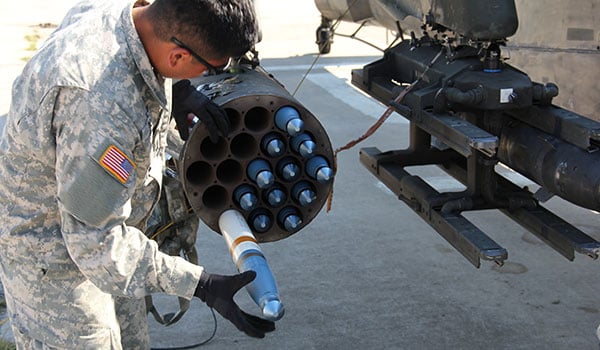 U.S. Army Reserve Aviation / By BG Troy D. Kok: 2025 may be ten years away according to a calendar, but in terms of force modernization, it is right around the corner. In preparation for an unknown and ever evolving geopolitical landscape, the United States Army Reserve's sole operational Aviation command is posturing itself for continued success in the upcoming decade.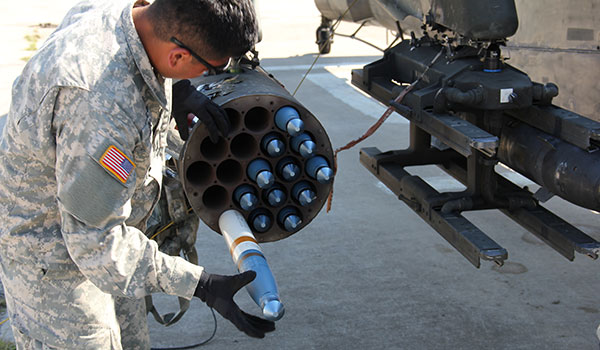 SGT Robert Self, an AH-64 Armament Electrical Avionic Systems repairer with Company D, 1st Bn., 158th Avn. Regt. "Ghost Riders," loads rockets into an AH-64 Apache during a gunnery range at North Fort Hood, Texas, June 2, 2015. The Ghosts Riders are one of the last U.S. Army Reserve units to participate in Apache gunnery training before transitioning to the UH-60 Black Hawk. / U.S. ARMY RESERVE PHOTO BY CPT DAVID DUNN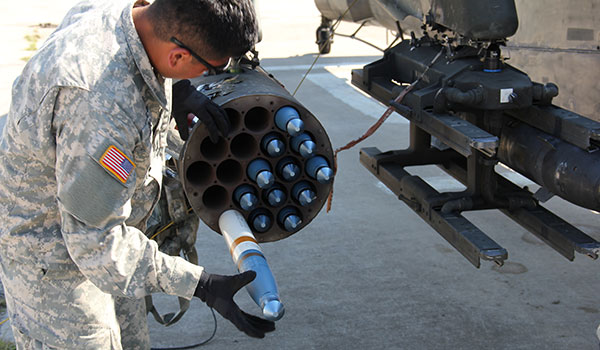 As an enduring operational force, the 11th Theater Aviation Command (TAC) will remain a highly professional, value-added partner in the Army Aviation Enterprise providing air traffic services, air assault, air movement, aero-medical evacuation, aviation maintenance and inter-theater transportation capability to the Combatant Commander supporting overseas operations or homeland missions. Leveraging our geographic dispersion, unity of command and Title 10 status, USAR Aviation will remain the "go to" life saving and life sustaining asset supporting the Total Force.
Maintaining its current top priority, the 11th TAC will continue to provide unparalleled Aviation support to the ground forces. Focusing on overseas contingency and peace keeping operations such as Operation Freedom Sentinel (OFS), Multination Force Observers (MFO) and Kosovo Forces (KFOR), USAR crews will maintain their highly specialized proficiency and be ready to answer the call for any future endeavor. By operationally supporting the homeland defense mission through Command and Control CBRN Response Element – Alpha (C2CRE-A), Defense CBRN Response Force (DCRF) and Joint Task Force – North (JTF-N), the 11th Aviation Command will provide support to the American population by responding in the event of a CBRN or all-hazards event.
Taking Care of Soldiers
Recognizing our most precious asset is the individual Soldier, the 11th TAC will persist in cultivating a command climate that fosters dignity, respect, and an environment where subordinate leaders can exercise appropriate initiative, risk taking and decision making in order to accomplish organizational goals and missions. Innovative recruiting and retention initiatives such as building lasting relationships with the Army Reserve Career Division, Cadet Command, U.S. Army Recruiting Command and local universities and colleges will allow the 11th TAC to identify the future of USAR Aviation. Implementing these interactions now will allow the Soldier time to develop into a MOS proficient leader of tomorrow. Fully manned units with qualified Soldiers will maximize the readiness and operational capabilities of the command. These aggressive methods, in conjunction with a continued focus on individual readiness and Soldier skills such as military occupation specialty (MOS) training and professional military education (PME) through diverse methods as Additional Flight Training Periods (AFTPs) and Electronic Based Distributed Learning (EBDL) will produce a professionally mature Soldier.
Restructuring USAR Aviation
In an effort to achieve doctrinally accurate and regionally aligned brigades, the 11th AC is undergoing a drastic restructuring. The most visible aspect of the restructuring will be the establishment of an aviation brigade to be located in the Western U.S. This to-be-named brigade will almost mirror the subordinate 244th Aviation Brigade located at Joint Base Maguire-Dix-Lakehurst (JBMDL), New Jersey with one general support aviation battalion (GSAB), one assault helicopter battalion (AHB), one theater fixed wing battalion, and one maintenance support battalion (ASB). This restructuring will result in two strategically positioned deployable expeditionary combat aviation brigades (ECABS).
The transformation will enhance focus on the USAR core competencies of life saving and life sustaining capabilities. Once the additional brigade is activated, the 11th TAC Modified Table of Organization & Equipment (MTOE) structure will be inactivated and replaced with a Table Distribution and Allowances (TDA) one star-level command at Ft. Knox, KY. Other improvements will be to divest military intelligence fixed wing structure and activate a new fixed wing VIP company, thus providing both fixed wing battalions with three VIP companies each. The conversion of two AH-64 armed reconnaissance battalions (ARB) to two UH-60 assault helicopter battalions (AHB) has already begun. The airfield operations battalion (AOB) will be deactivated and two F Companies assigned to the GSABs will build and transform Air Traffic Services, greatly increasing the stand alone capabilities of both GSABs. Preparing the CH-47 community for future missions, the 11th AC will activate structure that supports and capitalizes on Army Partnership opportunities. The new structure will allow USAR Aviation to be better postured to support the Combatant Commander with lift, aero-medical evacuation, and inter-theater transportation.
The optimal integration of force structure and facilities will result in the increased unit readiness. Emphasizing enhanced career progression, recruiting, facility utilization, efficient utilization of full time support (FTS) and improved mission command, U.S. Army Reserve Aviation will remain in the forefront of worldwide mission readiness. By utilizing a continuous, proactive, and deliberate process involving all stakeholders while continuing to participate in open and cooperative conversation among the U.S. Army Reserve Command (USARC), The Office of the Chief, Army Reserve (OCAR), Headquarters, Department of the Army (HQDA) and Department of Defense (DoD), the 11th Theater Aviation Command will be well poised for operations in 2025 and beyond.
BG Troy D. Kok was the commanding general of the 11th Theater Aviation Command when this article was written and is currently serving as the deputy commanding general of U.S. Army Recruiting Command, both located at Fort Knox, KY.