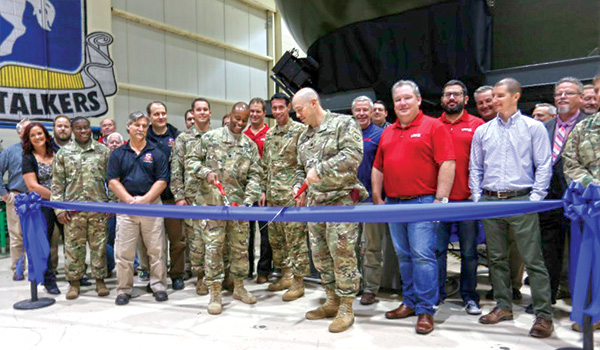 Stimulating Simulations / By COL Richard Haggerty, LTC Al Niles, CPT Luke Leininger, and CW5 Jody Bridgforth: Although rotary wing flight simulation can never replace the realism and effectiveness of turning JP-8 fuel into noise, current technology has opened the door for some innovative ways to maximize it. The Product Manager for Special Operations Training Systems (PM STS), in collaboration with the 160th Special Operations Aviation Regiment (Airborne) (SOAR(A)), pursued an acquisition/technical strategy to transform the special operations aviation simulation training enterprise from simulated to a stimulated baseline. The goals were to reduce lifecycle cost, shorten developmental timelines and improve the realism and concurrency of aviation training.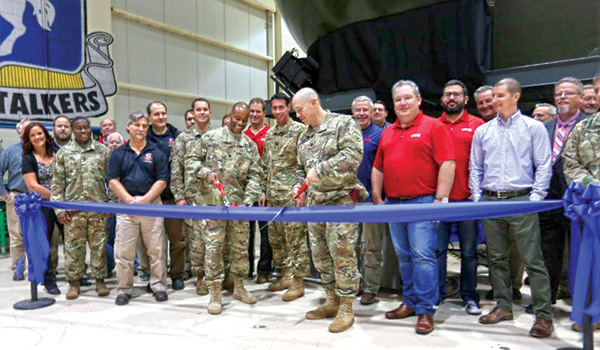 PM STS and the 160th SOAR(A) CMS Government Acceptance Ceremony on November 17th, 2016 at Ft. Campbell, KY. / U.S. ARMY PHOTO BY FORT CAMPBELL PUBLIC AFFAIR
Combat Mission Simulators
Historically, the full-motion Combat Mission Simulators (CMS) that trained special operations aircrews were simulated: millions of lines of software code packaged together to replicate the systems and operations of the rotary wing fleet. Although effective, this strategy was expensive and time consuming. With the majority of the Regiment's simulator periods being dedicated to training Green Platoon students learning a new aircraft, simulators that weren't concurrent with aircraft sitting on the flight line due to extended software developmental timelines led to training inefficiencies and negative habit transfer. It was clear that the status quo wasn't cutting it.
Recently, the 160th SOAR(A) accepted delivery of the second of five fully upgraded and re-hosted stimulated CMSs. In addition to upgrading the systems to commercial-off-the-shelf (COTS) state of the art projectors, image generators, Mylar projection screens and electric motion systems, the devices employed actual airframe avionics and other sub-systems vice simulated components.
Reduced Costs/Development Time
Proven COTS components, coupled with the reduced footprint of upgraded computing systems and actual aircraft avionics line replaceable units integrated into the CMS greatly reduced the overall cost of the simulator. Stimulated equipment ushered in another cost-saving measure: reduced software development labor and time.
Reduced development timelines served another important function: keeping the CMS more concurrent with the actual aircraft sitting on the ramp. Instead of waiting nearly a year for a complete CMS software upgrade effort, the stimulated CMS devices can now be upgraded in months. This also assists with training throughput, as CMS devices are brought offline for shorter periods of time during upgrades.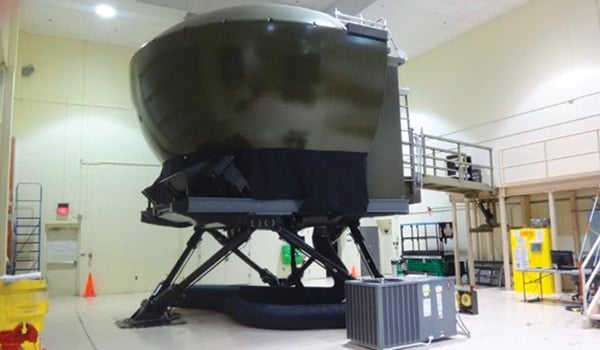 MH-60M Combat Mission Simulator at Fort Campbell, KY / PHOTO FROM DEFENSE.GOV ARCHIVE
Another benefit of breaking the cost-time dilemma was the ability to upgrade all five CMS devices to the same technical baseline. Previously, upgrades were so expensive and time-consuming that by the time the program office could afford and execute upgrades, technology had changed so dramatically that the CMSs were completed under different technical baselines. This escalated sustainment cost and complexity.
"For the first time in the history of the program, all five CMS devices will be concurrent with the flight line and on the same technical baseline in 2018. That's a huge win for the special operations aircrews," Colonel Richard Haggerty, project manager for Instrumentation, Targets, Threat Simulators and SOF Training Systems, who initiated the stimulated strategy said.
Mr. James Kozlowski (left), product developer; LTC Al Niles (center), Special Operations Forces Training Systems Product Manager (PM STS); and Program Executive Officer Simulation, Training, and Instrumentation, BG William E. Cole, accepting the Army 2016 Modeling and Simulation award at the annual Army Acquisition Executive Awards Ceremony and Banquet Dec. 2, 2016, Hilton Hotel, Springfield, VA. / U.S. ARMY PEO STRI PHOTO
It would be an over-simplification to say that delivering the stimulated Combat Simulation Devices was easy. In fact, there were several difficult developmental and systems integration challenges that the team overcame with their industry partners. Their success was acknowledged with the receipt of the 2016 U.S. Special Operations Command Innovators award and the Army's 2016 Modeling and Simulation award in the Acquisition Team Category.
COL Richard Haggerty is the project manager for Instrumentation, Targets, Threat Simulators and Special Operations Forces (SOF) Training Systems, PEO STRI; LTC Al Niles is the product manager for SOF Training Systems; and CPT Luke Leininger is the assistant product manager for SOF Aviation Training Systems all located in Orlando, FL. CW5 Jody Bridgforth is the simulation branch chief in the Systems Integration and Management Office (SIMO), U.S. Army Special Operations Aviation Command at Fort Campbell, KY.