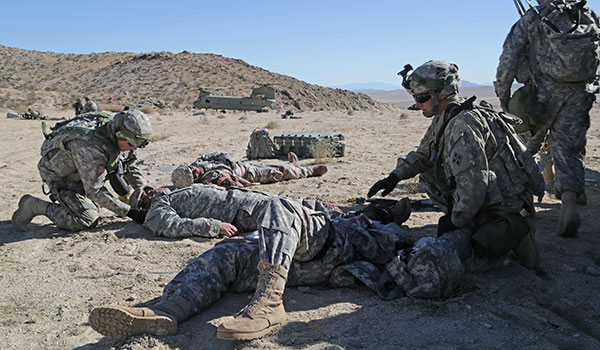 Branch Command Sergeant Major / By CSM Eric C. Thom: There are no secrets to success. It is the result of preparation, hard work, and learning from failure.
– Colin Powell
The Army's Training Concept (ATC) 2012-2020 was designed to strike a balance between operational and institutional training, and offers flexibility, efficiencies, and a broad range of training capabilities for leaders to maintain an agile, ready Army in a period of reduced resourcing.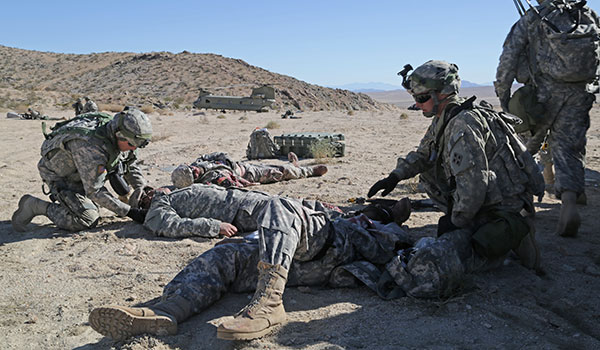 Soldiers from Delta Company, 1st Attack Reconnaissance Battalion, 4th Aviation Regiment, 4th Combat Aviation Brigade, assess casualties while recovering a downed aircraft during Decisive Action Rotation 15-03 at the National Training Center in Fort Irwin, CA, Jan. 24, 2015. The Decisive Action training environment was developed to create a common training scenario for use throughout the Army.
The Integrated Training Environment (ITE) is the interconnected combination of Live, Virtual, Constructive, and Gaming (LVCG) training. It is how the Army operationalized the ATC and is a powerful tool that gives leaders the ability to plan and execute rigorous, multi-echelon, progressive training that is iterative, tailorable and realistic.
Simulation provides a great training opportunity; frankly, one that we are not utilizing enough. There are things you can do in simulation that you just can't do in live training, like stop the training to review a critical error, and then pick up the scenario just where you left off. You can train with the infantry brigade combat team (IBCT) on the other side of the country that you're scheduled to deploy with and not leave your home station.
The Principles
During some of my recent travels, several combat aviation brigades (CABs) ushered me in to see some of the LVC training they were participating in. I must admit it is impressive to see some of the things that can be accomplished through simulation in the ITE. More often than not though, [and you can pick your simulated poison here, the Aviation Combined Arms Tactical Trainer (AVCATT), or Nonrated Crew Member Manned Module (NCM3), or any of a slew of other training aids, devices, simulators and simulations (TADSS)], I see personnel wearing the same uniform they showed up in for their accountability formation. If the standard for live training has you in a version of full battle rattle, because that is how we fight, then the training in the simulators should be in the same uniform.
Stop me if you have heard any of these before:
"Non-Commissioned Officers train individuals, crews, and small teams…"
"Train as you fight…"
"Train to standard…"
If they sound familiar, that is good, because they should. After all they are three of the eleven principles of training. Anyone who has spent ten minutes in our doctrine over the past twenty years should recognize at least a modified version of them./ U.S. ARMY PHOTO BY SGT CHARLES PROBST
Vary Conditions
Doctrine dictates that training is done by applying the Operations Process (prepare, plan, execute and assess). Non-commissioned officers are critical in all four phases of the Operations Process. Yes, commanders are responsible for the unit's training, but commanders cannot be everywhere all the time, nor do they have the subject matter expertise in every aspect of every job in their command. Commanders utilize NCOs for their expertise, and their presence. NCOs make sure the training is resourced, rehearsed/validated, executed and evaluated. In doing so, they ensure their units train as they fight – to standard. If your unit is not utilizing your NCOs this way, not only do you have a training issue, but also you have a leader development issue.
I said all that to say this: it is easy to focus on the task in the ITE and not the conditions you execute them in. This can give anyone a false sense of confidence. If you don't train in all the physical conditions possible including wearing that heavy, cumbersome gear, then when it comes time for you to actually execute the task: best case scenario, your reaction times will be slower, your endurance shorter, even your attitude will be adversely affected. Countless repetitions of doing things in the wrong conditions will not set you up for mission success.
I see units every day taking the opportunity to train tasks to tough, realistic standards. However, the conditions are not always rigorous. When your Soldiers meet the standard, change the conditions, do it at night, or after an extended duty day, or increase the Mission Oriented Protective Posture (MOPP). Train them in progressively adverse conditions, until you are confident they can execute the task anytime, anywhere. Do not lessen the standard, or in this case the condition just because it is simulated training. It is still training.
The U.S. Army Aviation Center of Excellence, as the institutional part of Army Aviation has done an incredible job in placing a priority on making sure that everyone that comes through for Professional Military Education (PME), regardless of their cohort (NCO, warrant, or commissioned), receives arduous training to take back to the operational force to execute training across the full spectrum of simulations. Let's just not get so focused on the simulation or TASK that we forget the CONDITIONS. Our Soldiers expect and deserve nothing less than tough, realistic training, so let's make sure they get it.
As always it is an honor to serve as your branch Command Sergeant Major.
Above the Best! CSM Thom
This email address is being protected from spambots. You need JavaScript enabled to view it.
CSM Eric C. Thom is the command sergeant major of the Aviation Branch and the U.S. Army Aviation Center of Excellence, Fort Rucker, AL.