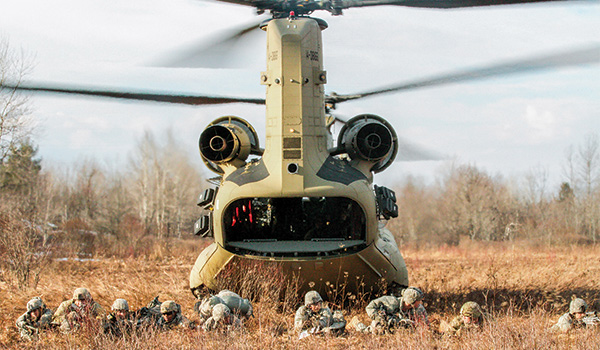 Aviation Branch Chief / By MG William K. Gayler: " In today's volatile operational environment, our Army must remain ready to answer the Nation's call anywhere and anytime, with little or no notice. Because of this, readiness for large-scale ground combat is our first priority."
ADP-1 "The Army" Foreword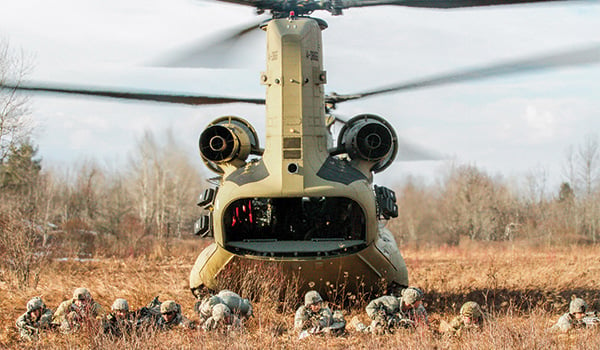 Soldiers take up defensive positions after disembarking from a CH-47 Chinook helicopter during an air assault training mission in the Fort Drum training area in New York, Feb. 21, 2018. / U.S. ARMY PHOTO BY SSG JAMES AVERY
The recently published 2017 National Security Strategy (NSS) has substantial implications for Army Aviation and the U.S. Army at large. The strategy highlights the growing influence of regional powers in Europe and the Pacific, the persistent threat of rogue states such as Iran and North Korea, and the regional and at times, global instability that these rivals create. In a dramatic departure from recent security strategies, the 2017 NSS states that continuous competition among great powers – not terrorism – must now be the primary focus of U.S. national security.
While the U.S. military focused largely on counterinsurgency operations (COIN) over the past seventeen years, potential adversaries studied our way of war and invested in capabilities to target our strengths and exploit our weaknesses. We can no longer rest on competencies optimized for COIN environments alone. In fact, the NSS compels our military to regain overmatch, underscoring the importance of readying our units for large scale combat operations (LSCO). Regaining overmatch will require improved readiness with an emphasis on training, logistics, and maintenance, with forces that are increasingly agile; able to transition quickly into theater and fight upon arrival, without assurances of dominance in the air, sea, land, space, and cyberspace domains.
Regaining Overmatch
Over the past decade and a half, Army Aviation further solidified its long-standing bond with commanders and Soldiers on the ground, due in large part to the professionalism and valor demonstrated in combat by our Soldiers and leaders. To maintain this hard-earned relationship in the future, we must demonstrate equivalent competency in LSCO. While the percentage of aviation Soldiers and leaders with experience training for and fighting in high intensity combat is significantly lower than it was two decades ago, I am confident that our dedicated, professional, and incredibly skilled aviation force will close this experience gap quickly. U.S. Army Aviation Center of Excellence (USAACE) and the Aviation Enterprise also have a critical role in readying the force for the future – and are pursuing near-term materiel solutions that are optimized for well-armed adversaries and provide improved reach, protection, and lethality to the force. However, I can assure you that there is no technological or materiel solution we can inject into the force today that is more important than training.
The Starting Point
Doctrine must be our start point for preparing for LSCO. It is the language of Army professionals, and a comprehensive understanding of doctrine is foundational to success in LSCO. USAACE is currently re-writing aviation doctrine to nest with the latest version of FM 3-0 and to ensure it focuses on LSCO. In the interim, we must comprehend and apply our current doctrine during homestation training. Units must also revive deliberate mission planning focused on peer adversaries in complex and contested environments. Years of COIN fights have made us comfortable executing operations with minimal mission information. We cannot repeat this practice and expect to win on more complex, contested, and lethal battlefields. Detailed route planning to avoid or mitigate enemy threats, thorough attack planning, and synchronizing and integrating with ground maneuver are just a few essential elements of aviation missions that must be thoroughly developed, briefed, rehearsed, and executed with precision.
We also know that future threats will be far more sophisticated and lethal. We must intimately understand threat capabilities and tactics and how to mitigate them through effective maneuver using terrain and through the proper employment of aviation survivability equipment (ASE). Defeating more capable and lethal adversaries will also involve greater agility, mass, and synchronization of joint capabilities. Aviation units must be able to proficiently operate at company and above sized formations as part of a brigade, division, or corps scheme of maneuver; even more critical now that FM 3-0 re-designates division and corps headquarters as tactical formations.
More Expeditionary
We must also become more expeditionary – while we have routinely operated in austere environments, austere does not equal expeditionary. Future battlefields will require aviation units to move frequently with limited external support. We must become leaner, more mobile, and proficient at expeditionary maintenance to support the pace of LSCO. We must also be skilled at conducting mission command on the move. Today's large and elaborate command posts and mission command systems are too unwieldy, too time consuming to reposition, and far too reliant on networks that will be threatened by enemy cyber capabilities. Multiple command nodes and dispersed operations will become the norm, with units conducting mission command in a network-denied environment – which will require the competence and professionalism of our Aviation leaders to execute effectively. None of this will happen overnight – but it will come – and only through deliberate, rigorous, and repetitive training. Frequency and repetition matter!
Army Aviation Soldiers that supported operations during the initial stages of OEF and OIF grew up under the Army's AirLand Battle doctrine and were adept at executing combined arms maneuver. However, it was largely through the very tough lessons learned in the following decade and a half of COIN that drove our branch to refine tactics, techniques, and procedures to more effectively operate in that environment. Moving forward, we cannot afford to wait until committed to a large scale combat operation to change our ways. We must train today to ensure that our units are prepared for LSCO and to fulfill our solemn pledge to support commanders and Soldiers on the ground – and I have no doubt that our Soldiers and units will do just that.
Above the Best!
MG William K. Gayler is the Army Aviation branch chief and commander of the U.S. Army Aviation Center of Excellence and Fort Rucker, AL.