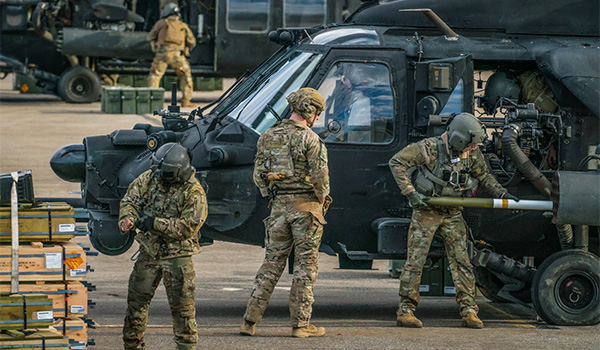 Special Operations Aviation / By MAJ Mike Kinsel: With the reduction of troop numbers and combat operations in the Counter Terrorism/Violent Extremism (CT/VEO) campaign, the U.S. Army Special Operations Aviation Command (USASOAC) seeks to maintain lethality and flexibility by placing greater emphasis on stateside training to address Great Power Competition (GPC). Specifically, the focus has evolved to address those concerns that deal with a peer or near-peer adversary. Achieving multi-domain dominance across the future competition spectrum is not guaranteed and requires a deeper look and more focused efforts. Flying every hour with purpose, the ARSOA enterprise is leaning forward on tomorrow's competitive space through focused training events and Validation Exercises (VALEX). Recent drawdowns in force posture and reductions in violence across the USCENTCOM area of responsibility have precipitated an environment that no longer offers the battle-lab iterations that have been pervasive for the last two decades during the Global War on Terrorism.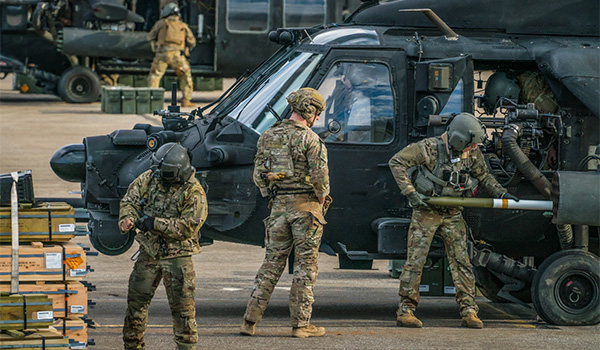 This image is used to template enemy Integrated Air Defense Systems (IADS) used for planning and execution of a Validation Exercise (VALEX) for 1st Battalion, 160th Special Operations Aviation Regiment (Airborne)./ 1-160 SOAR (ABN) GRAPHIC
Soldiers assigned to 160th Special Operations Aviation Regiment (Airborne) arm an MH-60M Black Hawk helicopter./ U.S. ARMY PHOTO BY ROBERT LEWIS, TNG. DEVELOPMENT AND SPT. CELL
To ensure aircrew, staff, and support personnel maintain combat potency, COL(P) Ryan, USASOAC commander, instituted a "make every hour count" mentality. This mantra aims to deliberately focus every hour of flight in a way that directly increases combat readiness and its application to the GPC spectrum. One of the vehicles USASOAC uses to ensure focus and efficacy of training is the battalion-level VALEX. These events are conducted once during every battalion commander's tenure and are designed to evaluate the battalion staff and command team's ability to exercise command and control of special operations Aviation activities while deployed. These events provide a testbed for planning and maneuver effectiveness and create the opportunity for the battalion headquarters to receive feedback from their Title 10 headquarters.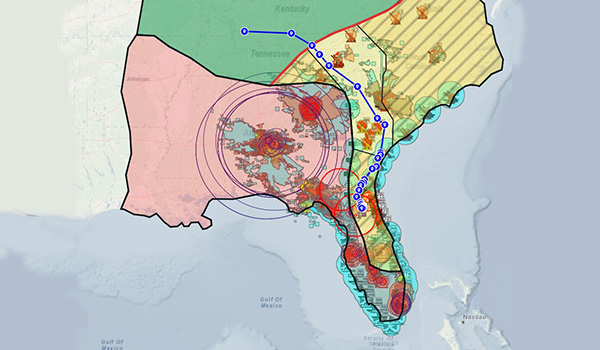 The USASOAC VALEX team evaluates subordinate battalion leadership and staff. Events, conducted in various locations with varying scenarios, are programmed into the calendar within the first 90 days of a battalion change of command. Each battalion stands up an exercise control group responsible for developing the event and are limited only by their creativity and specific guidance from the USASOAC commander. The best events are those that contain the depth of staff and scenario complexity necessary to replicate the future contested or denied environment that Night Stalkers will likely face given a GPC threat event.
Implicit interest in Integrated Air Defense Systems (IADS) and Anti-Access Area Denial (A2AD) networks are common throughout each event. Increased ambiguity, lethality, and the dynamic nature of enemy A2AD and IADS architecture create the training construct and provide themes for the VALEX event.
So far, within this calendar year, the USASOAC VALEX team has completed three validations for 1st, 3rd, and 4th battalions, 160th SOAR (ABN), tailoring each event to evaluate that battalion's specific Mission Essential Task List (METL) amidst a peer/near-peer scenario.
The battalion staff and aircrew faced complex problems ranging from maintaining communications and navigation in a denied or degraded environment to operating within a robust IADS network. Tasks previously taken for granted, such as battle tracking, persistent ISR, real-time battlefield updates, and intel-driven high confidence threat reporting were constant agitators.
The friction weathered by the battalions was representative of the current and future competitive space and required trial and error coupled with ingenuity to develop, validate, and adopt tactics, techniques, and procedures (TTPs) effective against the scenario's adversaries. To increase the complexity, realism, and share the knowledge multilaterally, six units across the joint spectrum, numerous agencies of the intelligence community, and multiple national facilities supported the events.
Opportunities for Night Stalker aircrews to fly against simulated adversary IADS in training allowed the implementation of the full spectrum of layered effects from kinetic to non-kinetic.
Additionally, the repetitions in a peer-based scenario enable the 160th SOAR (ABN) to better convey risk-to-mission and risk-to-force when asked to assess the feasibility of conducting operations in contested or denied areas. The result of these validations was increased familiarity of the multifaceted problems associated with penetrating and operating within denied environments and a confirmation that the battalions can conduct their METL tasks in combat worldwide.
Making every hour count provides the 160th SOAR (ABN) with the motivation and intonation to focus their efforts in every way possible, from stateside cross-country flights to training opportunities while deployed. No matter the environment, USASOAC is firmly committed to achieving unprecedented success in the areas of low probability detect/intercept (LPD/I) communications and long-range operations in denied, contested, and politically sensitive environments. The iterative future-focused and complex training environments created through the VALEX program are essential for USASOAC to gain, maintain, and build experience and proficiency for special operations Aviation forces. Moreover, it is critical to mitigate risk factors associated with operating in the peer/near-peer arena and provide viable options to the ground force commander.
As the Department of Army and greater DoD shift focus to regaining and maintaining dominance in the competition space, the ARSOA enterprise is leaning forward to guarantee capabilities and TTPs that will ensure the 160th SOAR (ABN) can conduct effects-based operations that expand the competitive space in both great power competition and large-scale combat operations.
MAJ Mike Kinsel is a plans and operations officer assigned to the U.S. Army Special Operations Aviation Command G3 at Fort Bragg, NC.