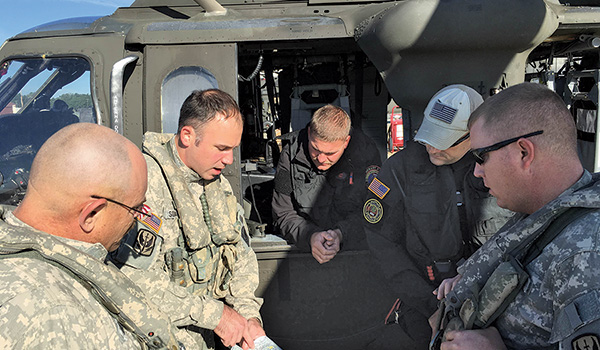 Director, Army National Guard / By LTG Timothy J. Kadavy: Greetings from a non-Aviator in the Army National Guard. I'd like to thank MG Lundy for giving me this opportunity to address the Army Aviation community and share my perspective on Army Aviation in the National Guard as part of the Total Force.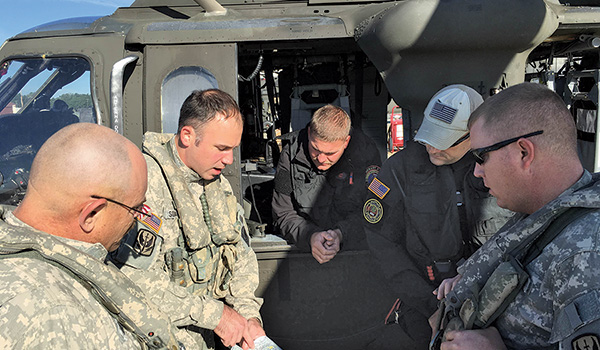 (Left to right) North Carolina Guardsmen SFC Robin McDaniel, CW2 Bruce Scharbius, Michael Brewer, Josh Johnson, and SGT Clint Rodgers conduct mission briefings for an aerial search mission, during the response to last October's South Carolina floods./ U.S. ARMY NATIONAL GUARD PHOTO BY MAJ JACK POTVIN, 449TH TAB
Teamwork Past
First, I'd like to recognize the entire Army Aviation team – military, Army civilians, and contract support personnel. The Army Aviation Force has demonstrated exceptional teamwork and competency over the past 15 years of conflict and continues to develop, demonstrate, and deliver that same exceptionalism in operations today. Aviation is simply the indispensable enabler. When Apaches are overhead, the enemy hides. When MEDEVAC is on stand-by, our troops' courage multiplies. When Chinooks bring in the ammunition, our guns never silence. I hope you never underestimate how much our soldiers and commanders on the ground appreciate the sound of friendly rotors overhead.
Second, I'd like to recognize our Army National Guard Aviation professionals for the incredible support they provide to our Army and the Governors of the 54 States, Territories, and the District of Columbia. These largely under-the-radar missions save lives and provide essential information and support to state funded missions. Nothing is more comforting to a citizen who is stranded on a rooftop during a post-hurricane flood than the hoist of an Army MEDEVAC aircraft operated by the Army National Guard.
Looking Forward
Finally, I'd like to express how excited I am about the future of Army Aviation. The National Commission on the Future of the Army has published its report, and we are working shoulder-to-shoulder with our HQDA, Active Component, and Army Reserve partners to review and implement the recommendations to make our Army stronger. We need to focus on tighter integration between the components and fully embrace Army Total Force Policy.
Additionally, I'm committing Army National Guard Aviation to:
Maximize next-up unit readiness in accordance with Army Readiness Guidance
Transform our organizations as rapidly as possible in order to minimize the turbulence and readiness dips associated with major force structure changes
Fill our combat training center support requirements. No Active or Army National Guard brigade combat team should execute these marquis training events without a robust enabler package
Ensure our Aviation training sites reinforce Fort Rucker, in order to maximize institutional throughput and MOSQ readiness
Be ready to mobilize, deploy, and serve when called – we are Warfight-focused and Governor responsive
Sustain the reputation of excellence the Army Aviation Force earned over the past 15 years of conflict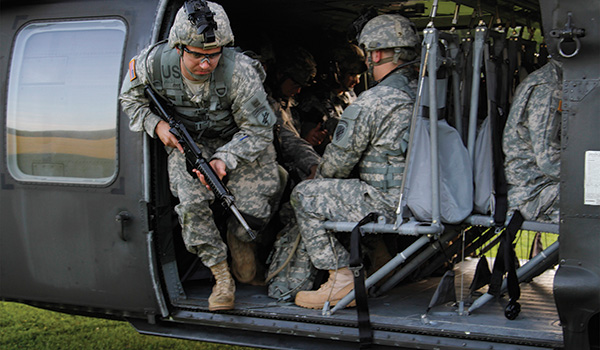 A Soldier with the Army Reserve's 403rd Civil Affairs Battalion disembarks from a UH-60 Black Hawk helicopter belonging to the New York Army National Guard's Co. A, 3rd Bn., 142nd Avn. Regt. during joint training in Cooperstown, N.Y., on June 13, 2015. / U.S. ARMY NATIONAL GUARD PHOTO BY SGT JONATHAN MONFILETTO, NCARNG
We are and will remain an indispensable Total Force Partner in Army Aviation.
We've got an extremely talented Aviation Community with 54 elements of State Aviation professionals who are committed to supporting the Total Army. Please send me your ideas and recommendations, as our best improvements start at the user level. COL Ray Davis leads the Army National Guard Aviation & Safety Division; please reach out to him at This email address is being protected from spambots. You need JavaScript enabled to view it..">This email address is being protected from spambots. You need JavaScript enabled to view it..
Fly Army.
Fly Army National Guard.
LTG Timothy J. Kadavy has served as the director of the Army National Guard since March, 2015.