Aviation Survivability / By CW5 Christopher A. Johnson: As I begin my 4th year as the Project Manager for Aircraft Survivability Equipment, I am sincerely thankful for the incredible opportunity to protect our Nation's most valuable assets – the lives of American Soldiers. And along with that reflection, I also marvel at the technical skills, dedication, professionalism, and passion that the ASE enterprise displays to accomplish that mission.
Soldiers from JagerBattalion 291 pose in front of a Tiger Attack Helicopter and an AH-64 Apache from 12th Combat Aviation Brigade during exercise Strong Punch near Fritzlar, Germany. Strong Punch is an exercise laboratory in which German and American aviators can evaluate and refine the effectiveness of their current tactics, techniques and procedures (TTPs) in a threat environment that consists of real world, modern electronic warfare platforms (EW) and reconnaissance surveillance equipment. / U.S. ARMY PHOTO
The threats our aircraft face are lethal, varied, and ever-evolving. Thus, the pace of our work continues to accelerate as we seek improvements in the ASE suite, while maintaining state-of-the-art protection. To provide the advanced capabilities needed, PM ASE has several initiatives to move us toward our goal that we will highlight in the following product update sections. In our efforts to provide new capabilities, we will always be synchronized with our user community and strive to reduce size, weight, power, and cost (SWaP-C) while improving performance. We will continue to partner with our allies; the Science and Technology, joint service, and intelligence communities; industry and user representatives; and other acquisition organizations to deliver world-class ASE while maximizing the survivability of Army aircraft.
ASE Program Focus
The Branch's ASE program continues to devote significant effort to enabling the training and sustaining of aviation readiness. To explain, today's modern mobility platforms are equipped with diverse sensors, interactive communication systems, and enhanced protection systems that provide increased capability and situational awareness. Where once we waited on computers to provide the information desired, digital communication systems of today provide precise networked outputs faster than the Warfighter can process it. To fully employ these capabilities and understand the limitations of these systems, the knowledge and training requirements of the Warfighter have to proactively parallel the growth. To accomplish this, unit trainers must focus on Objective T/ Mission Essential Task List (METL)-defined readiness with a thorough understanding of the training capabilities and resources available (e.g. computer-based, academic support packages, simulation, and live environments). The training provided in these environments is dependent upon the tools available, such as ASE training aids, devices, simulators, and simulations (TADSS) which include Computer Based ASE Training (CBAT-O/M/C), aircraft technical simulators, Aviation Combined Arms Tactical Trainer (AVCATT), and Man-portable Aircraft Survivability Trainer/Weapons Effective Signature Simulator (MAST/WESS). Future TADSS capabilities will include Training ASE Simulation Suites (TASS) and Aircraft-Based Emulators (ABE). These embedded training TADSS each have unique strengths that can be leveraged, as well as weaknesses that must be mitigated, in order to provide an overall synergistic effect resulting in the optimal training environment for the Warfighter. With the rapid development of new threats, the defensive systems, the associated Tactics, Techniques and Procedures (TTPs) and the technical understanding required to employ these systems and maneuvers, trainers cannot rely on adequate time to train the Warfighter with receipt of the equipment. ASE and tactics training must be proactive in nature utilizing the available TADSS. This will provide the Warfighters with the knowledge and skill-sets required to achieve success in future operations.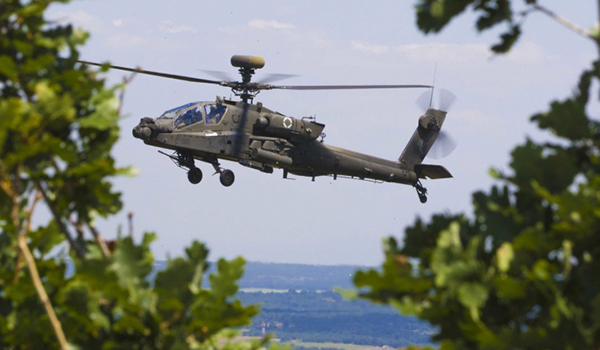 An AH-64 Apache from 1-501st ARB, Task Force Falcon, 10th CAB, maneuvers towards an objective during a combined live fire exercise during Exercise Saber Guardian 17 in Koren, Bulgaria. / U.S. ARMY PHOTO
Training Development
To facilitate contributions to multi-domain battle, the branch has invested in improving the functional area core attributes. In April 2017, a Critical Task Site Selection Board (CTSSB) was held to update the individual critical task list (ICTL) for the Aviation Tactical Operations Officer Skill Qualification Identifier (SQI) India. The board members reviewed several principal functional area documents and field surveys, then elected to evolve the legacy list into the enhanced ICTL consisting of 26 critical mission focused tasks. This ICTL is currently being finalized in order to maximize outputs within the operational environment, as well as integrated into the foundational self-development and operational training for current TACOPS officers, and improve institutional training for future generations. In addition to evolving critical tasks, a new title change of "Aviation Mission Survivability Officer" (AMSO) has been awarded with full implementation by FY 19.
Training requirements must continue to proactively evolve to support future aviation systems. Emerging capabilities in the early stages of the acquisition process include the Advanced Threat Detection System (ATDS) and the Information Systems Capability Development Document (IS-CDD) for Aviation. The ATDS concept of operations is to provide universal threat detection of advanced infrared (IR) and hostile fire threat systems, integrate laser detection for improved threat declaration or hand-off threat declarations to the appropriate countermeasure system, and serve as the foundation for future growth against IR, ballistic, and laser threats. The IS-CDD for Aviation describes information exchanges, applications and networks; it serves as a critical path to provide risk reduction for Future Vertical Lift (FVL) systems and a companion to current efforts such as airspace control, software defined radio, command post, net-enabled mission command and air ground operations. The IS-CDD for Aviation formally describes how these capabilities are implemented on the aircraft in the Common Operating Environment (COE), and specifically focuses on airspace awareness, mission planning, and air-ground operations; thus, ensuring warfighter success in maximizing near real-time information synchronization and combined arms synergy.
Personnel Recovery
Another survivability area of importance is personnel recovery. The Army personnel recovery (PR) program has matured considerably in recent years. Since the first doctrinal publication in 2005, there have been numerous additions with updated regulations and guidance. This includes several handbooks published by the Combined Arms Center that focus on Personnel Recovery Officer (PRO) duties and survival, evasion, resistance, and escape (SERE) tactics, techniques, and procedures. With this expansion of Army PR doctrine and training, the responsibilities of the PRO and the warfighter have grown as well taking the Warrior Ethos to a new level.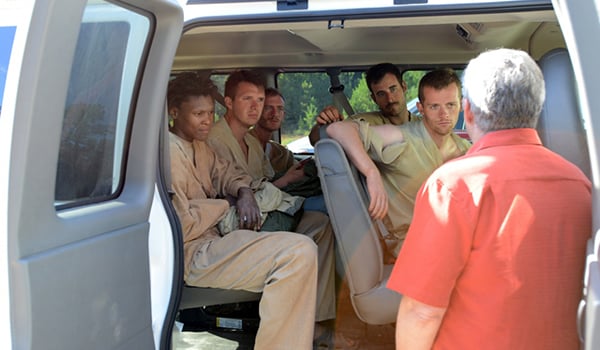 A personnel recovery specialist speaks with survival, evasion, resistance and escape (SERE) school students as they arrive to a debriefing site during a post-isolation reintegration exercise at Fort Rucker, AL. / U.S. ARMY PHOTO
In addition, Army aviation has seen a shift in the mission support in some overseas theaters. Aviation units are deploying in a dedicated PR role that essentially serves as an on-call, alert status team tasked solely for supporting personnel recovery missions. These aviation units are being collocated with dedicated ground recovery assets trained specifically in the recovery of isolated persons. Although this may seem like a minor event, switching over from the former "designated" quick reaction force (QRF) role requires enhanced training, logistics, and support staff. Unlike the QRF missions, the dedicated PR role assumes a more traditional Joint PR operation on a much larger scale that typically requires mutual support from other branches of service. This places a much stronger demand on the Army PRO to plan, prepare and train units for the next fight.
Regardless of whether the PR mission set is designated QRF or dedicated as the primary PR mechanism for theater, PROs need to be well versed in Joint PR doctrine and pre-mission planning. Executing a successful PR mission begins at home station prior to the deployment and requires more hands on training events than computer-based distance learning. PROs need to design and conduct real world training centered on the three PR focal groups: Commander and Staff, Unit or Recovery Force, and the Isolated Person(s). Together, these three groups integrate activities using the joint PR structure to accomplish missions. The home-station training scenarios should exercise each of the three focal groups with the five PR proficiencies: Structure, Communicate, Navigate, Preserve Life, and Endure Hardship. Strengthening these proficiencies will ensure the Army maintains operational readiness and is prepared to conduct PR in an efficient, reliable manner in any operational environment.
Mission Planning
Another critical area for Army Aviation is maintaining information dominance. In a multi-domain battlefield the ability to apply decisive combat power and deconflict operations with U.S. and coalition forces will be crucial for mission success. Situational awareness and synchronized combat enablers all begin with accurate and timely mission planning to successfully execute precision aviation operations. As Army Aviation continues to exchange information, however the constant challenge is to adapt to open architecture and protocols that enhance joint service interoperability. In the Aviation Mission Planning System (AMPS) arena we continue to overcome these challenges in the current operations as well as pursuing advanced interoperability, connectivity, and synchronization enhancements to mission plan for future operations. To implement this, Army Aviation has begun to field AMPS version 7.6.3 premiering the new execution planner (XPLAN) software to the first Combat Aviation Brigade. The XPLAN software provides an improved multi-service replacement for the legacy PFPS in the mission planning environment. This upgrade will be quickly followed by AMPS version 7.7 which is Windows 10 compliant tentatively in 1st Quarter 2019. These enhancements will maximize Army Aviation support on the wide area security battlefield.
In the future, Army Aviation will need to incorporate advanced Anti-Access Aerial Denial (A2AD) processes and continuously train how to integrate and utilize critical information. In addition, introduction of any new and advanced systems will require interoperable near real-time datalink to ensure Army Aviation maintains the comparative advantage today and tomorrow. Overseeing this seamless transition, the Aviation Networks and Mission Planning (ANMP) Product Office provides technical support and troubleshooting assistance though the AMPS Help desk which can be reached 24 hours a day, 365 days a year to support CONUS and OCONUS.
Tactics Development
The Survivability Branch along with other agencies has recently completed an Aviation Radar Frequency Survivability Validation (AVRFSV) Quick Reaction Test to provide verified and validated aviation tactics to the joint rotary wing community. The AVRFSV addresses a critical war-fighting gap for the services and Combatant Commands, and allows aviation assets to remain survivable against current and emerging threats. This event optimized the ability of Army and Joint rotary wing aircraft to employ the combination of aircraft survivability equipment, countermeasures, and maneuvers to reduce the vulnerability of aircrews to integrated air defense systems (IADS) our forces may face around the world. These refined radar threat Tactics will be incorporated into the USAACE ATP 3-04.2, Combat Tactics and Survivability doctrine manual by the Directorate of Doctrine and Training (DOTD) to ensure Army Aviation success on the A2AD battlefield.
In summary, to support today's diverse adversary challenges and accelerated Warfighter deployments, aviation readiness has a greater significance than ever before. As we transition from the digital revolution into the digital age, our training methods and strategies will need to evolve to maintain relevancy and responsiveness. The TACOPS track will be that pivotal organization to provide those critical mission skills and warfighting support to the Ground forces and aviation units. Proper utilization of aviation TACOPS personnel enables critical joint firepower and force projection in today's complex security environment with unprecedented mission success.
Note: The Survivability Branch is always searching for interested and qualified personnel. If you feel that you have the experience and the ability to contribute to the Aviation Branch's survivability areas of concentration, contact the DOTD Survivability Office for a consideration packet.
Above the best!
CW5 Christopher A. Johnson is the chief of the Survivability Branch, Directorate of Training and Doctrine, U.S. Army Aviation Center of Excellence at Fort Rucker, AL. He is a former Regiment TACOPS Officer, and Instructor pilot with the 160th Special Operations Aviation Regiment (Airborne) flying the MH-47E & G. Additional major contributors to this article were: CW4 Lee Kokoszka, CW4 Dennis Boothe, CW3 Jim Layne, and Ms. Deborah Countryman.