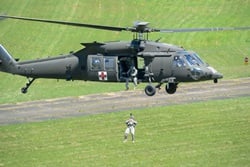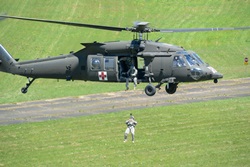 Courtesy Story
Army Reserve Aviation Command
By: Chief Warrant Officer 2 Josh Touchton
Beginning in World War II and the Korean War, U.S. military helicopters were utilized to evacuate wounded personnel from remote battlefield locations to definitive medical care. Although this evacuation process was in relative infancy, when compared to today's modern, dedicated assets, it revolutionized patient medical care and therefore increased survival rates of the wounded. Fast forward to Vietnam, medical evacuation was once again at the forefront of combat doctrine as the U.S. Army utilized the Bell UH-1 "Huey" helicopter to provide rapid, dedicated medical evacuation coupled with en-route patient care. As the war progressed, Air Ambulance units across the spectrum of Army Aviation became known by a generic call sign: "DUSTOFF."
Dustoff aircrews operate as a crew of four Soldiers, two pilots, one flight medic and one crew chief. Each Soldier has their own specific aircrew duties; however, all four must operate in unison to enable the success of the mission and stability of the patient. As the mission set evolved into the 21st century, equipment, training and medical skill sets were upgraded and increased. Today's Dustoff crews utilize the Sikorsky UH-60 Black Hawk, a twin turbine engine helicopter able to operate at higher altitudes, cruise at faster airspeeds and most importantly, evacuate more patients than the Bell UH-1. Medical equipment sets include automatic defibrillator, suction, on-board oxygen generation, environmental control systems, ventilators and crash worthy litter support systems.
As everyone in the Fire/EMS community knows, great equipment is worthless without great people operating it. As such, training has also significantly increased for the Flight Medic with the introduction of the Critical Care Flight Paramedic Program. For a new recruit, training courses include Basic Combat Training, Advanced Individual Training, National Registry Paramedic, Critical Care Paramedic and the Aviation Crewmember Course. If an individual already possesses any of these credentials, training time will be adjusted.
The Army Reserve Aviation Command operates over 50 of these dedicated aircraft throughout the country with over 10 aircraft located at the Clearwater/St. Petersburg, Fla. airport. Golf Company 5-159th General Support Aviation Battalion is looking for the next generation of Dustoff Flight Medics and Crew Chiefs. The training is long, demanding, rigorous, but extremely rewarding. As you are reading this, Army Reserve Aviation Dustoff crews are currently deployed overseas, providing Dedicated Unhesitating Support to Our Fighting Forces. If interested in joining the Army Reserve Aviation team, please call (502) 626-5746 for additional information. Information can also be found on the Army Reserve Aviation Command's Facebook, Twitter and U.S. Army Reserve's website.
DUSTOFF!          
This story was originally found here.