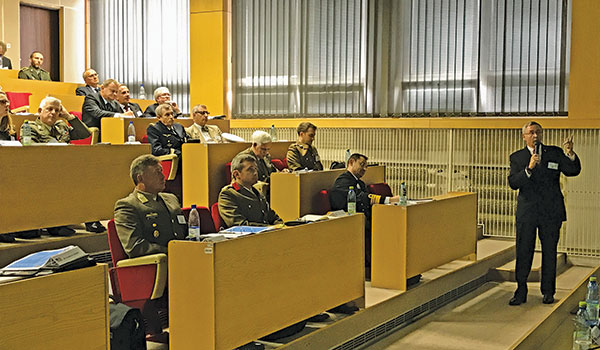 President's Cockpit / By BG Steve Mundt, Ret.: We need to take a minute and keep in our thoughts and prayers all those who are suffering from the effects of the recent hurricanes. I am proud to say we were able to reach out to the Chapters who were affected and provide our support and are continuing to do so.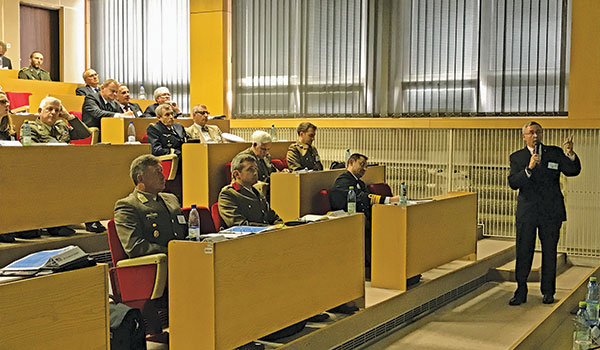 AAAA National President BG (Ret.) Steve Mundt (right) addresses attendees at the Interoperability/Standardization Conference in Slovakia the last week in September, 2017. This is the second year that AAAA was invited to participate. / AAPI PHOTO BY BILL HARRIS
I am just back from a great week in Slovakia at an Interoperability/Standardization Conference that AAAA was asked to participate in for the second year in a row by the Deputy Chief of the General Staff of the Army Forces of the Slovak Republic, LTG Pavel Macko. I briefed on how the AAAA facilitates the exchange of ideas among all elements of the U.S. Army Aviation community; military, industry, national decision makers and the media to foster support for "Our Aviation Soldiers and Family Members."
That said, they were very interested in how AAAA does this through our Summit and conferences and how we leverage things like our TMC participation, the AAAA sponsored Army Aviation Congressional Caucus, and the Senior Executive Associates. It was very interesting to hear a perspective of just how fortunate we are to have something like AAAA which we tend to take for granted at times. They were very intrigued and envious that AAAA was there to represent our military issues and concerns to our elements of national power. We were asked often if we could help them with how we set up our organization and how they might do the same.
There were fascinating issues raised like: all nations' Soldiers in the future must understand and inculcate the idea of "Standardization and Interoperability" from the beginning with initial training; concept development, and force structure. We must exercise together to identify capability gaps in the human, technical and operations areas and seek solutions that align with the priorities of individual sovereign nations. Are international and NATO standards actually being implemented with our allies and coalition partners? None of us can fight alone. We must get this right. We had a great exchange of ideas and maybe a glimpse of the way ahead and promised that AAAA would continue to support our international panel discussion on standardization which we have included for the past few years at our Annual Summit.
This is a busy meeting time of year for AAAA and your leadership. We have just completed a very successful Luther Jones Army Aviation Depot Forum at Corpus Christi, TX the first week in October and presented the Artisan of the Year Award to Mr. George M. Gonzales Jr. We were fortunate to have as our key note speaker MG Doug Gabram as well as a number of speakers and great panels addressing so many logistics and sustainment challenges and the way ahead.
Your National Executive Board met in Washington, DC before the AUSA Annual Convention to address our current needs and to focus on success for the future. They and I need and value your input. Keep the cards and letters coming; tweets and e-mails for the younger folks!
We are looking forward to our annual Aircraft Survivability Equipment and the Cribbins Product Sustainment Symposiums in Huntsville on November 13-16 and hope to see many of you there. These events not only help insure that the best possible protection is afforded to our aircrews and review maintenance and acquisition but also are the venue for presenting awards to our Aviation Soldiers in Avionics, ASE, and logistics.
Important Note: The 2018 AAAA Annual Summit hotel room reservations opened on October 2 – they go fast so book early! Ticket sales and badge registration open on January 8, 2018. Mark these dates on your calendar now!
We continued to provide financial support to our chapters to include a special funding to those affected by recent hurricanes. We are really looking forward to our next Senior Executive Associate meeting of retired 3 and 4-star non-aviators chaired by GEN (Ret.) Scott Wallace and our illustrious "Six Pack" (Army Aviation senior leadership lead by MG Bill Gayler) immediately after the AUSA Annual Convention in DC to inform key senior retired leaders who can then advocate on behalf of Army Aviation Soldiers and Family Members.
Why do I tell you all this? Because all of the above gives you a brief snapshot of how your AAAA is working the four pillars of Networking, Recognition, Voice and Support, to fulfill our mission statement: Supporting the U.S. Army Aviation Soldier and Family. We are a very strong and healthy organization but we have to keep proving our worth to you every day. We are working hard to make sure we meet your expectations and justify your investment in AAAA membership. Events like the Slovakia conference and the others mentioned above remind me of why AAAA is so special and a key and integral part of the Army Aviation Community's continued success.
Thank you for being a member of "YOUR" professional association – AAAA. Above the Best!
BG Steve Mundt, Ret.
33rd President, AAAA, This email address is being protected from spambots. You need JavaScript enabled to view it.