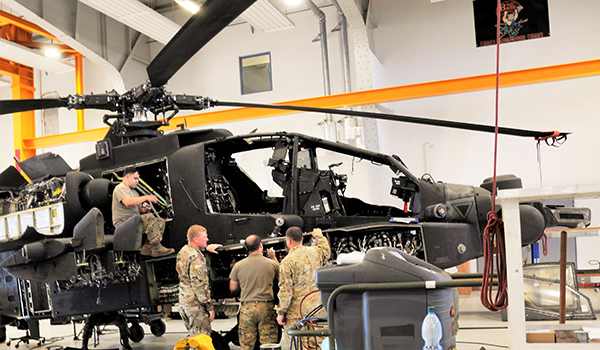 Aviation Branch Maintenance / By CW5 Michael D. Cavaco: Over the last three to four years the Aviation Enterprise has made some impressive strides in increasing unit readiness.
This success is due to several efforts, most importantly is the aviation leader and maintainers planning and execution of maintenance actions. This is just the beginning; I'd assess we are on the twenty yard line… our own twenty yard line. We can and must continue to drive down the field.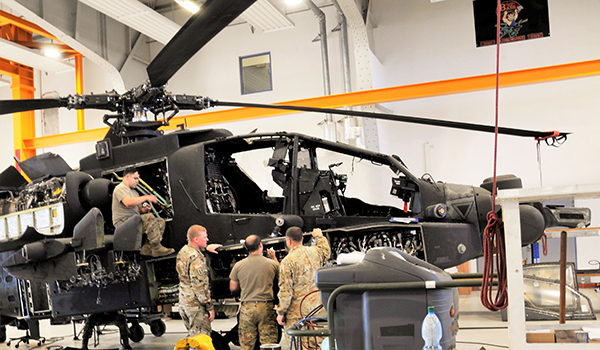 Soldiers assigned to Company D, 1st Battalion, 3rd Aviation Regiment (Attack Reconnaissance) conduct 500 hours phase maintenance on an AH-64 Apache helicopter at Katterbach Army Airfield, Germany, June 28, 2019./ U.S. ARMY PHOTO BY CHARLES ROSEMOND
The United States Army Aviation and Missile Command (AMCOM) and other enterprise partners have drastically reduced the Not Mission Capable Supply (NMCS) rates across the enterprise. We selected those must-have items for any unit in combat, and with the help of our original equipment manufacturer (OEM) partners and their sub-vendors, increased our throughput on those key items. As a result, NMCS rates over the last year have averaged approximately two to three percent per month, well within standard. These efforts will continue, but it won't solve the bigger problem.
Army senior leaders understand the importance of the Aviation branch within large scale combat operations (LSCO). As such, they have started asking hard questions about how to raise the bar as high as 80 – 85 percent to Fully Mission Capable (FMC) rates. For the last 12 months, our 3 tactical rotary wing aircraft (AH-64, UH-60 and CH-47) have averaged 72/75/78 percent FMC (discounting the AH-64 main rotor strap pack re-design and fielding or Apache readiness would be much higher over the same period). So, we are close. With the right focus and effort, we can push the ball farther down the field.
Shifting Focus
As mentioned above, we have made great strides in reducing NMCS across Army aviation. With NMCS rates at historical lows, we must shift fires to attack Non Mission Capable Maintenance (NMCM). That's a momentous task, with NMCM rates averaging in the high-teens to low-twenties each month. But as one senior Army leader likes to say, "Don't try to solve world hunger… attack one problem at a time." By improving two or three key problems, we can likely gain at least 5 percent readiness every month, putting us over the 80 percent mark, and striving for 85 percent. The two areas we must attack at the outset of the "War on M-time" are scheduled maintenance and leader engagement, or process and people.
How we maintain our rotary wing fleet has changed remarkably little over the last 40 years, yet our missions are more complex, our environment more demanding, and our operating tempo higher than ever. We cannot continue to maintain our aircraft with status quo processes and expect a different outcome. Simply saying "work harder" isn't always a valid technique. What has changed over the last 40 years is the amount of maintenance and airworthiness data we've accumulated – all of it useless if we don't put it to work for us. Conversely, this mountain of data is priceless if we focus it toward completely revamping our scheduled maintenance programs to ensure we are performing the right maintenance at the right time.
A great case in point is the CH-47F Maintenance Steering Group, 3rd Specification (MSG-3). This new process has been developed by PEO AVN and PM Cargo, and is a clean sheet approach to identifying scheduled maintenance requirements. It builds on data mined from over 4 million logbook entries and is designed to perform maintenance tasks at the "right time" over the course of 1,920 flight hours instead of the legacy 200/400 hour phase schedule we currently use. We expect this process to yield as much as a 35 perecnt maintenance man hour reduction in the units. This is a huge win and should be the building block for future efforts. Bottom line, we MUST apply a similar methodology to streamlining scheduled maintenance on the AH-64 and UH-60.
At the tactical level, continued leader emphasis is the key. And that emphasis starts with the maintenance warrant officers on the flight line. These are the individuals that know and live with the factors that limit output every day. These limitations differ from unit to unit based on the training tempo and the experience of their personnel. So, they are the ones best suited to set the direction of the maintenance program. Much like AMCOM's focus on Readiness Drivers, the 3CAB BAMO recently recommended that unit maintenance officers should be focused on key maintenance drivers that offer opportunities for improvements. Pick one problem, develop a plan to improve, train and execute. We must all continue to learn lead and fix our way out of the current state of the branch.
CW5 Michael D. Cavaco is the Aviation Branch Maintenance Officer, U.S. Army Aviation and Missile Command at Redstone Arsenal, AL.