Safety / By BG Jeffrey A.Farnsworth: Annually, to get a better perspective on the state of Army Safety, our team prepares a comprehensive assessment of the previous year. The Fiscal Year 2016 Annual Assessment of the Army Safety Program provides leadership with in-depth accident analysis, trends and loss prevention concerns. It covers a broad spectrum of areas including aviation and non-aviation accidents, on- and off-duty accidents, and it provides a perspective into units' safety cultures and command climates. With a concentration on aviation, I'll share some insights.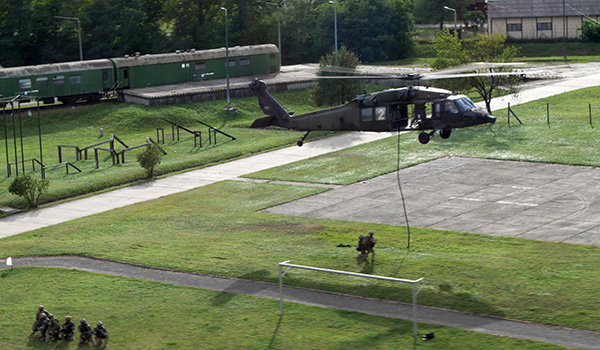 Polish special forces service members pull security as they wait for the last man to fast rope into a training area at Taborfalva, Hungary while conducting fast-rope insertion and extraction system training. Army National Guard Helicopter Taskforce UH-60L Black Hawks supported the Polish and Hungarian special forces during an exercise September 18. / U.S. ARMY PHOTO BY SGT SHAUN MOREY, COLORADO ARNG
The most catastrophic measure and concerning outcome we measure is mishap fatalities. In fiscal 2016, the Army experienced 109 fatalities due to accidents. There were 28 (26 percent) on duty and 81 (74 percent) off duty accidents. Since 2005, Army fatalities and the fatality rate continue to decline and fiscal 2016 was no exception. The Army population decreased over this timeframe but the rate also consistently declined, indicating that the trend is not solely due to reduced force size. This continual decline of accidental fatalities is testament to a shift in safety culture, spearheaded by engaged leadership across the force.
While fatality numbers are of great concern, this metric is not very effective at measuring the overall health of an accident prevention program. Class A mishap rates offer a more effective measure of prevention efforts over time. Combined aviation and ground Class A mishaps continue to decline every year since 2007. Additionally, although not as critical in terms of individual events, lower classes of mishaps provide indicators of overall program health and can point to potential emerging trends. Fiscal 2016 demonstrated a 32 percent reduction in total Class A through C mishaps from the previous year.
Aviation Manned
Army aviation contains inherent dangers and leadership maintains its commitment to the axiom that the safe operation of aircraft is of the utmost importance in maintaining combat readiness. For fiscal 2016, Army aviation experienced a 21 percent decrease in Class A – C manned aircraft mishaps from the previous year. There were nine Class A mishaps with eight fatalities and a corresponding rate of 0.87 mishaps per 100,000 hours. This is only the fifth time since 1972 that the flight mishap rate has been below the 1.0 mark. For comparison purposes, the Class A rate for the most recent 5-year period stands at 1.27 with two of those years containing the sub-1.0 marks. This is an indication that manned aviation safety is on the right track and continued enforcement of the established aviation risk management processes will pay dividends in protecting our equipment and personnel.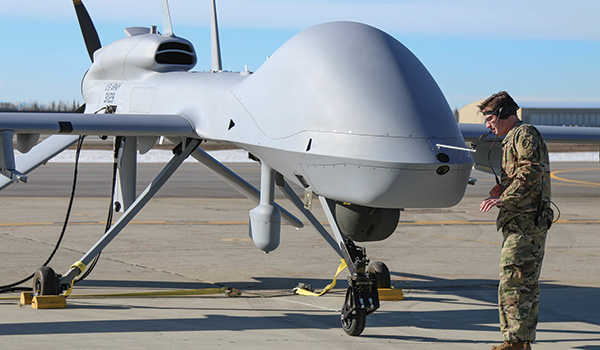 SPC Devin Pisani, an Unmanned Aircraft System Maintainer with Delta Company, 25th Aviation inspects the airframe of an MQ-1C Gray Eagle before take-off April 12, 2016 at Fort Wainwright, Alaska's Ladd Army Airfield. The Gray Eagle is the most recent edition to U.S. Army Alaska Aviation Task Force and provides USARAK commanders real-world combat assets for training in Alaska. / U.S. ARMY PHOTO BY STAFF SGT SEAN BRADY
Historically, human error contributes to approximately 80 percent of all Army aviation mishaps and remains the leading causal factor in manned mishaps today. Common themes for human error mishaps in fiscal 2016 remain the same as those in previous years and include errors caused by overconfidence, complacency, inadequate mission planning and aircrew coordination. Some of the leading aircrew coordination errors identified were failure of the pilot on the controls to properly direct assistance from other crewmembers, failure to announce a decision or action that affected other crewmembers ability to properly perform their duties, failure to maintain positive communication and failure of other crewmembers to offer assistance or information.
Unmanned Aircraft Systems
Inverse to manned aviation, materiel failure remains the dominant cause of unmanned aircraft mishaps accounting for approximately 63 percent of the mishaps. Engine malfunctions, flight control failures, fuel supply and electronic subsystem failures are contributing factors in materiel failures.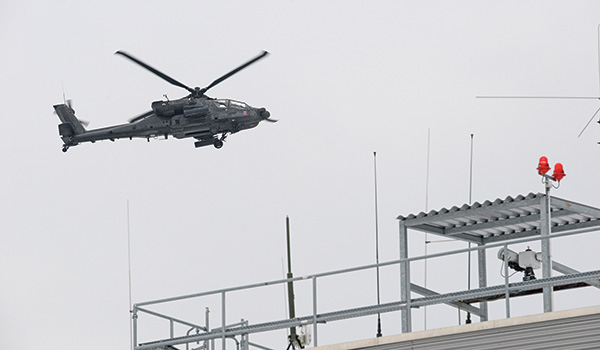 An AH 64D Apache Longbow attack helicopter crew, assigned to 12th Combat Aviation Brigade to support the 3rd Squadron, 2nd Cavalry Regiment, initiates its first mission during Operation Dire Wolf at 7th Army Training Command's Grafenwoehr Training Area, Bavaria, Germany, Jan. 10, 2017./ U.S. ARMY PHOTO BY VISUAL INFORMATION SPECIALIST MATTHIAS FRUTH
Overall, unmanned aircraft in fiscal 2016 demonstrated over a 35 percent increase in Class A – D mishaps from fiscal 2015. While the RQ-7B Shadow had measurable reductions in its Class A – D mishap rate, a spike in MQ-1C Gray Eagle mishaps, primarily due to materiel failures, actioned an in-depth look at the system and synchronized Army efforts to determine mishap root cause(s) and provide recommendations to prevent future incidents. As a result, the Army has multiple materiel initiatives to improve UAS reliability over time.
Although not historically the primary cause factor in UAS mishaps, human error still plays a significant role and enhancing crew proficiency will reduce mishaps and enhance readiness. Mishaps with human error contributing factors included failure to follow proper procedures, maintenance errors and inadequate supervision. The countermeasures for human error failures remain proper adherence to established procedures and checklists, adherence to standards in the conduct of training and mission tasks, maintaining crew proficiency levels and having qualified supervisory personnel.
On Duty – Ground
On-duty ground, Class A – C mishaps have fluctuated over the last 15 years. While we have experienced slight spikes in Army vehicle and weapons-related mishaps during the Global War on Terrorism (GWOT), rates have remained relatively low and stable. Sports and PT-related mishaps and combat Soldiering/tactical training activities account for the majority of mishaps.
From fiscal 2015 to 2016, on-duty ground Class A – C mishaps declined 23 percent. When combining like categories, it is evident that operating or riding in a military vehicle produces the highest number of Class A mishaps and results in the most on-duty Soldier fatalities. In both fiscal 2015 and 2016, vehicle mishaps (Army vehicle and private motor vehicle) accounted for the majority of the on-duty Class A mishaps. Approximately 61 percent of the Army vehicle mishaps (Class A – D) were due to operator error resulting in a collision or crash. Speed, inattentiveness and indiscipline were the most prevalent contributing factors.
Off Duty
Off duty, the rate of accidental fatalities has steadily decreased over the past 15 years; however, it remains disproportionate to the decline of fatal on-duty mishaps. Private Motor Vehicle (PMV) mishaps account for the preponderance of off-duty Class As, followed by mishaps from water-related activities and weapons handling.
In fiscal 2016, the Army had 30 Class A, PMV-4 (sedan, truck, van, SUV) mishaps – a 13 percent decrease from last year. Over half of the cases involved some form of indiscipline; primarily speed and failure to wear a seat belt. For motorcycle fatalities, there was a 36 percent increase from last year. Indiscipline and speed were contributing factors in over half of the mishaps. Motorcycle fatalities accounted for 50 percent (34) of the PMV mishaps in fiscal 2016 even though only 16 percent of the Army's population is motorcycle riders.
Off-duty mishap prevention continues to be a challenge; one that leaders have met head on, which led to a decade-long decline of accidental fatalities. To assist organizations in addressing these mishaps, the Off-Duty Safety Awareness Presentation (ODSAP) remains a valuable tool. Developed for use at battalion level and below, the premise of ODSAP is to make Soldiers aware of the hazards they face and empower them to be part of the solution in preventing the next mishap. The presentation contains materials and statistical information designed to enhance safety awareness for numerous off-duty activities. The ODSAP also addresses risky behaviors and the impact of fatigue and alcohol. Visit our homepage at https://safety.army.mil to view the presentation.
Safety Culture and Climate
The Army's premier tool for assessing organizational safety culture and climate is the Army Readiness Assessment Program (ARAP). By capturing data from battalion-level units across the force, we are able to measure changes in the overall Army safety culture. Detailed analysis indicates the importance of emphasizing safety at all levels, holding individuals accountable and quality training as the most important elements for a positive safety climate and culture. In fiscal 2016, the question "In my unit, we believe safety is an important part of all operations" received the best score of the 61 survey questions. The next four highest scored questions in order of precedence were: 1) Leaders in my unit encourage everyone to be safe and to follow the rules; 2) My unit sets high standards and strives to maintain quality control; 3) Unit leaders consider safety issues during the planning and execution of operational and training plans and 4) I am properly trained to safely conduct all of my missions. These findings reinforce several key factors found during accident investigations and safety audits that leader engagement at all levels continue to improve, policies are in place and safety-related training is being conducted.
Respondents perceive driving a vehicle (privately owned or military) as the most hazardous activity followed by lack of training (experience) and weapons fire/live fire. When asked for recommendations on how to improve their safety climate or culture, there were 93,682 out of 226,977 who responded with "more job related safety training followed by enforcement of standards and adequate resourcing (time and personnel)". Although slight improvements were made in the overall Army's fiscal 2016 safety climate and culture, we must remain vigilant in our efforts to reduce risk and eliminate hazards.
Last year, following some initial rises in accident trends, I closed out my assessment article with the statement that there was still an opportunity to make 2016 a banner year for Army safety by working together to meet common challenges. Now, looking back, the concerted efforts of leaders and individuals at all levels reversed the early trends and produced another successful year for Army safety. With each new success comes a new challenge to target even greater success. There are no acceptable losses when it comes to safety.
Readiness Through Safety!
BG Jeffrey A. Farnsworth is the director of Army Safety and the commanding general of the U.S. Army Combat Readiness Center located at Fort Rucker, AL.
An aircrew member from the Army Reserve Aviation Command performs maintenance on a UH-60 Black Hawk helicopter, Aug. 30. / U.S. ARMY PHOTO BY GREG CALDONIA